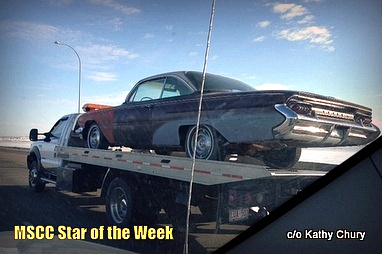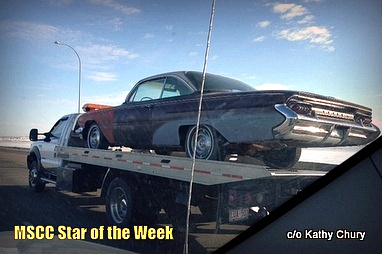 MARCH 31 STAR OF THE WEEK: '61 BUICK-THE UPHILL BATTLE BEGINS ON A TRAILER
This '61 Buick was on a trailer last Wednesday and clearly it was destined for bigger and better things.
The most obvious sign was the fact that it was on a truck by itself and not flattened and piled under other flattened cars on a bigger truck.
Here's a checklist for potential problems.
The old Buick might have a future but it's going to come with a price. The first minefield is the guy's wife.
She is going to look at this Buick like the living humans look at the zombie humans in the TV show 'Walking Dead' and it's going to be just about as welcome as a zombie in her home.
Worry about the wife.
The shots from his non-car guy buddies are next because they'll never understand why you'd want to invest time and money into a '61 Buick when you can own a perfectly good Ford Fusion for less money.
Don't worry about those soulless cretins.
The Buick is an off the beaten path car so parts are going to cost more than a weekend of big losses in Vegas.
Worry about the cost of parts.
It's going to be an MSCC Star of the Week regardless of the outcome…
The worries are over.
MARCH 30 STAR OF THE DAY: A SURE SIGN OF SPRING-1ST GEN CHALLEY AT A DOUGHNUT SHOP
The late George Harrison summed it up well in the Beatles classic 'Here comes the Sun' when he sang " Little darling, it's been a long cold lonely winter, Little darling, it feels like years since it's been here, Here comes the sun Here comes the sun, and I say It's all right".
Truer words were never spoken… or sung.
That's why this Challenger was such a great sight last week because it was the first sign of spring in car world.
This Star of the Day was in a doughnut shop parking lot surrounded by piles of dirty snow and the mere sight of this classic Mopar inspired hope across the world of old iron in northern latitudes.
MARCH 29 STAR OF THE DAY: 1951 BUICK…WHEN CARS HAD PRESENCE
The early 1950s were transitional years in the car world. Cars were getting lower and wider plus they began to develop an individual presence.
This 1951 Buick is good example. The fender portholes were a dead giveaway that this was a Buick and the imposing grill spoke volumes about early 50s style.
The Star of the Day was at a small town show back in August 2012 and the owner could have charged admission to see this old Buick.
That's because it was the automotive equivalent of Frank Sinatra…it had lots of stage presence.
MARCH 28 STAR OF THE DAY: '55 CHEVY POST-BAD BOY AT THE TRACK
There's no doubt that the '55 Chevy 2 door sedan or "post" lends itself to the track. They were lightweight cars that could handle the torque of a built engine.
Two movies ( American Graffiti and Two Lane Blacktop) starred a nasty looking 55 Chevy post and most people regarded that as Hollywood type casting because that car lived the role.
That's why there was no big surprise when this mean looking Star of the Day was spotted at a track back in June 2011.
MARCH 27 STAR OF THE DAY: MODEL TT THE EVOLUTION OF THE LIGHT TRUCK IN ONE PICTURE
The full-sized truck has become the 21st Century family car.
They took over in the 90s when pickups started to ride like limousines.
Trucks dominated when they went well over 300 horsepower and pulled down mileage that was better than a '61 Ford Falcon.
But it all began with the Model TT and this 1920 version on a trailer back in 2011 is a Star of the Day simply because it pointed to where the light truck really began.
MARCH 26 STAR OF THE DAY: BREAKING NEWS–"240 GORDIE" IS A CLOSET MOPAR GUY
"240 Gordie" Bonin is a big part of the history of drag racing because he consistently cracked 240 miles per hour more than anyone else.
Gordie's career spans the decades and never ended because he's just renewed his license to race in 2013 and he's set up a website dedicated to all things 240-Gordie.
At no point was Gordie linked with Mopars…until last Saturday.
He was busted carrying a Dodge truck grill at a recent swap meet in his hometown of Red Deer Alberta.
That makes this closet Mopar guy an MSCC Star of the Day.
MARCH 25 STAR OF THE DAY: T-BUCKET PLUS 392 HEMI EQUALS ADVENTURE
The T-bucket is an icon in the world of hotrods because they weigh less than a Shetland Pony and you can bolt massive engines into them.
This is a classic example.
The picture was taken back in the summer of 2010 when this little T-bucket put on a show that turned bOring physics lessons like power to weight ratio into an insane display of power.
There's literally more engine than car here…
That was clear when this Star of the Day disappeared faster than the Road Runner in a Warner Brothers cartoon.
For a look back at past MSCC Stars of the Day please follow this link.