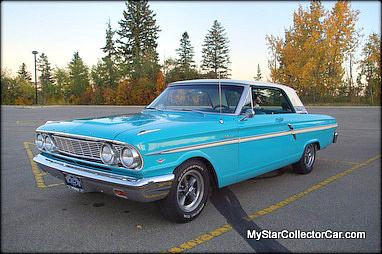 Keith Prior is a true blue Ford guy.
He's so true blue he sold Fords for a living plus he has a passion for the old ones.
Scratch this guy and he'll bleed Blue Oval blue.
He's owned some classic Fords over the years but this '64 Ford Fairlane may well be his favorite.
Ford Fairlanes were considered a sensible purchase in the early to mid 1960s. The small block 260 or 289 summed up the power range of these cars and many were purchased with the thrifty 6-cylinder.
Ford pushed that image with one exception – the monster known as the Ford Thunderbolt. They based a few on these mid-sized Fairlanes and nobody wanted to see one of those big block thugs next to them in the starting line.
Keith's '64 Fairlane is a hybrid of the sensible/monster philosophy. He wanted a car that was tame enough for the street but wasn't too "Clark Kent-ish" because all car guys know you need some Superman under the hood.
This Ford fits the bill. The Fairlane runs the legendary 302 Cobra Jet and in most applications, that is enough to win a brawl but this balanced and blueprinted engine ingested some steroids in the form of 351 heads. Keith also pointed out that "the builder constructs NASCAR engines so there are more top-secret tweaks that bring the horsepower up to 360".
That is a pretty decent horsepower power per cubic inch ratio.
Keith is the kind of guy who loves to drive his cars so you'll see this blue and white Fairlane at most shows within one hundred miles or more. Keith explained, "I wanted a driver to take to shows. One that looked stock".
Last year was Keith's first season with the '64 Ford and he nearly added a roof rack for all the hardware he won in that first year. Clearly this car really captures the imagination and the votes at many car shows.
The performance was there for this Fairlane because it leaned more into the Thunderbolt range and less into the stock range on the street. Keith admitted, " It came with a 3:96 rear end so the front end was lifting". He swapped it out for a more highway appropriate 3:00 gears that work more effectively with the overdrive transmission.
Keith is still an old school car guy so he has to resist the temptation to make the his Fairlane show some of its magic, "It's got quite a rumble so I try to sneak it by the police when they're looking at it". Most of the time Keith is pretty discrete about the Ford's potential but the sound of this car even at idle speaks volumes about what it can do under throttle. This is a Thunderbolt sound – not a stock 289 sound.
Keith makes no secret about his unwavering dedication to the Ford nameplate and this '64 Ford Fairlane because that's how he's lived since Day 1.
Guys with Ford blue blood running through their veins know no other way to live.
Jerry Sutherland
Follow us on Facebook at-http://www.facebook.com/MyStarCollectorCar
Follow us on Twitter at- https://twitter.com/#!/MyStarCollecto1