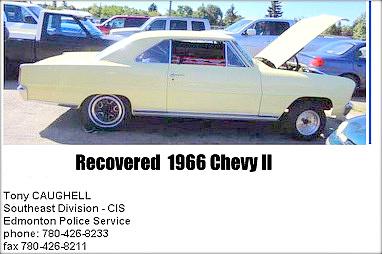 RECOVERED 1966 CHEVY II –PLEASE HELP FIND THE OWNER OF THIS VEHICLE
This car was recovered by the Edmonton Alberta Police Service and they are looking for the owner.
This is a great opportunity to reunite car and owner so if this car looks familiar here are the details.
Have you heard of anyone missing their 1966 Chevy II in your car restoration circles? We believed we have recovered a stolen vehicle but can't trace it back to an owner. Here's a picture of it.
Tony CAUGHELL Southeast Division – CIS
Edmonton Police Service phone: 780-426-8233 fax 780-426-8211