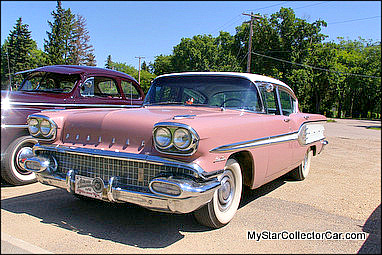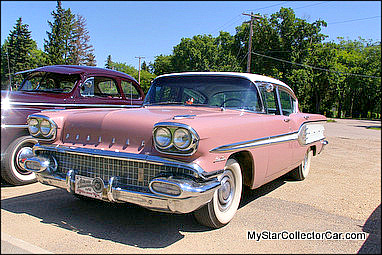 The 1958 Pontiac Laurentian is a uniquely Canadian ride so it's no surprise that this barebones Poncho was purchased in a uniquely Canadian way – with two loads of grain.
Bob is the second owner of this Canuck Pontiac and he has a thorough knowledge of this car's biography because it is so well documented.
That was a huge factor in the car's appeal.
Bob began with an explanation of the original invoice, "the paper had two loads of grain as part payment so that told me this was an exceptional car for documentation".
He also knew that this car was babied from Day 1 despite the fact that the original owner was a hard-working farmer, "If it looked like it was going to rain or snow that car never came out of the garage".
The original owner drove the Poncho until 1959 and then it went into semi-retirement until 2004 when Bob became the 2nd owner. That explained the 50,000 documented miles on the car and the meticulous maintenance records backed up their authenticity.
Bob also checked with GM Canada and found out that this car was well documented from the factory as he explained, "These cars were barebones at best so no power anything, three on the tree transmission, they really cheaped out so it only came with dog dish hubcaps". The air-conditioning works though, you get good air coming from the left and right side vents".
The engine options were also limited in the low end Laurentian package. Bob explained, "they rarely put 8s in Laurentians so this is a six -cylinder".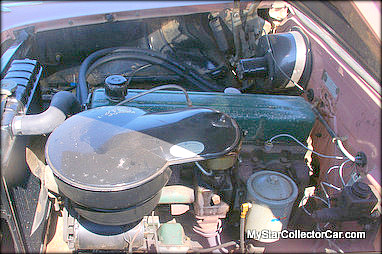 This 1958 Pontiac is now a pure Sunday driver because Bob and his wife are on a limited touring schedule to keep the miles down. He loves driving the car and adds, "my wife doesn't drive it, but she's always looking for a seatbelt".
The Laurentian has been trouble free for Bob and he explains it this way, " You have to drive them because they tend to seize up but I haven't even had to do a tune-up on it. It sits for a few weeks all the gas runs back and all you have to do is crank it".
The old Poncho has absolutely no trouble keeping up in modern traffic and Bob admitted, " At 60 miles per hour it's looking for more to go".
Bob is truly grateful that he could buy this beloved family heritage car because the original owner had a different game plan as he explained, " he wanted to put all of his grandkid's names in a hat and draw a name but his son had a different idea. He sold the car and split the proceeds among them".
1958 Pontiac four-door sedans aren't at the top of most hobbyist Christmas lists but this Canuck version is a true survivor and more importantly, it's a legacy car. Old iron like this Laurentian often gets sacrificed to the whims of the custom builders or parted out to save a rare convertible.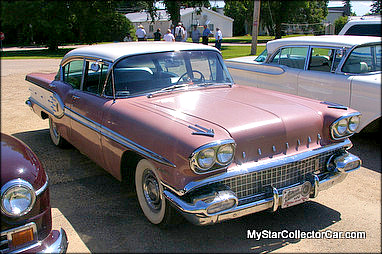 This one had a déjà vu theme because the new owner, a guy named Bob, is a lot like the original owner so the respect factor for the car is never in doubt.
That's a perfect succession plan.
Jerry Sutherland
Follow us on Facebook at-http://www.facebook.com/MyStarCollectorCar
Follow us on Twitter at- https://twitter.com/#!/MyStarCollecto1