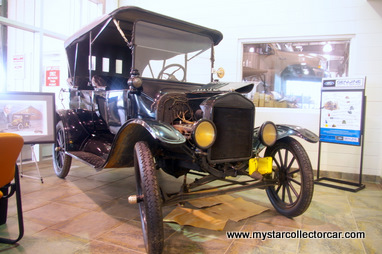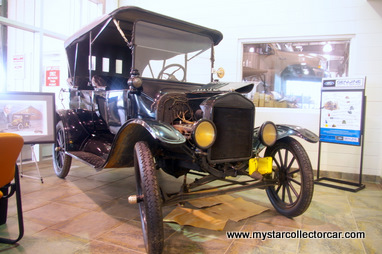 Gene Sale is the current owner of his father's 1917 Model T.
His father was the previous owner and his pre-school grandson is the future owner-in-waiting.
The little guy is probably a little young to understand his good fortune, but he will be the proud owner of a vintage vehicle with a long family history.
Each of Gene's siblings received a vintage vehicle from their father about 25 years ago. Gene's Canadian-made Model T had spent its life in the harsh conditions of Canadian winters where its original owner had to cope with brutal driving conditions. Anybody who has spent time in the frozen North knows the bite of sub-zero temperatures with an icy wind-chill to make things even more nightmarish.
The gravity feed fuel system and position of the gas tank in front of the windshield meant fuel starvation in very cold and windy conditions. The previous owner was forced to drive the car backwards to allow the T to receive fuel during one memorable winter adventure.
These days the T is semi-retired at a local Ford dealership where the owner celebrated his new building's grand opening with a grand part of Ford's past- the Model T. Actually Gene's Model T was the guest of honor.
The days of use during a hard Canadian winter are long behind Gene's Model T. But Gene seems very excited about a day in the future when his very young grandson takes his turn behind the wheel as its new owner.
Gene and his grandson share another bond with his daughter Jamie. Jamie Sale' and her 2002 Olympic gold medal figure skating pairs partner David Pelletier are the proud parents of the future Model T owner- Gene's grandson. Jamie and David were sentimental favorites at the Salt Lake Olympics after a judging scandal that involved some Russian skaters nearly robbed them of their hard-earned Olympic gold medal.
Maybe one day Jamie can tell her son the whole story of an exciting skating career as he takes her on a leisurely drive in the family Model T. This family heirloom still has a fun side and it will do 45 mph in a pinch. Not that anybody needs to be in a hurry when it comes to trip in the T.
The fun is getting there-and it won't be during another frigid Canadian winter.
Jim Sutherland @mystarcollectorcar.com
COMMENTS
DENNIS:"That's not as uncommon as you might think. Here's my grandson, the future owner of my Model T, standing next to its new engine".