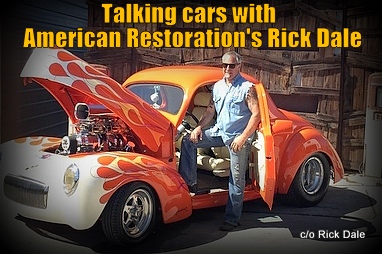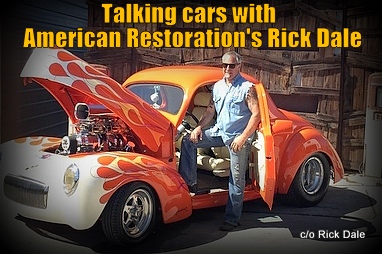 One of the most popular shows on cable TV is American Restoration.
Nostalgia is big business for Rick's Restorations because they bring memorabilia from the past back to life in their shop.
Rick Dale is the man behind the name and he is an energetic guy who mixes family and business in a very positive way.
The wizardry of the show's restoration process has kept viewers coming since October 2010, with no end in sight for Rick and his family.
We managed to get an interview with Rick and focused on his car guy side because he is an unapologetic fan of the car hobby.
Q: What was your first vehicle?
Rick: A 1967 Jeep. I worked on many different things (like scooters) early in life from the age of 7 onward, but I started to concentrate on a car as I got closer to 16. My dad gave me a beat-up 1967 Jeep CJ5 and I got it back on the road just in time for my driver's license. I was one of the first kids in high school with a set of wheels, so I drove all my buddies around in it. I changed the Jeep's color from red to yellow, and then candy apple while I owned it.
Q: What was next on your list?
Rick: I bought a 1972 GMC pickup truck and wanted to add more power to the equation, so I bought a 1941 Willys with a tunnel ram 427 Chevy engine. I put the Chevy big block in my GMC and sold the Willys. The Willys became my one-that-got-away story and I began a serious search for another authentic steel body car.
Rick is fully committed, "In fact I even got a tattoo of a '41 Willys before I found one just to show I was serious about the idea. My new Willys is the real deal and is a steel body car with a big block Chevy."
Q: What was your connection to the car hobby before you got into your current business?
Rick: I was heavily involved in the build process and discovered it was very expensive for the customers. I was mainly involved as a painter and was a little soft on the price side for the amount of work required to do quality builds. Eventually I decided to blaze my own path in the 80s with my current restoration business because I saw a new market with a strong financial upside. That was the point when I got into vintage Coke machines and many other nostalgia pieces.
Q: What was the market?
Rick: I restore and sell stuff from people's childhood. We remember the good stuff from our lives as kids and I wanted to provide a way for people to connect with that part of their lives with items from the past. I had a new idea back in the 80s and I saved a lot of items from the crusher with my restoration business.
Q: Do you still get to car shows?
Rick: We used to attend about 52 car shows a year, but that number has slipped in recent years because of my other obligations. A car show is like Storyland USA because everyone has a story to tell about the car hobby.
Q: What is your signature ride on American Restoration?
Rick: We use a 1951 Ford F-100 on the show. I had the truck but it was in pieces and the TV producers wanted us to have something unique as part of the show, so we put it back together in time for the first episode.The truck had old tires and I blew one of them in a remote area during the first episode. They filmed the whole misadventure and used it for the show.The truck is undergoing a major restoration during American Restoration's hiatus because it has become my baby.
Final Question: What do you most want people to know about American Restoration?
Rick: I love what I do and we are a family business. Kelly is the biggest part of me and my business, along with all of my other family members who have made Rick's Restoration so much more than just me. We are successful because of our deep family connections.
Jim Sutherland
CLICK HERE to Like us on Facebook
CLICK HERE to Follow us on Twitter
CLICK HERE to Follow us on Pinterest
Please re-post this if you like this article.