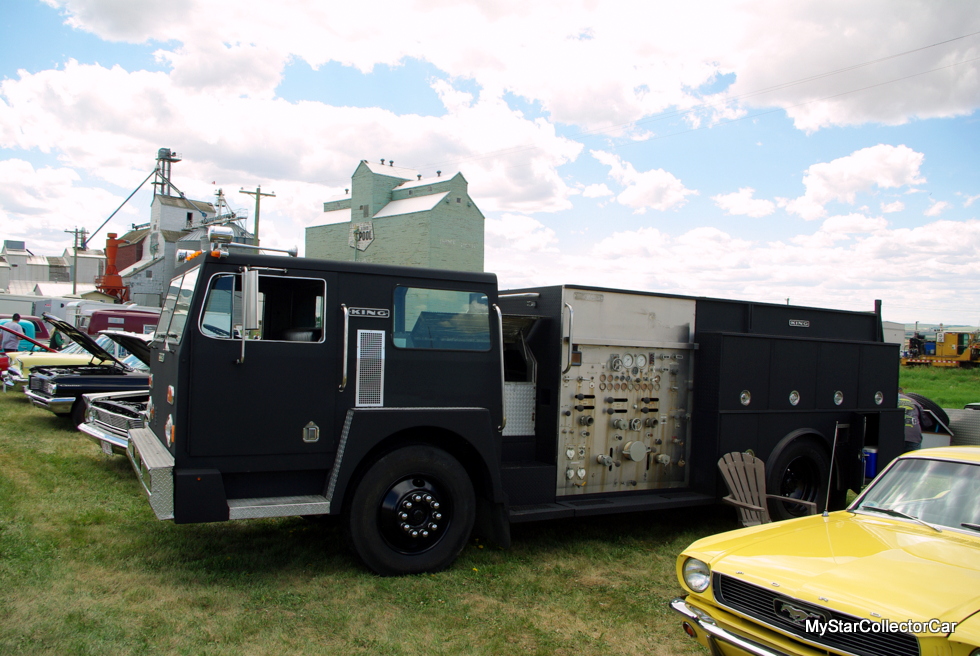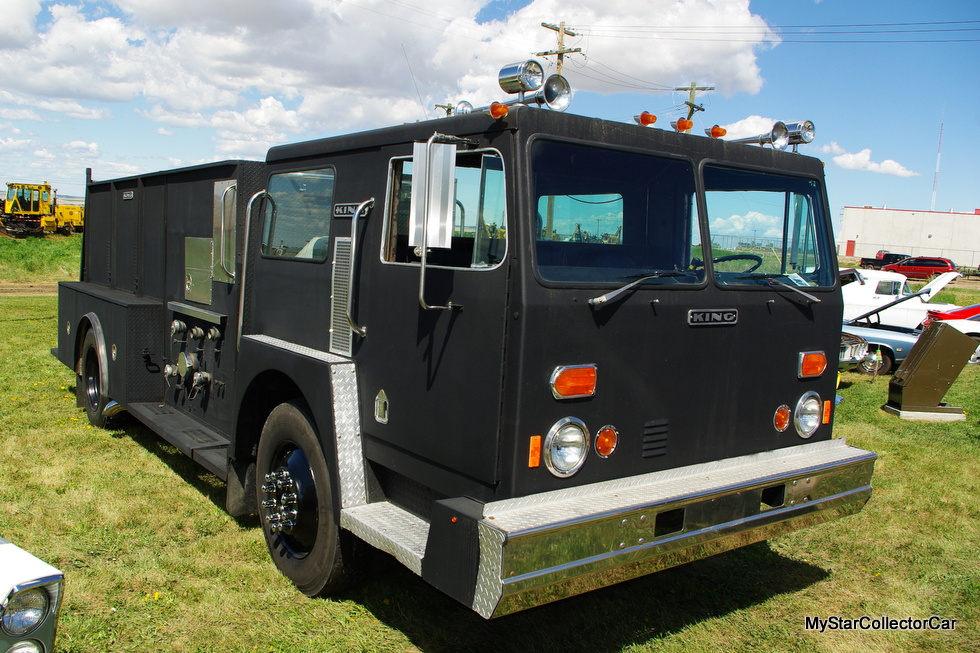 Old fire trucks have a small but devoted following.
Vintage fire truck guys are usually current or former firefighters or they're dedicated historians who love the story behind these emergency vehicles.
This retired 1982 King Seagrave fire truck was purchased for far different reasons.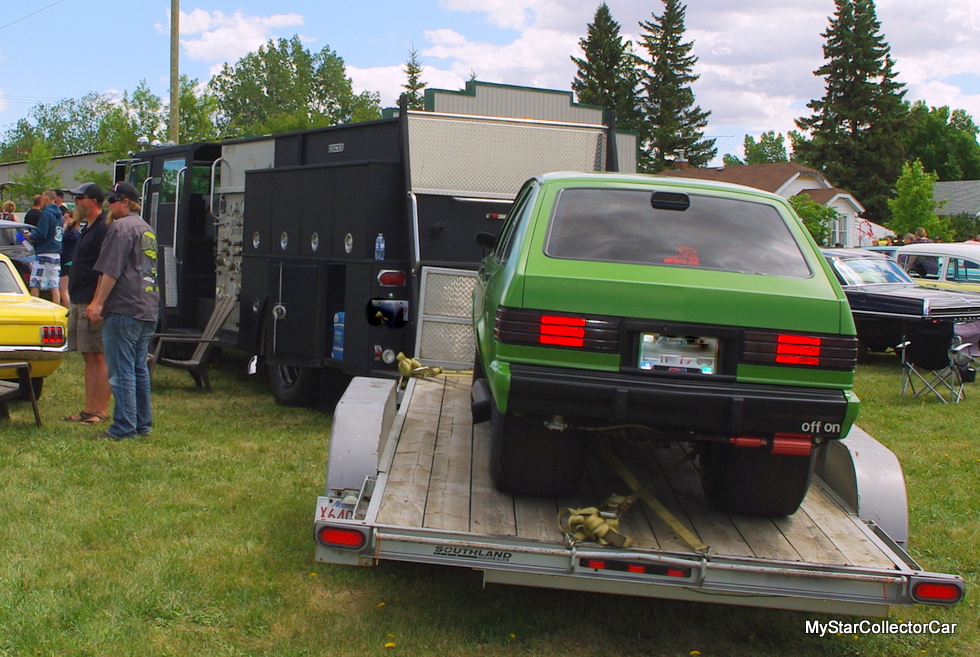 Tristan Eresman is a young guy with no direct connection to old fire trucks but he did need a bigger truck to haul a car trailer and this King-Seagrave came up for bid at an auction.

There wasn't a lot of competition for this truck and he bought it for the "right price—it went super cheap because not too many people want these" so he came home with a fire truck. King-Seagrave fire trucks were built in Canada until the mid-80s when the company hit some serious whitewater so this beauty was built at the end of the run.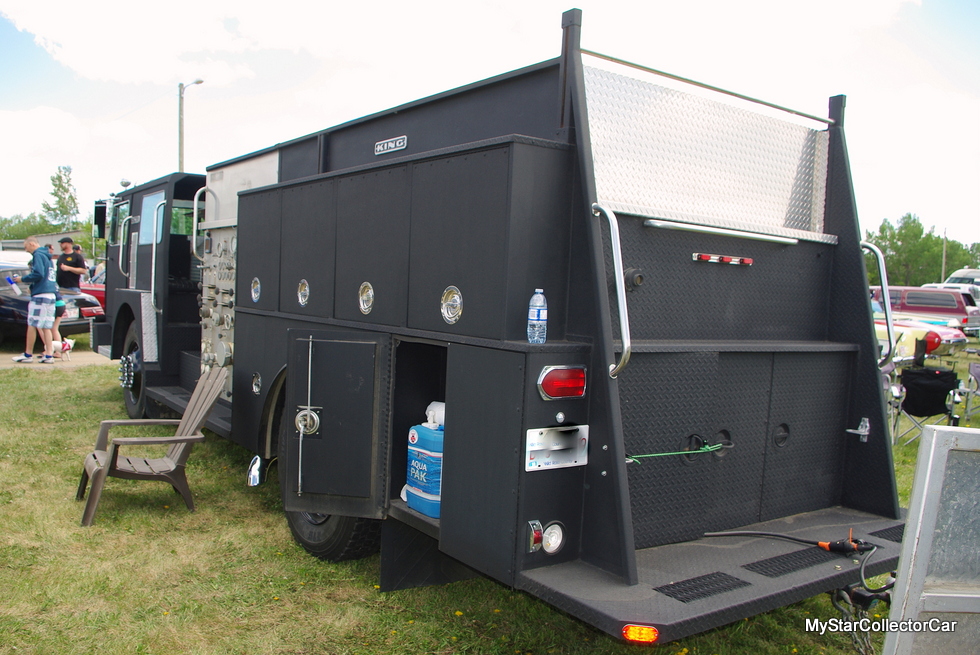 The truck has a long history but the only confirmed piece of its biography is that it was used by the Penticton, BC fire department. The truck had been stripped of its emergency equipment like sirens and lights when Tristan bought it but all the pumps and hoses were still there but the "pump stuff doesn't work". The truck itself had about 6600 hours on it so there's still a fair amount of life left in it for the price.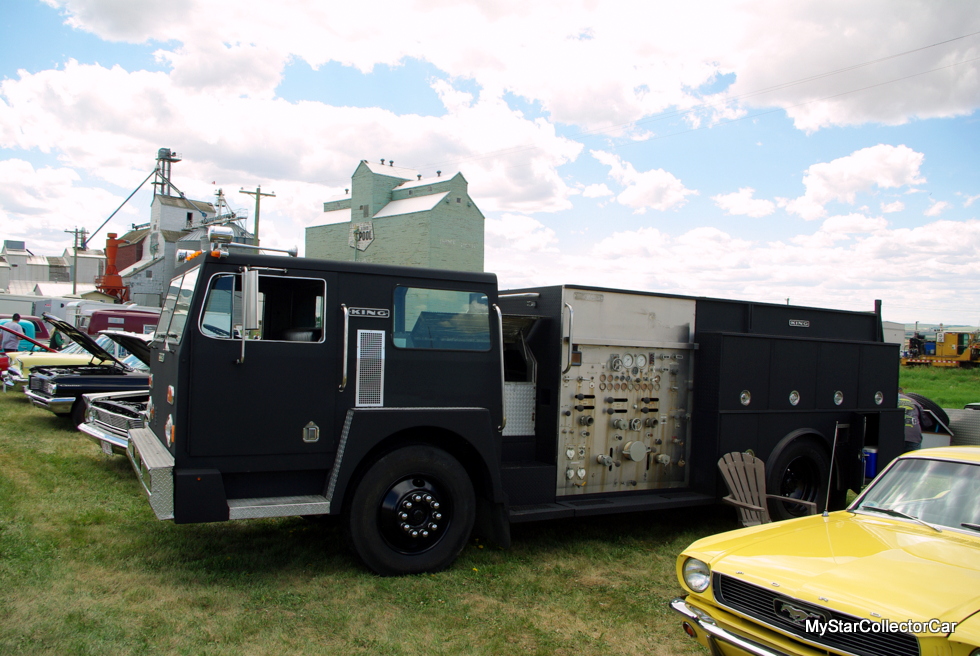 This truck is pure function over form so Tristan gave it a very basic black paint job because its new role was pretty simple—haul stuff. The King-Seagrave had been sitting outside so the factory paint was far from pristine. There's a Detroit 8v71 diesel under the cowl behind the cab so the hauling stuff part come easy for this brute. Tristan is a heavy duty mechanic so there's nothing that intimidates him when it comes to repairs and maintenance on this fire truck. The King-Seagrave had a few issues with the rear end and it needed tires but basically Tristan is very happy with its mechanical status for the price.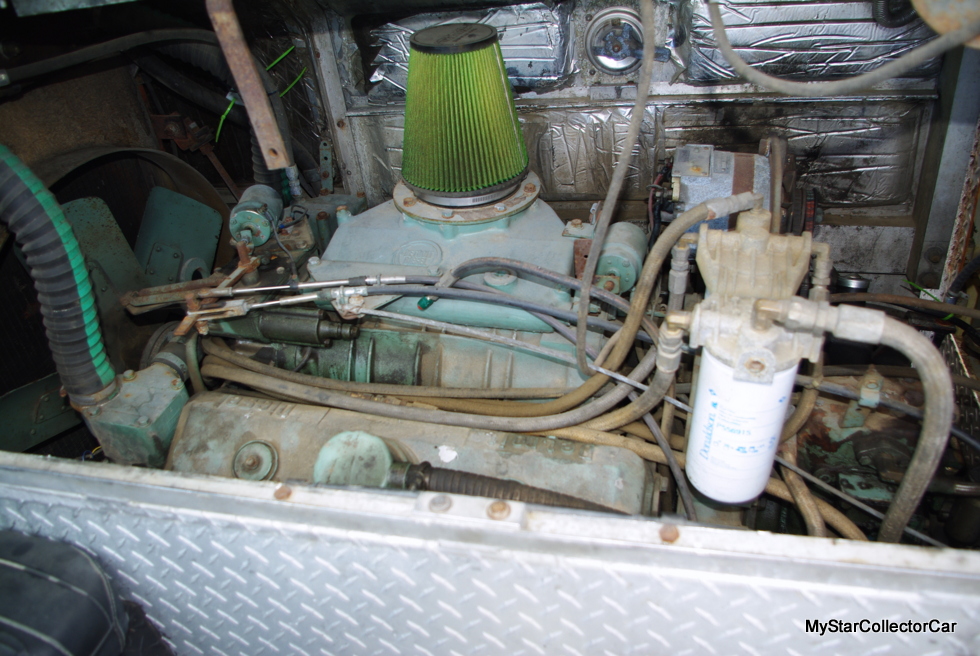 These trucks came with rear-facing seats beside the engine where the firefighters rode and they're open to the elements so the winters were a little brisk back there so the engine heat was welcome. Tristan hadn't had the truck for long but he knows he'd like to "ride back there when he gets a chance".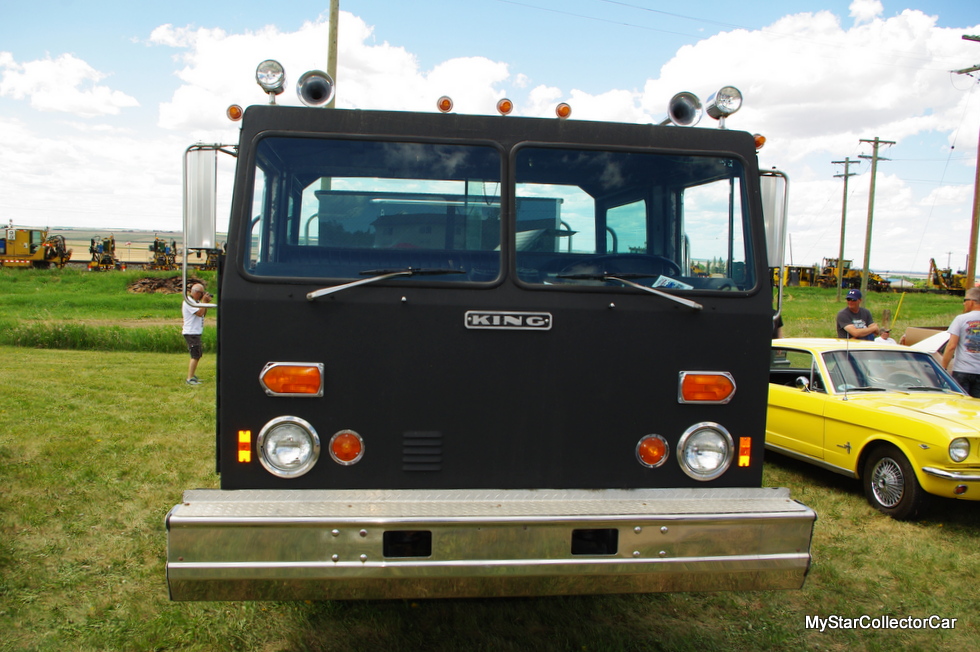 The King-Seagrave was geared for city use so it's definitely not a record breaker on the road but its purpose is to haul a trailer, not set land speed records.  He was a little concerned about his first long run in the old fire truck because it had no problems on the way to the show but he was reserving judgment until he got back. His inner mechanic side told him anything that can go wrong with a 36-year-old truck will probably surface on a road trip.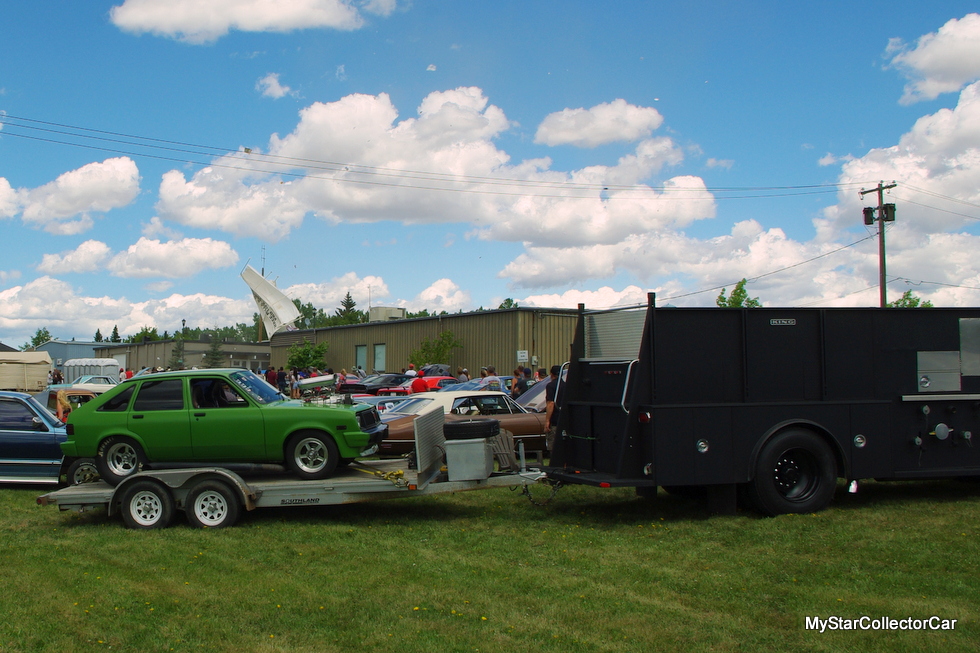 Tristan is realistic about the old King-Seagrave because its primary function is very basic—provide a safe, reliable car hauler. It will never be painted to even factory standards and the only thing he wants to address is the interior because it's showing some wear.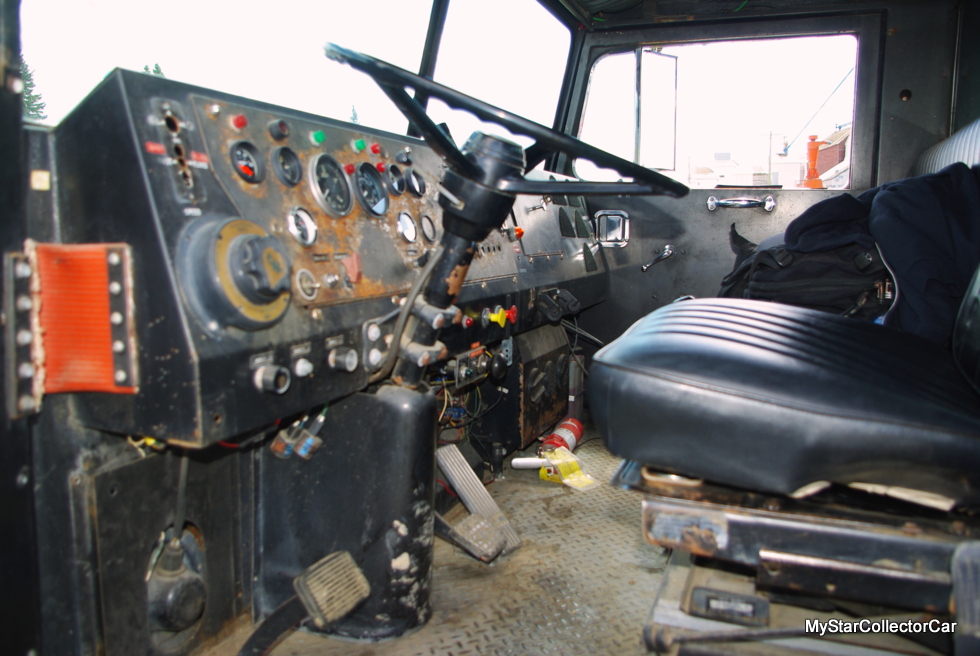 It was a working truck from Day One and now it has a new job—that's why it's a flat black fire truck in post-retirement.
By: Jerry Sutherland
Jerry Sutherland is a veteran automotive writer with a primary focus on the collector car hobby. His work has been published in many outlets and publications, including the National Post, Calgary Herald, Edmonton Journal, Ottawa Citizen, Montreal Gazette, Saskatoon StarPhoenix, Regina Leader-Post,  Vancouver Sun and The Truth About Cars. He is also a regular contributor to Auto Roundup Publications.
Please re-post this if you like this article.