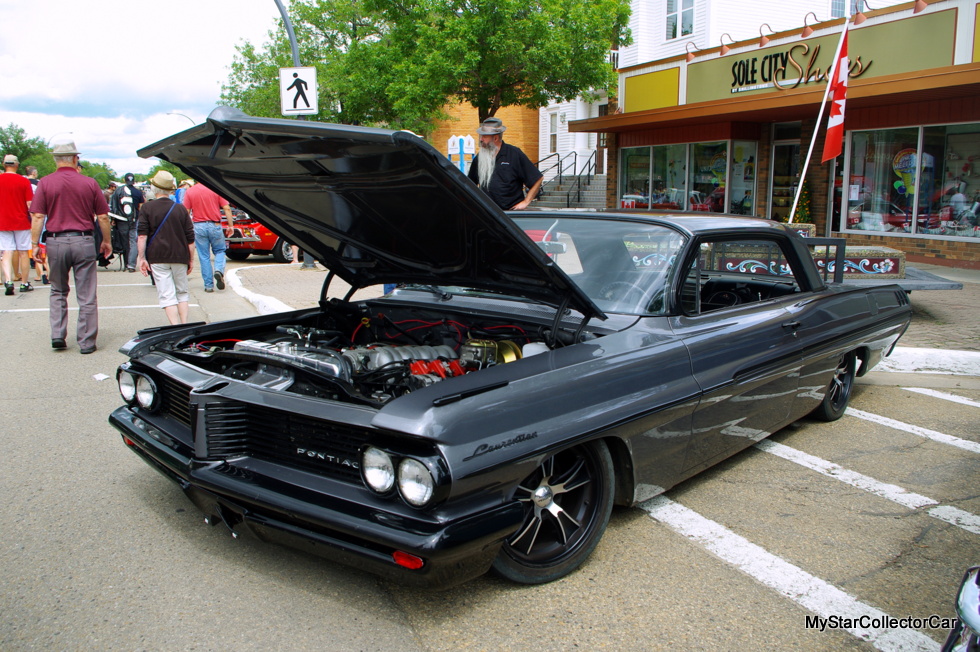 The Pontiac Laurentian was a Canadian-only model that owed much of its engineering to the Chevy Impala.
'The Canadian Pontiac shared the same basic dimensions with the Impala in '62 and was not as wide as the American Pontiac.'
Steve Tellier owns a very cool 1962 Pontiac Laurentian and describes his car as "basically a Chevy Impala with a different trim package".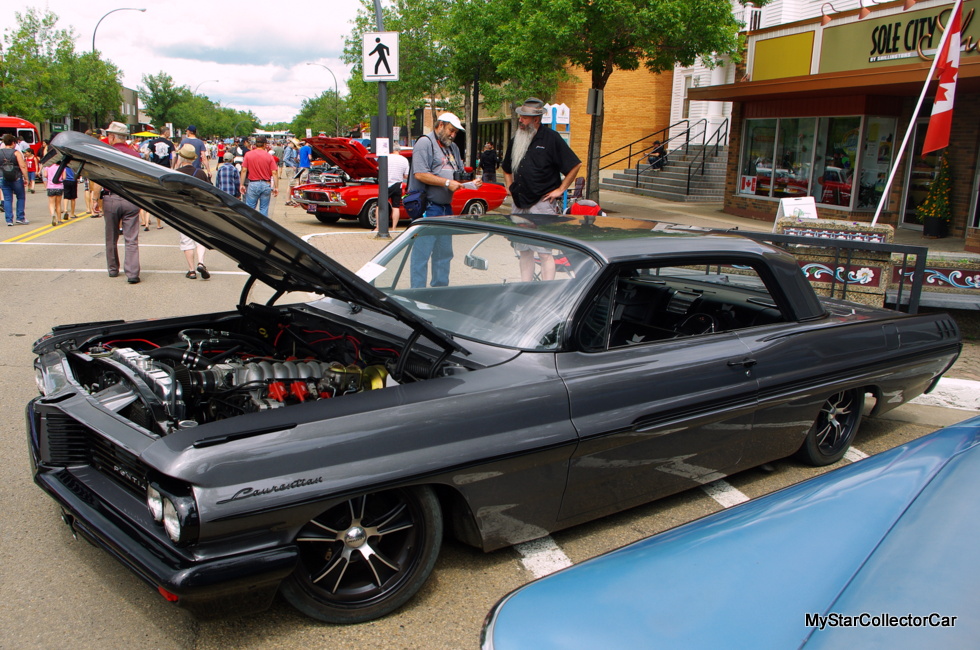 Steve's Canadian Poncho is a good example of a Pro-Touring ride and blends the ultra-cool style of an early 60s ride with state-of-the-art engineering.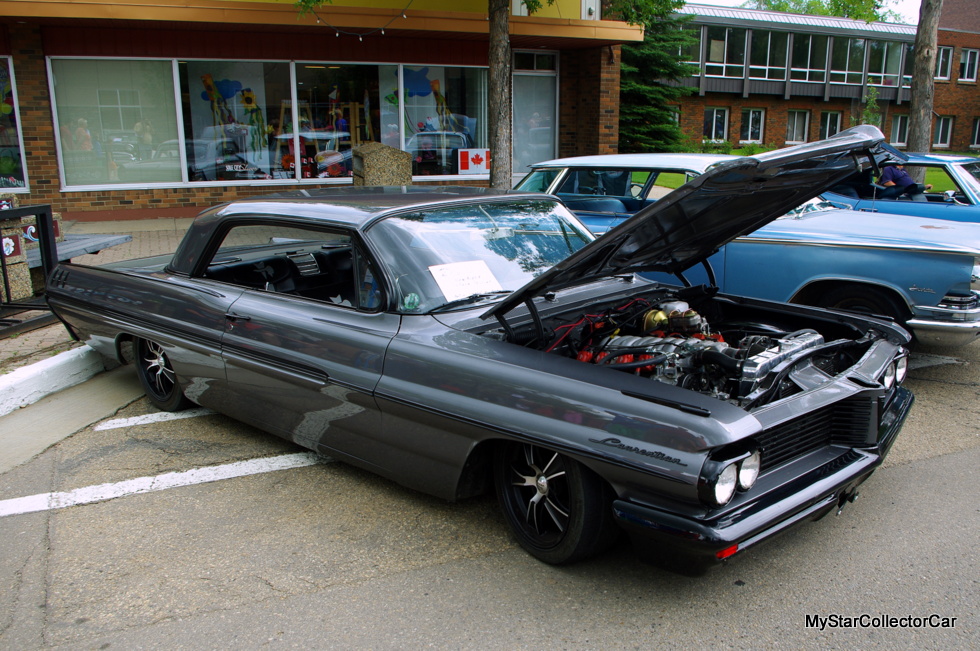 Steve is a former member of the Canadian Army and was a tank mechanic during his time in the military. These days he works as a mechanical contractor on a Canadian military base and still knows his way around a tank.
He developed some good friendships in the military, along with a sizable skill set, so he was happy to build a car for a buddy. That car was this 1962 Pontiac Laurentian resto mod.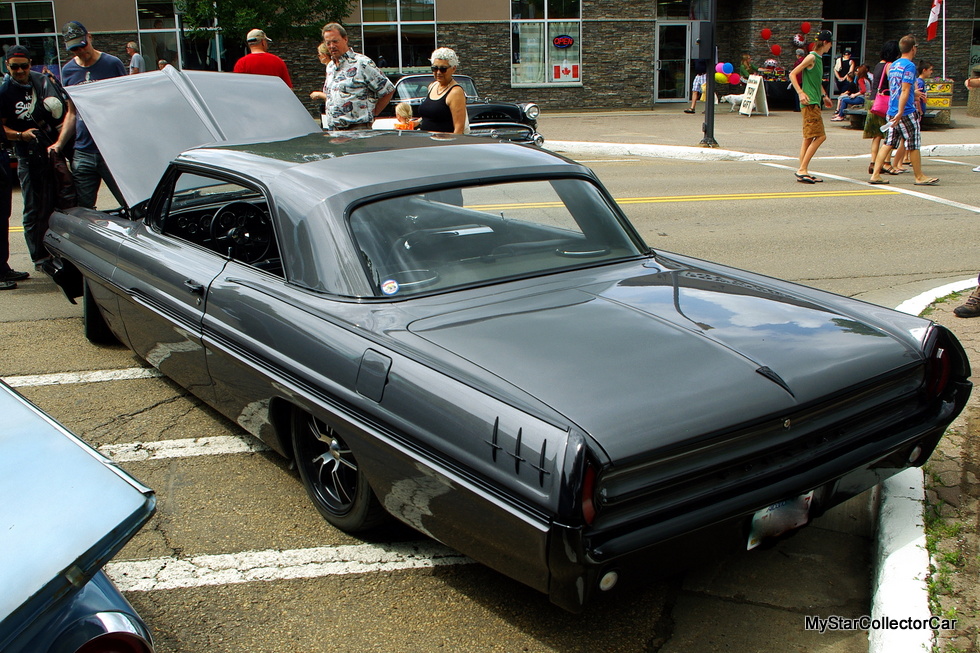 His buddy's wife was not fond of the car to say the very least. She nicknamed the car "The Jealous Gray B***h" and it was not a term of endearment.
The car was an expensive build and she was not happy with the final cost of the project, so Steve's buddy was forced to sell the Poncho only three months after its completion.
Steve decided to buy the car from his buddy because "I built it and I liked it", in his words.
The project was a 2 ½ year build from start to finish and was completed in the spring of 2015.
Steve used a Vortec from a 2009 Chevy pickup in the build and backed it up with a 4L60-E transmission. The four-speed automatic tranny provided enough ratio flexibility to allow Steve to run a 3:70 rear end in the Laurentian.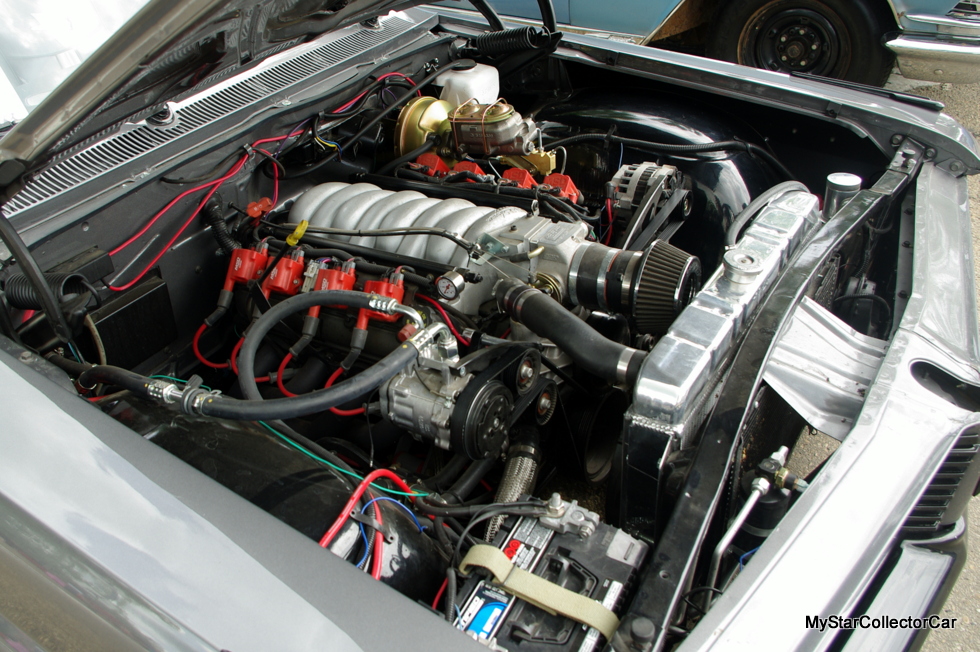 Steve was confident his car would "do OK from light to light" and estimates it has over 400 horses corralled under its hood. But he built his Poncho for the road and the car runs at a leisurely 1500 rpm at 120 km/h (about 70 mph), so it does not have to work too hard on longer trips.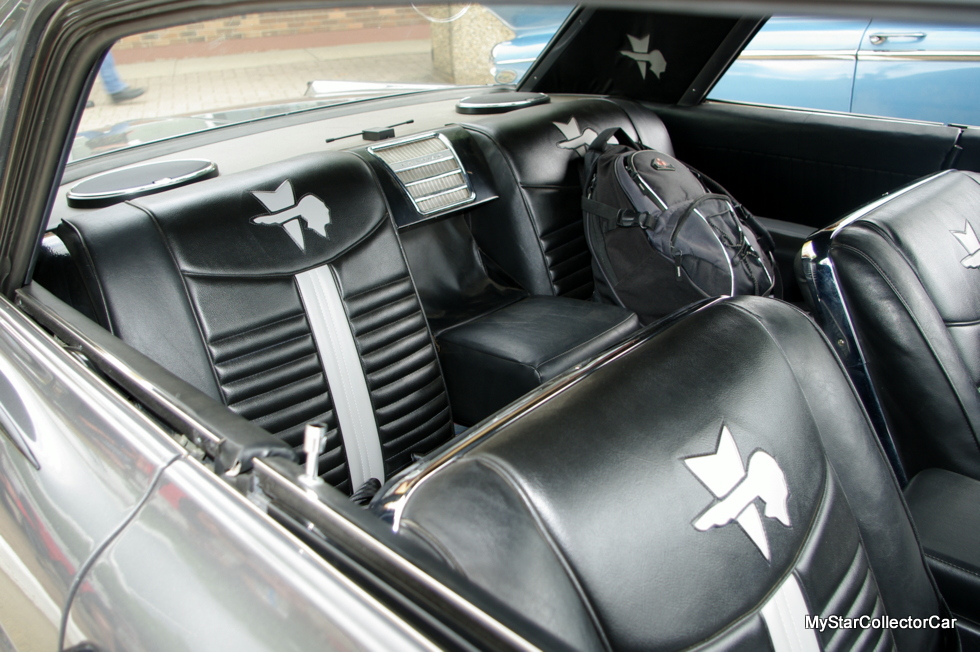 Steve added air ride to his Pontiac and lowered its ride height significantly from its stock form. He also added disc brakes to all four wheels so he can harness all those horses when necessary on the road.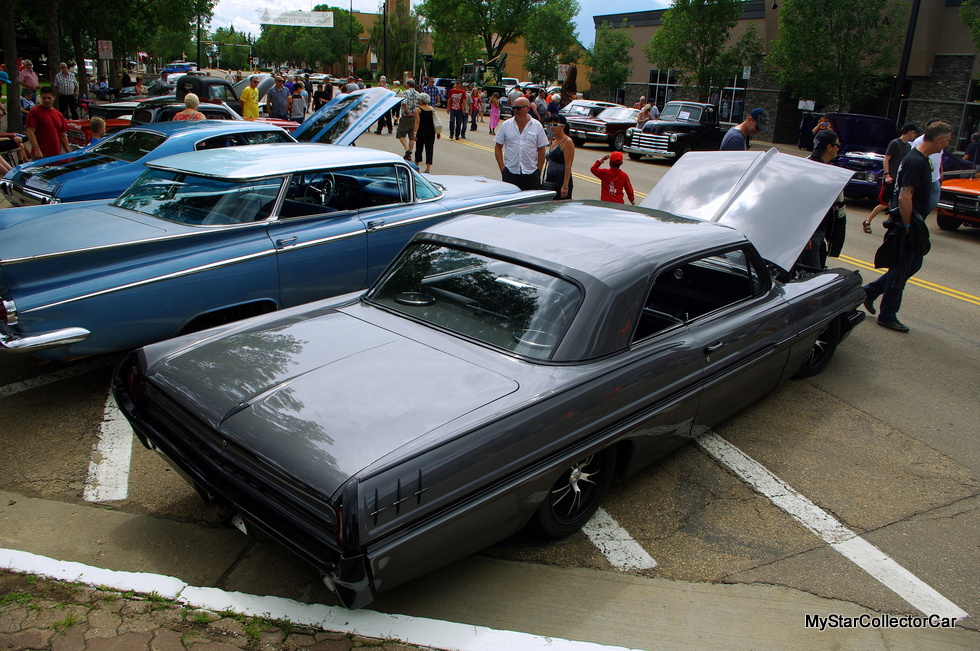 The car has been fitted with hush mat and new weather-stripping, so it has a quiet ride on the highway. Another creature comfort is the air conditioning in the Pontiac because Steve wants to enjoy the ride.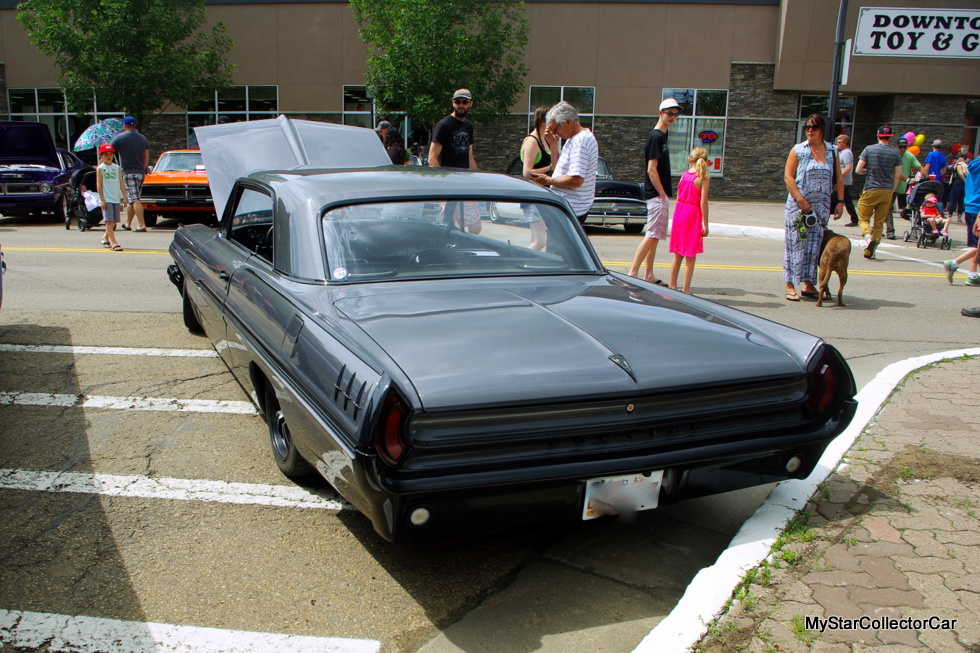 Steve completely re-designed the dash with new instruments and custom sectioning that gives him easy access to the computer system that runs the new power-train in the Pontiac. The entire project took 5000 hours from start to finish and now Steve's hours are logged behind the wheel.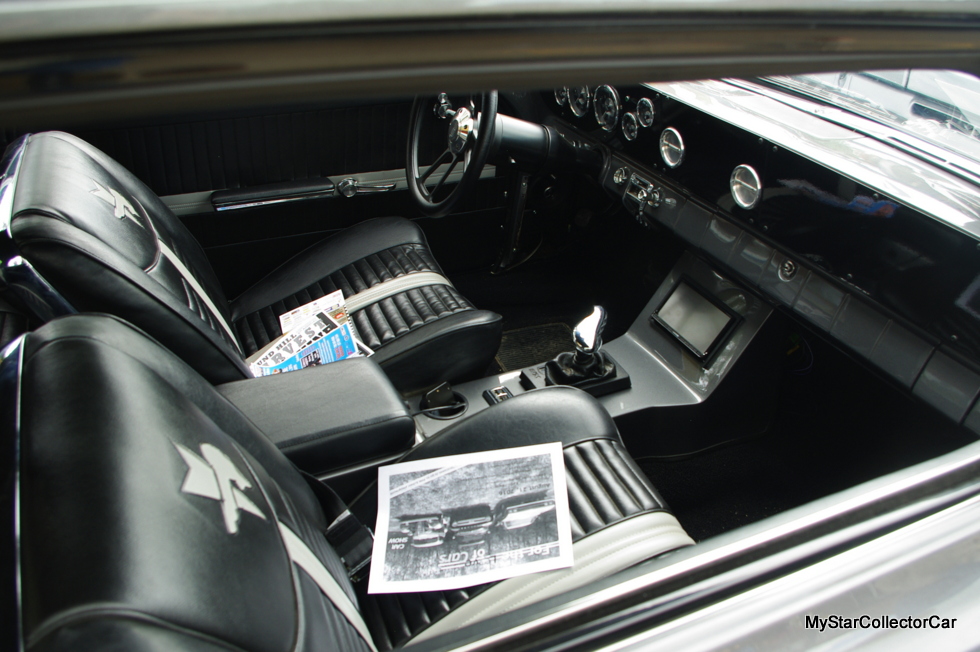 He plans to "drive it a lot" in his words and has a great trip planned for the summer of 2017. Steve will drive the car to Chicago and then head west on the famous Route 66.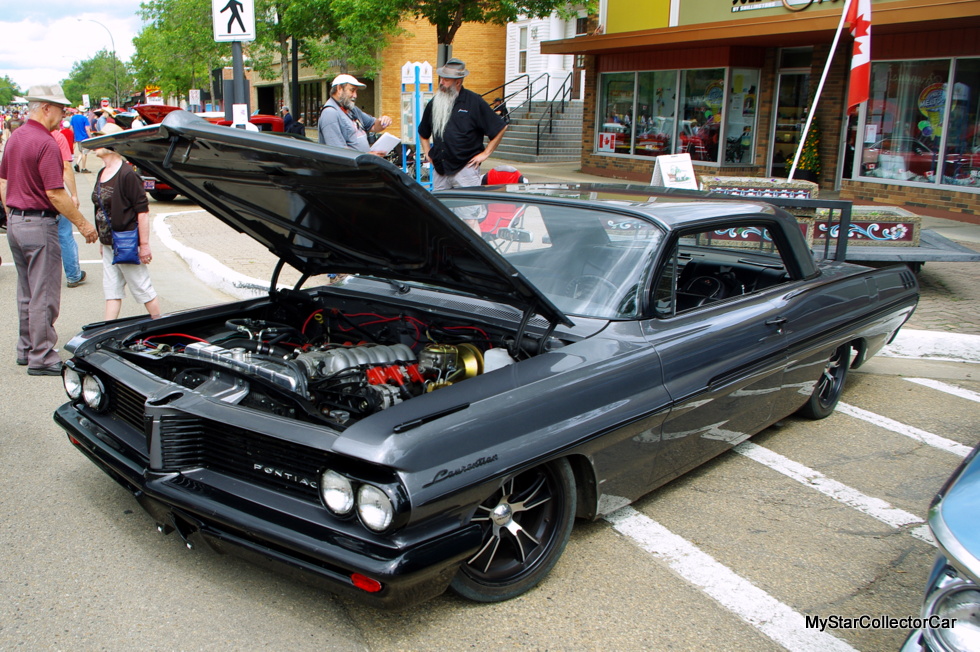 Nice to see a happy ending to a car story that started with an unhappy bride.   

Jim Sutherland
CLICK HERE to Like us on Facebook
CLICK HERE to Follow us on Twitter
CLICK HERE to Follow us on Pinterest
Please re-post this if you like this article.