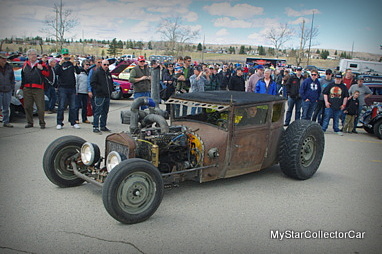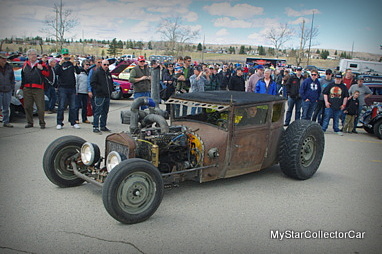 Model Ts were modestly powered machines built for the most basic functions on the road.
They were simple vehicles for simpler times because the early 20th century was a crossover period from horse and buggy days so the horsepower matched the era.
This 1927 Model T is a horse of a different color.
Brandon Hegedus is the proud owner of this '27 T and this ride is clearly a departure from stock as he explained: "There was a lot of trial and error but eventually I went for a Cummins diesel. It was out of a '95 Dodge and it took me quite awhile to find one".
This build was a process as Brandon recalled, "I had the bare body and I looked for a long time and collected parts for a T-bucket. I realized how much it would cost for a T-bucket build so I chopped it right away".
Brandon comes from an old school home so a job like this is a natural consequence of that environment: "We didn't have video games at home but my dad provided an old shop where we could work on stuff. He was a guy who knew what was good for kids".
"Work on stuff" is an understatement with this Model T but Brandon admits he could have done a few things differently, "There was less research than I should have done but a lot of why it worked was luck".
The frame took two and a half months and the technical side took over: "I used a Jag rear end , there was a lot of trial and error so I blew the crap out of it now it's got a 9″ rear end. The engine is dynod at 500 horse and 800 pounds of torque. It's got a 47RH overdrive in it now and it's got a cantilever rear suspension and sway bars".
Brandon confessed to the history of the interior, "I'm no good at sheet metal and the license plates were cheap".
Brandon did put together a very cool ride but the real question is how this monster drives: "It doesn't ride as bad as it looks but the back end breaks loose pretty easy at any speed. It'll lay rubber at 60 miles per hour. It drives like a bit of a bear and it'll go faster than the headlights can see".
There are many reasons why this '27 T is a bear to drive but the biggest reason is the volume: "It's really, really scary if you go past ¾ throttle because the sound goes up and the frame twists and screws up the geometry".
Street monsters like this attract competition and Brandon's '27 monster T is a magnet for challenges as he admits: "A Lamborghini tried to race me at a light and I left him like he was standing still"–that's an amazing feat only if you ignore the physics behind the torque specs and the power to weight ratio.
Actually,he drives this ride with a fair measure of responsibility but it does attract a phenomenal amount of attention at shows so this Model T rattie is like a Hollywood star surrounded by fans at car shows.
This rattie also gets also attention from more formal authorities: "I've been stopped by the police three times in this and every time they just wanted to get a closer look at it".
Brandon is definitely keeping this '27 T and he's looking forward to excursions with his kids but that plan is clearly on hold for now.
"The kids like to sit in it when it's in the garage but when it starts up they're out of there".
Jerry Sutherland
CLICK HERE to Like us on Facebook
CLICK HERE to Follow us on Twitter
CLICK HERE to Follow us on Pinterest