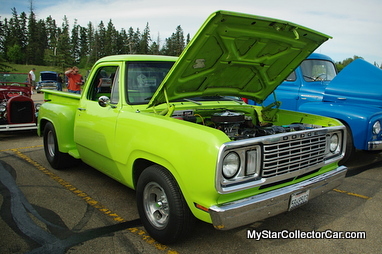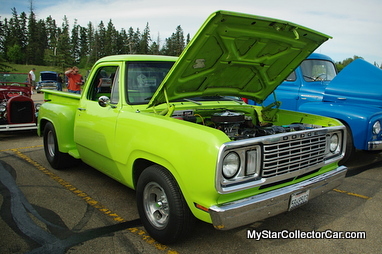 1972 was a year of change at Chrysler because they trotted out a brand new truck design after a long run through the 60s with the same basic body style.
This new-in-72 Mopar truck style would become their signature design until the early 90s.
The Dodge trucks of this era had roomier cabs and a more comfortable suspension upgrade from the buckboard style leaf springs on its predecessor.
The 1972 Dodge truck was designed with more creature comforts but its fate was sealed from the moment it left the factory.
Most of them were sentenced to hard labor on farms or construction sites all over North America and they worked themselves to death along the way. I spent a lot of time in the cab of these trucks in the 70s because I had many summer jobs working in construction during the Me Decade.
I even owned a few of them, including a 1979 Little Red Express; a truck that took on an even tougher job as one of the few North American muscle vehicles of the late 70s. The old Dodges from the 70s were solid trucks in my opinion; workhorses that took a licking and kept on ticking over the years.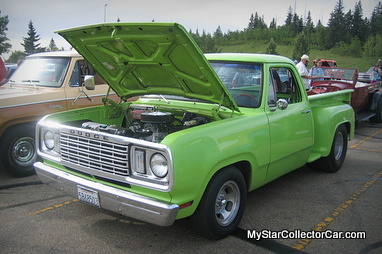 Few of the Dodge trucks lived to see the 21st century because they had served their purpose and were given a brief introduction to a crusher when they could no longer earn their keep. It is the same grim fate faced by most old pickup trucks at some point in their lives.
I spotted Clint Weimer's 1977 Dodge pickup at a June show this year. A lime green step-side short box Dodge is pretty easy to spot because you do not see many of them on the road in any color-let alone lime green.
Also, it was pretty hard to miss the rumble from the 360 engine in the truck when Clint pulled into the show. Clint's only comment about the engine was that it was "not bad for a 360" in a mild case of understatement, judging by the sound of the exhaust on the truck.
Clint always liked the style of the 70s Dodge trucks and wanted "something different" for an old ride. A 70s-era Dodge ½ ton is certainly different in a what-were-once-common-are-now-gone passenger pigeon kind of way.
Clint told me he was a Mopar guy but "likes 'em all" in the true spirit of a car guy. He found his Dodge in Thousand Oaks, California where winter is only a concept and the mild conditions give a lot of old rides a fighting chance for long lives based upon good geography. The Dodge was also a dealership truck so it was not beaten to death on a job site during its working years.
Clint finds the truck to be very driveable and enjoys any opportunity to jump behind the wheel and go for a spin.
The truck is a pretty solid reminder of a bygone era in Dodge history, as well as those of us who drove plenty of these pickups on job sites back in the day-just not lime green ones.
Jim Sutherland