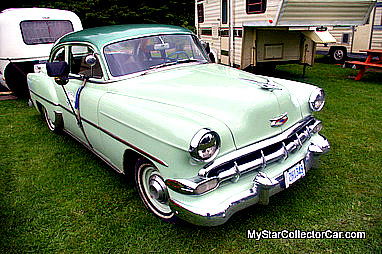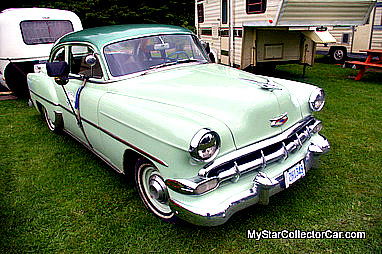 John Burger is no stranger to marathon road trips in old iron.
'In fact, he's crossed Canada several times in a stock 1938 Buick with his whole family (wife and 3 kids) plus a dog–riding shotgun.'
He also drove the Buick to Colorado and California on the 1970s and early 80s.
He's a veteran of the Cross-Canada Coasters Tour via his beloved 54 Chevy. Veteran readers know that the Coasters are a favorite MSCC subject because what they do is so cool.
John is affectionately known in the Coasters' universe as "the Horn blower" and it's not because he likes to give the stock '54 Chevy horn a serious workout.
John has a vast array of noisemakers and he likes to announce his arrival at every destination with a loud and proud entrance. That was clearly evident when he arrived at the campground in Ponoka, Alberta with a holiday trailer in tow.
John picked the 1954 Chevy with the manual transmission and 6-cylinder engine because it's a very basic and bulletproof car with a high degree of simplicity in its components. His opinion after thousands of miles was that the Chevy "loved pulling a trailer but every now and then it didn't want to start-vapor lock".
The Coasters have a yellow ribbon signal for a vehicle in distress and John planned ahead to avoid a vehicular SOS. He had the front end done and traveled with new clutch parts, rebuilt generator and a new camshaft. John explained" It leaks a bit of oil but I'll treat it to an overhaul if it makes it through the trip but I want to avoid putting up the yellow ribbon-so far so good". The car had 75,000 miles on it and at the point of the interview it had developed a "bit of a noise" that John believed was the generator but he felt comfortable with the knowledge that he had a spare in the trunk.
Their daughter Susan, a member of the RCMP, joined the Burgers in Ponoka. Susan was a veteran of the 1970s and 80s road trips in vintage iron and she reported, "This trip was like traveling back in time. I'm sitting in the back seat of an old car, my Dad's driving, my Mom is in the passenger seat and it's suddenly 30 years ago". As a police officer, she reported that stress dissolved away the first night she camped with her parents.
John is a true believer in nostalgia so he downloaded 38 songs by guys like Freddy Fender "for a flashback from 30 years ago". That kind of retrospective plays really well on a Coasters Tour because the whole experience is like a time machine to a carefree past and John is a pioneer in the vintage vehicle vacation. He asserts, " Nowadays people don't want to camp like this anymore. All they want is to play with a Wii".
This was John's first trip as a Coaster but he was clearly a good fit with his newly found nomadic friends. He said " I was really glad I got the time off to hang out with these folks" and judging by their reaction to "the Horn blower", he was clearly a big hit with his fellow Coasters.
John's attitude summed up the philosophy behind the Coasters–a look back from a 21st Century vantage point when car vacations were comic books and open windows-not personal video screens and climate controlled leather seats.
It was the best of times…
Jerry Sutherland
For more car guy stories click here-https://www.mystarcollectorcar.com/
.