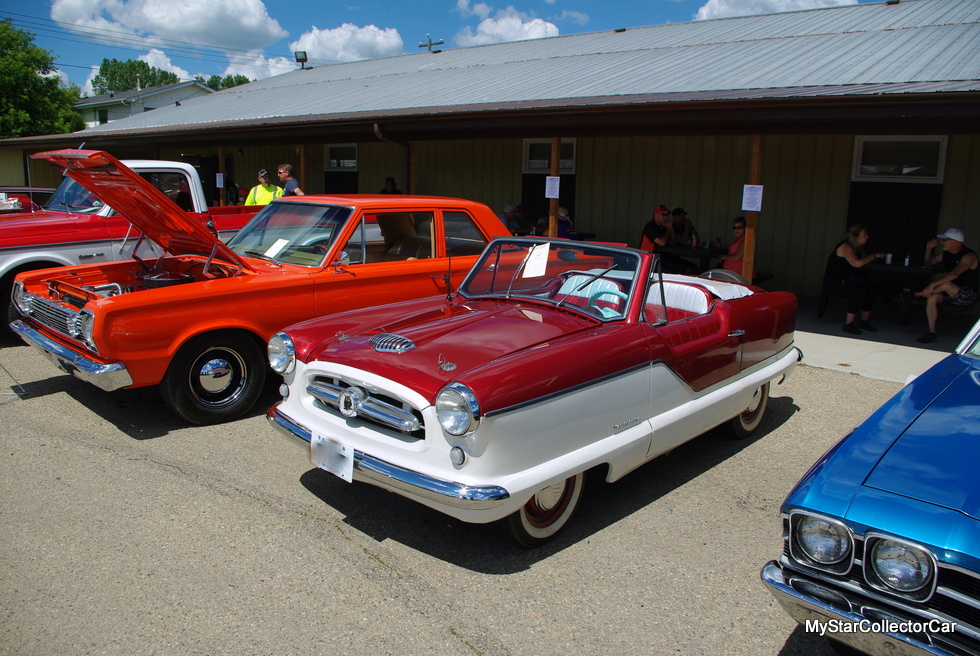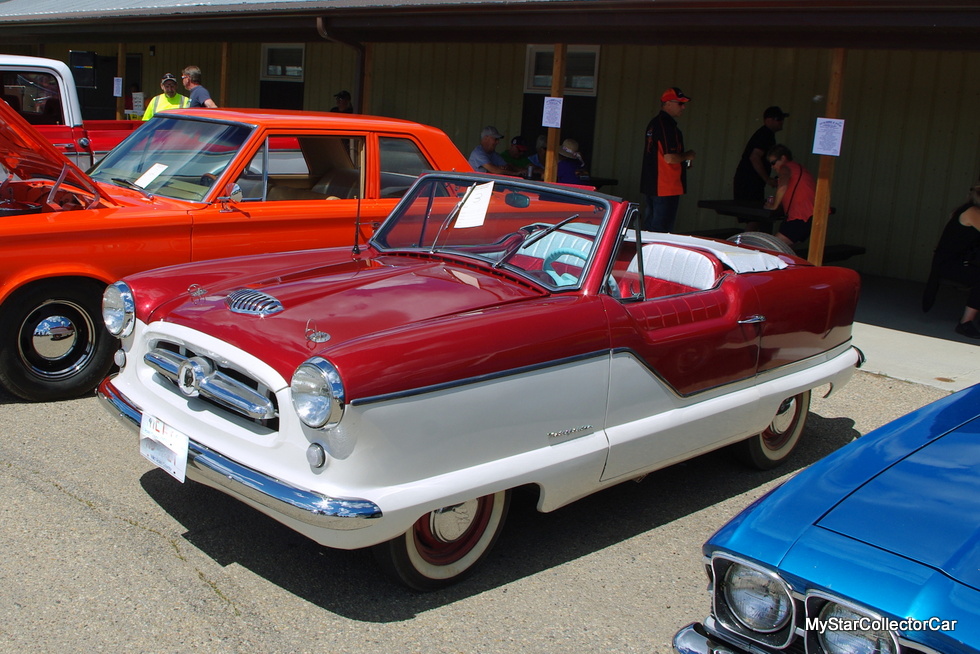 The Nash Metropolitan appeared at a time when bigger and better became the rule on North American roads.
The V-8 engine grew under the hood of the Cadillacs and the Lincolns in the early 50s and lower-end cars were also getting an 8-cylinder option because freeways were becoming a fact of life to 1950s drivers.       
The Met was an early entry in the second car culture because they were perfect (and affordable) suburban errand vehicles plus they had great gas mileage but fuel efficiency came with a price.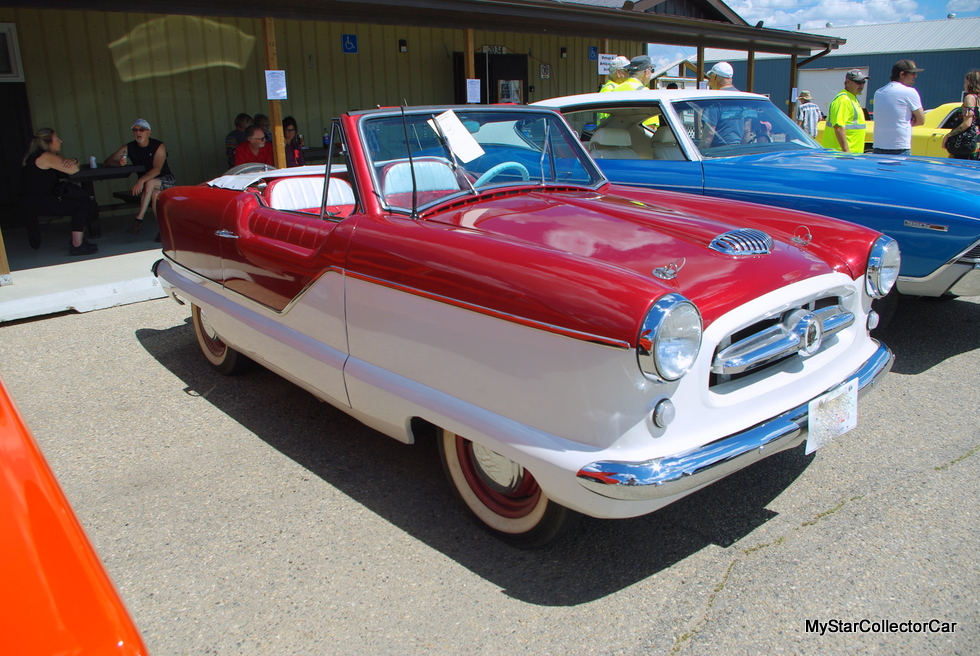 Ed Uhl is the proud owner of a 1954 Met convertible because he "wanted something different" but he also wanted something that could run a little harder than a stock Metropolitan. The Met was in mid-project mode when Ed found it and there was a fuel-injected 4-cylinder as part of the deal but it was a complicated installation.

He found a 1983 Ranger and he decided after some consultation that the little Ford V-6 and transmission was much simpler and it would fit in the little Met engine compartment. There were definitely some custom requirements for the engine including a custom exhaust manifold but the little V-6 doesn't look out of place. Ed brought in a friend in mid-project to sort out all the issues with the car and he thinks it's close to the finish line.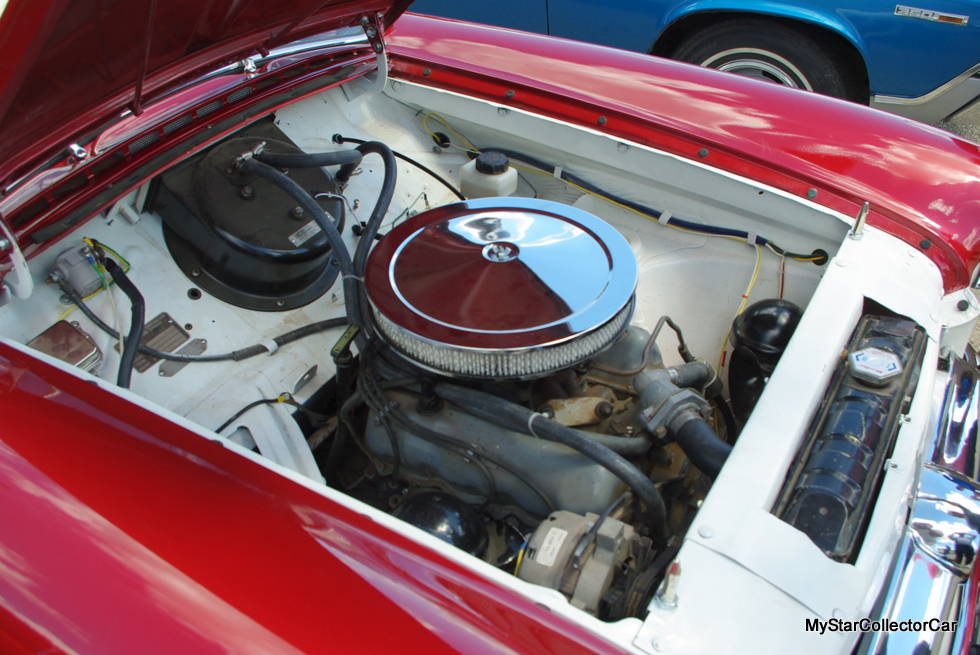 This Met is actually the sum total of three cars because it began life as a two-door hardtop with no trunk. The convertible parts car did have a trunk so the last section of this 1954 came from the donor car.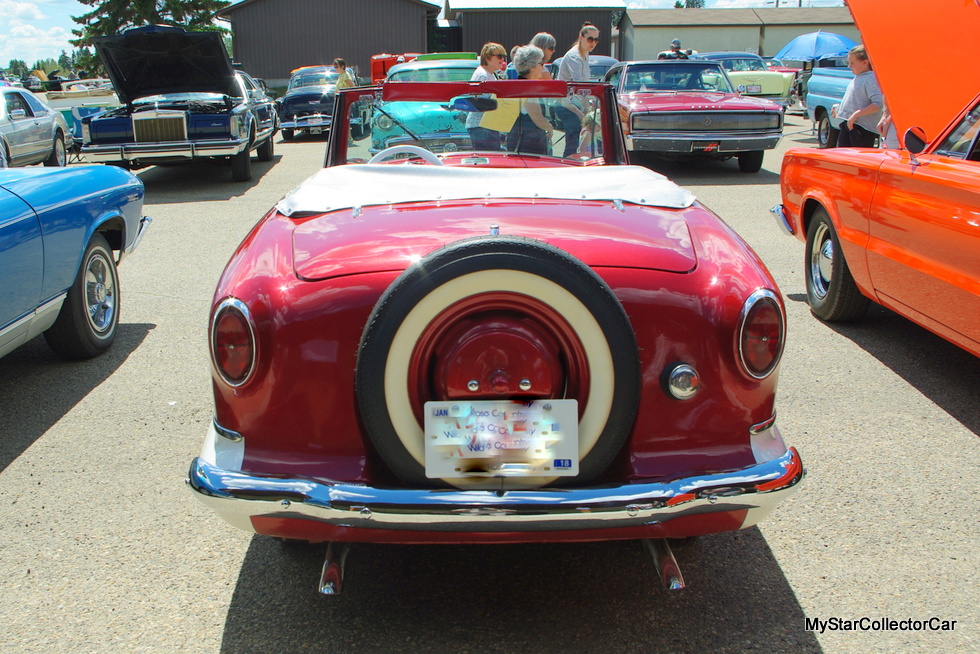 Ed wanted vent windows so the other donor car contributed its doors to his vent-less 1954 Met. The steering column is from a 1990 Cavalier because it has the right length to work around the retro-fitted V-6.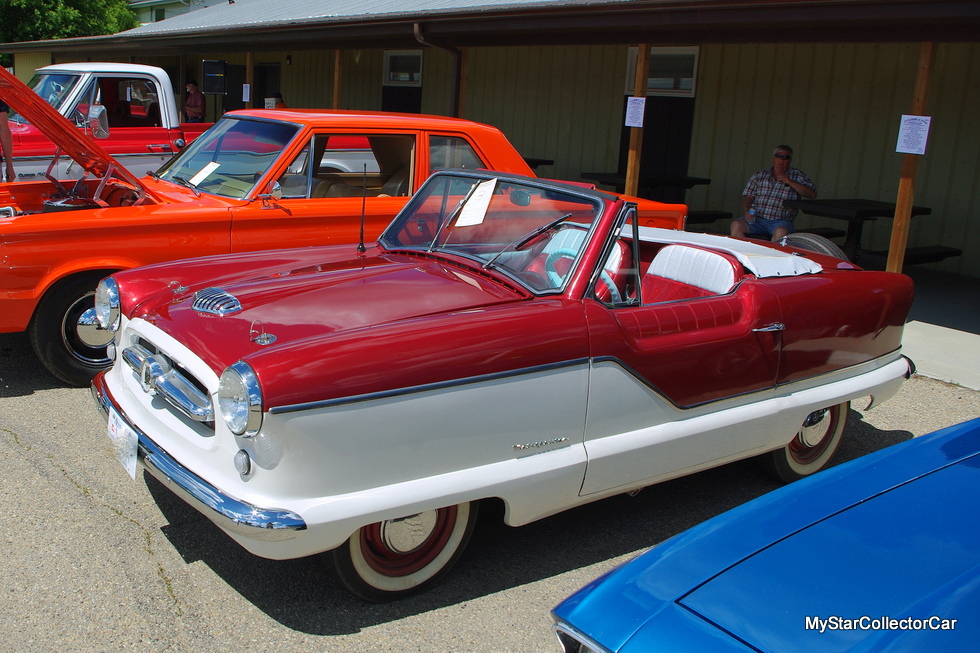 The radiator had to be moved forward to accommodate the V-6 so now this Met has hood pins because the hood latch was sacrificed for the swap. That's the only clue that this Met is anything but stock—if you don't look at the steering wheel, dual exhausts and automatic transmission.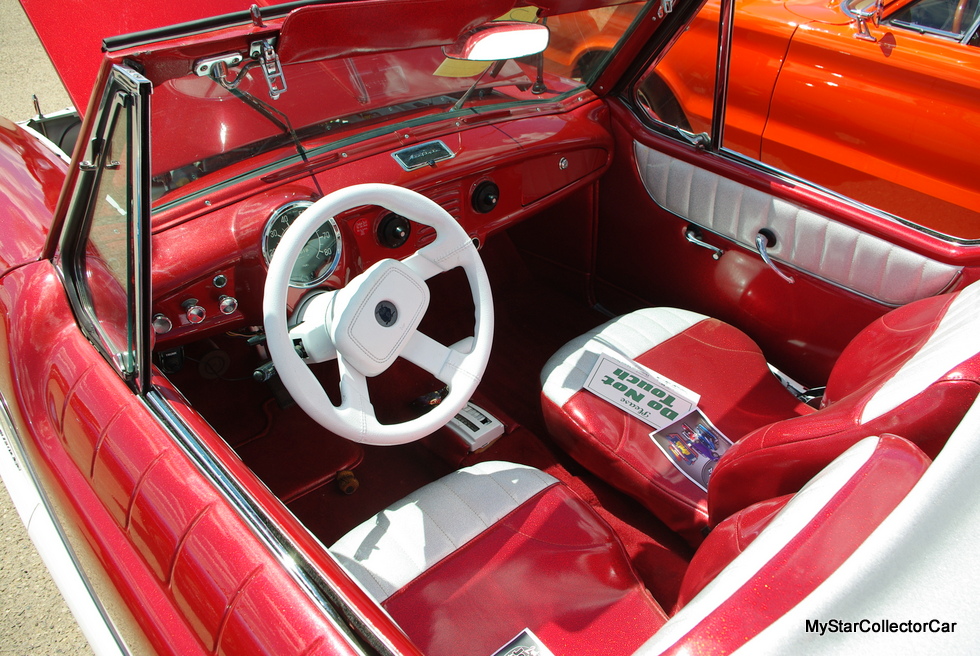 There's a 4:62 rear end in this car so it's definitely not a highway star even with the extra power because it's working insanely hard at 50 miles per hour but there are a few options. The power train is compatible with a number of British Leyland vehicles so Ed is hoping to find a more friendly gear ratio for the Met.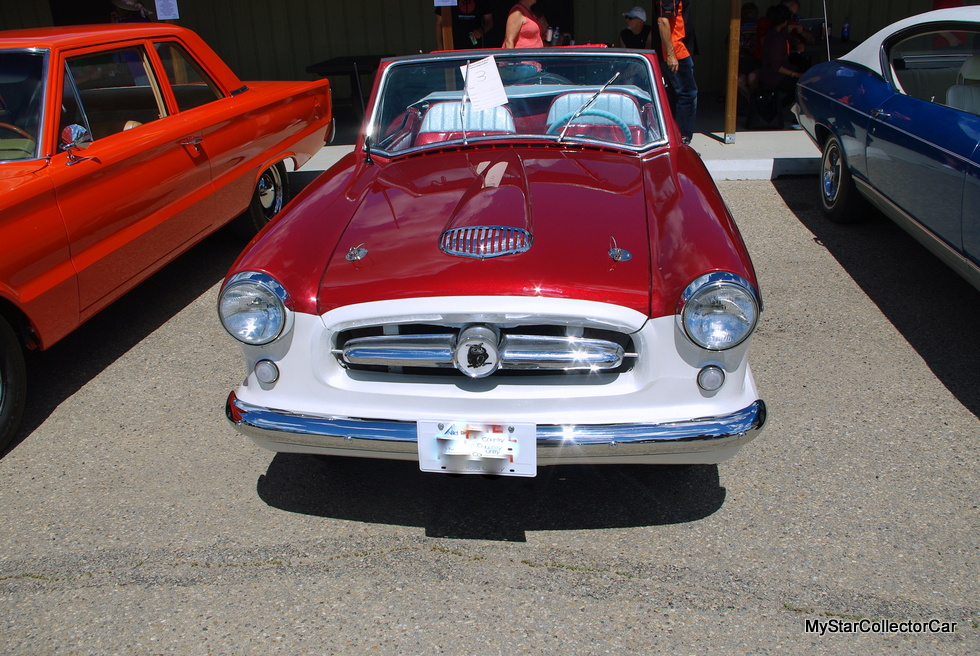 Ed is also looking at MG disc brakes to replace the smallish drum brakes on the Met because stopping power is critical in today's traffic.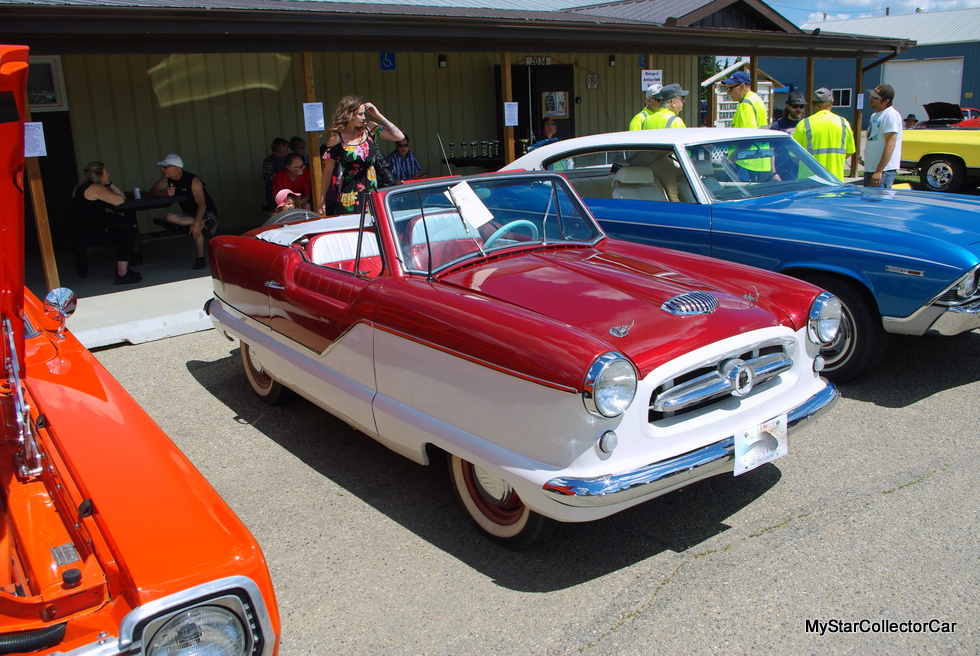 This 1954 Metropolitan is definitely not a long distance machine—it's not even a daily driver. It does see road time and in the future it will likely be a parade star but most of its road time will be in a trailer to shows. A lot of younger people have no idea what it is and one of the questions is whether it floats because some bystanders think it's an Amphicar.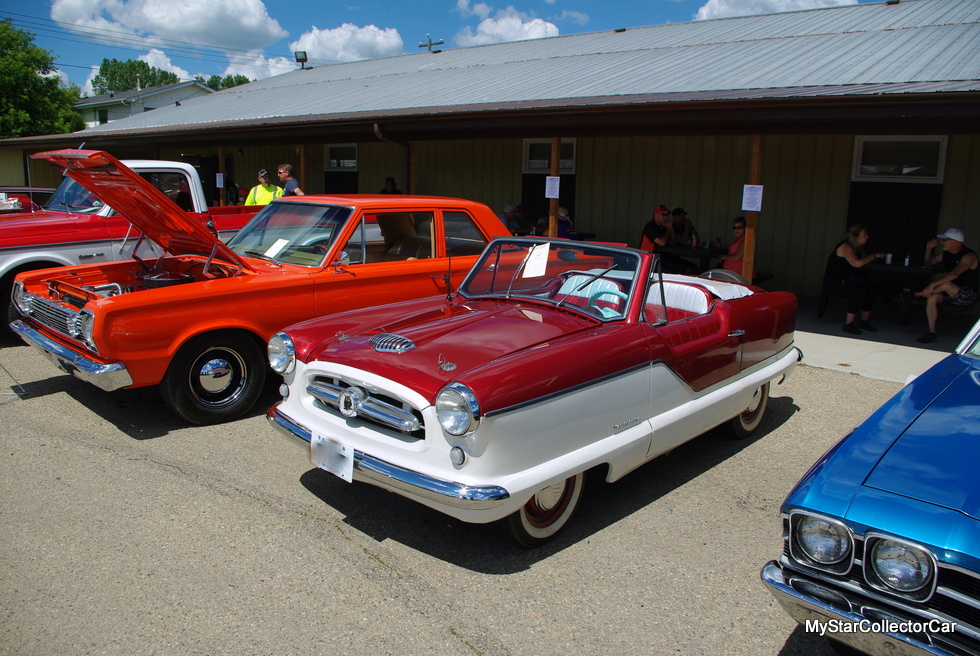 Ed's goal is clear—he wants to have fun with this unique little car and expose it to a whole new world of people who have never seen one. The V-6 just makes the task easier.  
By: Jerry Sutherland
Jerry Sutherland is a veteran automotive writer with a primary focus on the collector car hobby. His work has been published in many outlets and publications, including the National Post, Calgary Herald, Edmonton Journal, Ottawa Citizen, Montreal Gazette, Saskatoon StarPhoenix, Regina Leader-Post,  Vancouver Sun and The Truth About Cars. He is also a regular contributor to Auto Roundup Publications.
Please re-post this if you like this article.