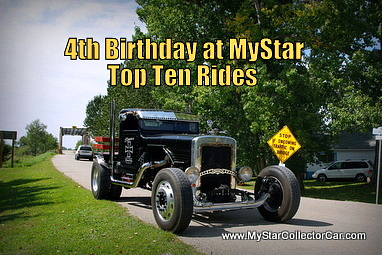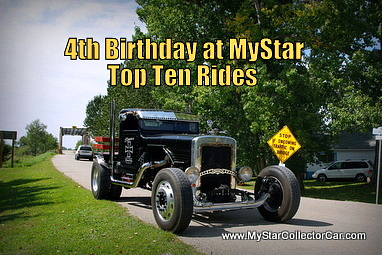 April 2, 2013 was the 4th Birthday for MyStarCollector.com and so far there are literally hundreds of "stories behind the car" on the MSCC website.
The key to the sheer number of MSCC stories distills down to a simple fact–many people are willing to put time, talent and buckets of money into old and unique iron.
That's heroic on its own because these caretakers of collectible vehicles would never get the thumbs-up from their accountants and/or spouses.
New cars are more efficient, powerful, comfortable, cost efficient and reliable than old cars but there's that intangible, gut level, irrational instinct that makes us want to celebrate the past.
So we invest in our 4 (or more) wheeled friends from the past.
There are so many fantastic stories on the MSCC website that picking the ten best is almost blasphemous but people like Top Ten lists.
So here are ten stories that really captured the imagination of MSCC readers over the first four years.
Number ten was a very cool Mopar story about a 1978 Dodge Monaco. It was a Nebraska Highway Patrol Car and this story really caught on with the Pentastar crowd at Chrysler.
Number nine was about a 1971 GMC transit bus. Not many guys think "city bus" as a dream ride but this MSCC story explained why.
Number eight was another MSCC Mopar story. This one was about NHL star Ken Dryden's Stanley Cup MVP '71 Charger. The story was picked up by the Montreal Gazette and shipped across Canada and around the world.
Number seven was an MSCC story about a right hand drive 1960 Chevy Impala 4-door hardtop. These are cool cars on their own but this one was submitted by a guy in South Africa.
Number six was about a 1942 Willys Jeep that hit the beaches at Normandy on D-Day. This was a survivor in the true sense of the word.
Number five was an MSCC story about a 1960 Dodge Pioneer 4 door sedan. This one was written by Sig Brouwer (a world class children's author) so it didn't need tweaking.
Number four was about a '58 Caddy with a monster under the hood. The owner called it a tuner car killer…his own words. That resonated well with MSCC readers.
Number three was an MSCC story about a '63 Ford that was a seized rum runner car from Tennessee. Very cool ride,very cool back story.
Number two was a custom build called the "Screaming Eagle". This was a monster and the best way to describe it is to follow the link.
Number one was a fairly recent MSCC story about Evil Pete, the world's largest rat rod. You have to see the story to really grasp the scope of this unique "ratty". This wild unit really got the attention of MSCC readers…in fact it still does.
This was definitely not a "best-of" competition, it's more of a reflection that certain off the beaten path MSCC stories caught the attention of readers because they were so unique and unusual.
The reality is simple-every MSCC owner/old ride story is a "best of"…
Jerry Sutherland