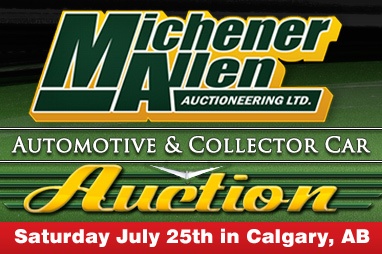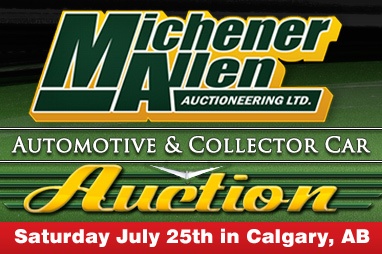 MyStarCollectorCar JULY 2015 CAR SHOWS AND EVENTS
MyStarCollectorCar has the most dynamic, up to date Car Shows and Events calendar in Canada. MSCC has the most traffic and the highest Google Canada ranking for car shows and events in the country-we've held the number one spot since 2012.
You can gain a huge advantage with your event if you get the information to us long before the actual event so if it's a fixed date every year send us the details. These listings are free.
We are also very interested in your club meetings and off season social events because this is how car guys spend the winter months and we can get you the exposure for your club and community events.
**Please note: Community or charity-oriented fundraisers are welcome but we can't place a business name from a non-advertiser in the event listing—we want to protect our current advertisers.
Please email jer43mystarccar@shaw.ca with any events and we'll have it on the page within 24 hours.
PLEASE FEEL FREE TO COPY AND PRINT THIS PAGE
JULY 1: FORT SASKATCHEWAN, AB Canada Day Show and Shine
JULY 1: SALTSPRING ISLAND, BC Canada Day Show and Shine 250-537-9749
JULY 1: CALGARY, AB Fort Calgary Show and Shine 750 – 9th Avenue SE 403-290-1875 403-265-6534
info@fortcalgary.com
JULY 1: GOLDEN BC, Red line Car Club Canada Day Show. All makes and models.
JULY 1: HIGH RIVER, AB 10th Annual River City Christmas in the Park
JULY 1: SAANICH, BC 17th Annual Gorge Canada Day Picnic/Show and Shine 250-389-1802
JULY 1: CALGARY, AB Grey Eagle Casino: Wild Wednesday Car Show
JULY 1: ATHABASCA, AB Classic Cruisers Show
JULY 1: HOPE, BC Canada Day Show in the Park 604-750-8648
JULY 1: DAYSLAND, AB Cars in the Park Show and Shine West View Manor Park
JULY 1: STONEY PLAIN, AB Canada Day Show and Shine Vicki 780-914-8869
JULY 1: WESTBANK, BC Westside Daze Show and Shine
JULY 1: GRANUM, AB Kickoff to Summer Show and Shine Terry 403-680-2645
JULY 1: ALLIANCE, AB 4th Annual Alliance Canada day Classics and Customs indoor show & shine in Alliance, Alberta in the multi plex for more info contact Roy Darling @ 780-390-0329 or Jeremy Simpson @ 780-385-8445
JULY 1: FT ST JOHN, BC Canada Day Show and Shine 250-794-8000

JULY 1: ROCKY MTN HOUSE, AB We are proud to host the 2nd Annual open car show during the Canada Day celebrations at the Rocky Mountain House National historic Site of Parks Canada. ronny.langendoen@pc.gc.ca Telephone / Téléphone 403-846-7370 Facsimile/ Télécopieur 403-845-5320
JULY 1: RED DEER, AB Show and Shine "3rd Annual Raising Funds for Homeless Veterans" 10 am – 3 pm – Riders and Cruisers Alberta ( Veteran Show & Shine) Location TBA Dave 403.877.5047
JULY 1: CANNINGTON, ON Lions Club Canada Day Festival & Car Show
JULY 1: ROSEMARY, AB Canada Day Classic 7th Annual Show and Shine Rod 403-501-3608
JULY 2: RED DEER, AB Red Deer Cruise Night Every Thursday Evening May to Oct 6-9pm NE Lot Parkland Mall Red Deer Dave @ 403-877-5047 reddeercruisenight.ca
JULY 2: CHILLIWACK, BC Stillwell Cruise Campers Show 778-878-2904
JULY 4: PICTURE BUTTE, AB Show and Shine at the Coyote Flats Pioneer Village in Picture Butte on July 4. Contact Bill at 403-327-1917 or Denny at 403-328-9587. prairietractor@gmail.com
JULY 4: PRINCETON, BC Main Street Show and Shine 250-295-0879
JULY 4-5: MANSFIELD, ON Silver Willow Classic Country Cruisin'
JULY 4-5: PRINCE GEORGE, BC Corvettes at Prince George
JULY 4-5: GOOD SPIRIT LAKE, SK Cruise the Spirit 306-782-2338
JULY 5: COLLWOOD, BC Vancouver Island Mustang Club Summer Spectacular 250-881-1423
JULY 5: LEGAL, AB Show and Shine Kal 780-668-9628
JULY 5: NORTH VANCOUVER, BC Shipbuilders Square Car Show 604-987-1814
JULY 5: STRATHMORE, AB 2nd Annual Show and Shine Dan 403-651-0260
JULY 5: OLIVER, BC Royal Canadian Legion #97 and Coach Builders Car Club 1st Annual Summer Daze Car Show email duckman41@persona.ca or Phone: 778-870-0689
JULY 5: MOOSE JAW, SK Run to Besant 306-631-7506
JULY 5: PORT ALBERNI, BC Golden Oldies 41st Annual Show and Shine 250-623-8344
JULY 5: EDMONTON, AB Mainstreet Cruisers 22nd Annual Show and Shine Joyce 780-434-9736
JULY 5: NANOOSE BAY, BC Mid-Island Hot Rod Classic 866-364-7384
JULY 5: RIMBEY, AB Park'n in the Park Show and Shine Cheryl 403-843-2004
JULY 5: NORTH VANCOUVER, BC Corvettes Waterfront Car Show 604-541-7669
JULY 5: BURNS LAKE, BC Show and Shine 250-692-5721
JULY 6: WARMAN, SK Valley Cruisers Show and Shine 306-223-4466
JULY 8: CALGARY, AB Grey Eagle Casino: Wild Wednesday Car Show
JULY 9-12: MONCTON NB The 15th Annual Atlantic Nationals Automotive Extravaganza
JULY 10-12: DAWSON CREEK BC Mile Zero Cruisers 21st Annual Summer Cruise Event
JULY 10-12: LUMBY, BC Cam Jammers Rod Run and Campout Sean 250-546-0156
JULY 10-12: PONOKA, AB Piston Poppers Hog Root Run Bob 403-783-4054
JULY 11: CALEDON, ON Classic Car, Truck & Motorcycle Show and Swap Meet Mount Alverno Retreat Centre, 20704 Heart Lake Road, Caledon, Ontario Jim/Mary at 1-519-941-7059 or Jim at jimbren@golden.net
JULY 11: CALGARY, AB We are a non-profit organization that serves communities in NW Calgary. This year I would like to invite you and your organizations to set up your vehicles in our parking lot which you would have full access to because we block off the entire area. I am extremely interested in partnering with your clubs. Feel free to contact me at any time. Tawnia Cardinale Program Coordinator Triwood Community Association (403) 282-2677
JULY 11: PRINCE ALBERT, SK 20th Annual Car Show 3725 – 2nd Avenue West
JULY 11: IRRICANA, AB Sports Day Show and Shine Norm 403-519-8130
JULY 11: PENDER ISLAND, BC 9th Annual Highlander Show and Shine 250-629-6523
JULY 11: BONNYVILLE, AB 5th Annual Gear Gear Grabbers Classic Dennis 780-826-0724
JULY 11: KENOSEE, SK Cornerstone Cruisers 2nd Annual Show and Shine 306-577-7399
JULY 11: WHITECOURT, AB Whitecourt Wheels Meet/show/shine at the Whitecourt Rodeo grounds…located on highway 32 about 7 km south of Whitecourt, AB. Driver of the vehicle gets a pass into the rodeo grounds…the show is outside the gate and free for anyone to attend.
JULY 11: LETHBRIDGE, AB Battle at the Bridge Show and Shine Steve 403-331-1960
JULY 11: OYEN, AB Lions 12th Annual Show and Shine Blake 403-664-0153
JULY 11: ABBOTSFORD, BC Mill Lake Cruise-In Car Show 604-853-0313
JULY 11: CALGARY, AB 10th Annual Rollers Hot rod-Arama
JULY 11: PILOT BUTTE, SK Gettin' Your Kicks on Route 46 Show and Shine 306-764-9000
JULY 11: SYLVAN LAKE, AB 9th Annual Show and Shine Gord 403-887-7047
JULY 12: MERRICKVILLE, ON Car Show "Cruise & Shop"
JULY 12: ALDERSYDE, AB River City MS Fundraiser Show and Shine
JULY 12: LANGLEY, BC Mopar Madness 604-309-7666
JULY 12: REGINA, SK Saskatchewan Ford-Mercury Show and Shine Gord 306-539-3935
JULY 12: SALMON ARM, BC VCCC Shuswap Harbor Front Cruise 250-675-5091
JULY 12: WESTLOCK, AB Wheels of Class Show and Shine Dave 780-349-3560
JULY 12: VICTORIA, BC Classy Caddys at the Fort 250-889-7521
JULY 12-18: COCHRANE, AB 50th Tour Model T of America Ross 403-651-1612
JUNE 13: ONOWAY ON Ride for Sight
JULY 14: GRAND BEND, ON Antique Car Show Forest – King Street 519-786-4725 or 519-786-5062
Antique and vintage car show and parade from 4-7pm.
JULY 14: IRRICANA, AB International Model T Meet Pioneer Acres
JULY 14: RED DEER, AB Red Deer Cruise Night ( Downtown ) 2nd Tuesday each month May – Sept 6-9pm Alexander Way Red Deer Dave 403-877-5047 reddeercruisenight.ca
JULY 15: CALGARY, AB CALGARY, AB Grey Eagle Casino: Wild Wednesday Car Show
JULY 17: YORKTON, SK Rolling Thunder Cruise 306-898-4681
JULY 17: ALDERGROVE, BC Festival Days 6th Annual Show and Shine 604-607-0247
JULY 17-18: STRATHMORE, AB Fun Runners Show and Shine Shawn 403-901-9303
JULY 17-18: ECHO VALLEY, SK Northside Street Rods Hot Rod Hi-Jinx 306-539-4017
JULY 17-19: VICTORIA, BC Jaguars on the Island 250-383-4643
JULY 18: CARSTAIRS, AB Beef & Barley Days 2015 Show & Shine and 100′ Drags Carstairs Community Hall 1100 Lackner Way
JULY 18: CHILLIWACK, BC Hot Rods and Classics Show and Shine 604-792-9005
JULY 18: SEXSMITH AB Webster Hall 2nd Annual Car Show, over $5500 in cash and prices again this year,we are just north of Sexsmith AB
JULY 18: ARDOISE NS Family Fun Day & Car Show N' Shine Community Hall
JULY 18: LLOYDMINSTER, AB Auto Club Show and Shine Marvin 780-808-1424
JULY 18: CAMROSE, AB Cruisers Show and Shine
JULY 18: CALGARY, AB Club Vee-Dub Presents Das Volks 2015 Parkhill/Stanley Park
JULY 18: VANCOUVER, BC Marpole Summerfest Show and Shine 604-802-0490
JULY 18: CALGARY, AB European Classic Car Meet Chris 403-901-5802
JULY 18: MOOSE JAW, SK 5th Annual Show and Shine 306-693-1906
JULY 18: LETHBRIDGE, AB Southern Alberta Truck Expo Show and Shine/Job Fair Lane 403-795-1939 southernab.te@gmail.com
JULY 18: NANTON, AB AMCA and Friends 3rd Annual Car Show 403-252-8571
JULY 18: SYLVAN LAKE, AB Alberta Auto Enthusiasts Show and Shine Township Rd 392 & Hwy 20 contact: Crystal Rhayn sylvanlakecarshow@gmail.com
JULY 18: DELISLE, SK Back 40 Show and Shine 306-493-3033
JULY 18: OLDS, AB 22nd Annual Rocket Round Up in Olds
JULY 18: OIL SPRINGS, ON Classic Car Show and Street Dance Festival
JULY 18-19: STETTLER, AB Live Steam & Vintage Car Show
JULY 18-19: 100 MILE HOUSE, BC Hot July Nights Car Show Gary Hales wintersinsalome@gmail.com 250-791-5656
JULY 18-19: DUNCAN, BC Antique Truck Show 250-743-2213
JULY 18-19: YORKTON, SK Kambusters 1/8 Mile Drags
JULY 18-19: NORDEGG-JASPER AB Drive for Diabetes -the Rocky Mountain Way.The Cruise: Gateway Park info centre, between Edmonton and Leduc cruise to Nordegg Via Drayton Valley the final destination of the first leg.Second Leg for those interested: West into Banff National Park via Saskatchewan Crossing – Columbia Ice fields-Athabasca Falls to Jasper Ryan Rexin RXN Classic Rides 58rocket88@gmail.com 780-942-3239
JULY 18-19: STETTLER AB Stettler Car Club 1/8 mile drag races
JULY 19: BURNABY, BC City Fair Show and Shine 604-802-0490
JULY 19: DRAYTON VALLEY, AB Northern Thunder Car Club Show and Shine
JULY 19: WHITE ROCK, BC Westcoasters Car Club 604-539-1202
JULY 19: REGINA, SK Mustang Owners Show and Shine 306-586-6984
JULY 19: VICTORIA, BC 35th Annual Fords and Friends Picnic 250-479-2793
JULY 19; ROSEBUD, AB Gearheads Classic and Truck Show Jeanne 403-677-2577
JULY 19: BURNABY, BC Harleys and Hot Rods Burn Camp Ride 778-853-2915
JULY 19: LONGVIEW, AB Little New York Daze Show and Shine Dave 403-558-3940
JULY 19: LANGLEY, BC BCHRA Hot Rods at Willowbrook 604-576-6051
JULY 19: CHILLIWACK, BC Fraser Valley Classic Car Show
JULY 19: KELOWNA, BC Okanagan Mustangs and Fords Show and Shine 250-766-3332
JULY 21: FT MCMURRAY AB Revolutions Car Show
JULY 22: CALGARY, AB Grey Eagle Casino: Wild Wednesday Car Show
JULY 24-25 WESTLOCK, AB: Show & Shine Entry Fee Ticket Sales & Information call 780-349-4968 or 1-877-888-7364 Ehreth Horinek ehrethh@precisioncanada.com
JULY 24-25: LILLOOET, AB Route 99 Show and Shine/Poker Run 250-256-0116
JULY 25: CALGARY,AB Michener Allen 16th ANNUAL COLLECTOR CAR AUCTION 9:00 am MST TOLL FREE: 1-877-811-8855 LOCAL: 403-226-0405

JULY 25: LACOMBE, AB 10 am – 4 pm Lacombe Days Show and Shine Downtown Lacombe,Alberta Dave 403.877.5047
JULY 25: PORCUPINE PLAIN, SK 11th Annual Show and Shine 306-278-2311
JULY 25: OLDS AB Mopars and More 2nd Annual Show and Shine, corner of highway 27 and QE2 call Dean at 403-556-7332
JULY 25: ROCKY MOUNTAIN HOUSE, AB Hooked on Classics Show and Shine 403-845-5227
JULY 25: WATROUS & MANITOU BEACH, SK 24th ANNUAL FUN RUN AUTO SHOW & SHINE www.watrousfunrun.com
JULY 25: EDMONTON, AB 3rd Annual Rig Cruise Car/Bike/Truck Show and Shine
JULY 25: ST JOSEPH ISLAND, ON Hilton Beach Car Show
JULY 25: REGINA, SK Collectors Car 29th Annual Cruise/Show and Shine 306-949-6590
JULY 25: MAYNE ISLAND, BC Car Show 250-539-5971
JULY 25: KAMLOOPS, BC Chrome in the Grass Show and Shine 250-318-0829
JULY 25: WARNER AB Lions Club Car Show
JULY 25: ASSINIBOIA, SK Southern Cruisers Rod Run and Show and Shine 306-642-4705
JULY 25: COURTENAY, BC Comox Valley Cruisers 29th Graffiti Bash
JULY 25: HIGH PRAIRIE, AB Customs and Classics 6th Annual Show and Shine Cody 780-523-0129
JULY 25-26: LEDUC, AB Exposition and 25th Annual Celebration featuring IHC 38
JULY 25-26: CACHE CREEK, BC Working Truck Show 250-962-6268
JULY 26: BLACK DIAMOND, AB Marv's 8th Annual Rock and Roll Classic Show and Shine 403-933-7001
JULY 26: CALGARY, AB Rods and Rides Show and Shine
JULY 26: BARRIE, ON Thunder Classics in the Park
JULY 26: MERRITT, BC Nicola Valley Cruisers Show and Shine 250-378-5761
JULY 26: LANGLEY, BC All Camaro and GM Show 604-809-9985
JULY 26: EDMONTON, AB 2nd Annual K-Days Car Show Trevor 780-964-9963
JULY 26: DELTA, BC 5th Annual Show and Shine/Hop 778-999-4634
JULY 26: AMHERSTBURG, ON Gone Car Crazy Eleanor 519.736.4020
JULY 26: AGASSIZ, BC Lions Street Meet 604-799-6883
JULY 26: BRUNO, SK 10th Annual Show and Shine Tammie 306-369-2669
JULY 26-AUG 2: GUELPH, ON Brampton ACCC Tour to YesterYear Week Long Tour (BRAMPTON Region)
JULY 27-AUG 2: RED DEER AB Rock'n Red Deer 2015 Super Run
JULY 29: CALGARY, AB Grey Eagle Casino: Wild Wednesday Car Show
JULY 31: MACKLIN, SK Border Cruisers Show and Shine Zacc 306-753-741
For AUGUST 2015 events please follow this link.
CLICK HERE to Like us on Facebook
CLICK HERE to Follow us on Twitter
CLICK HERE to Follow us on Pinterest