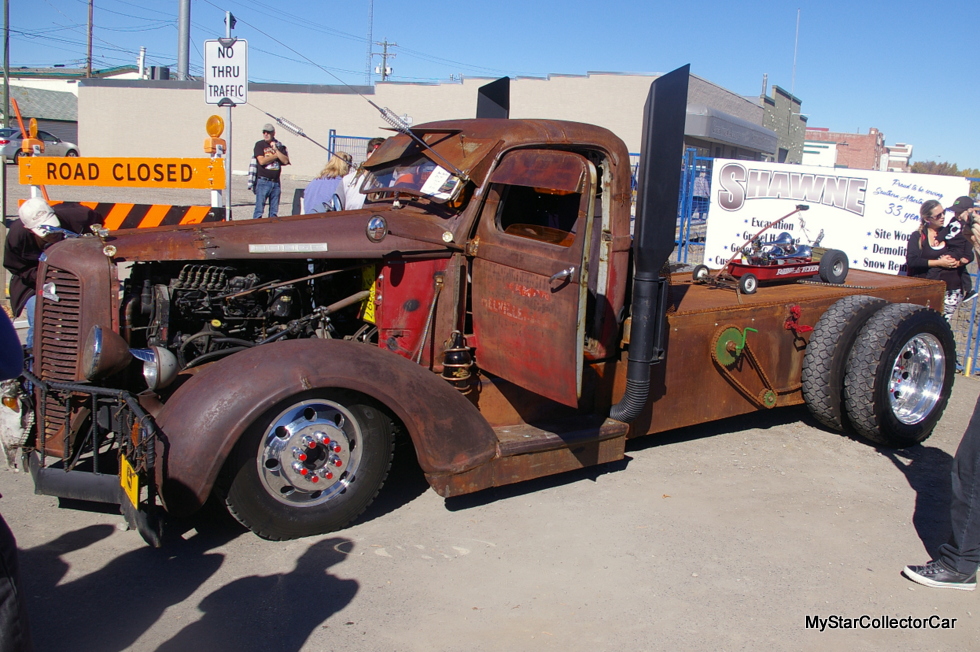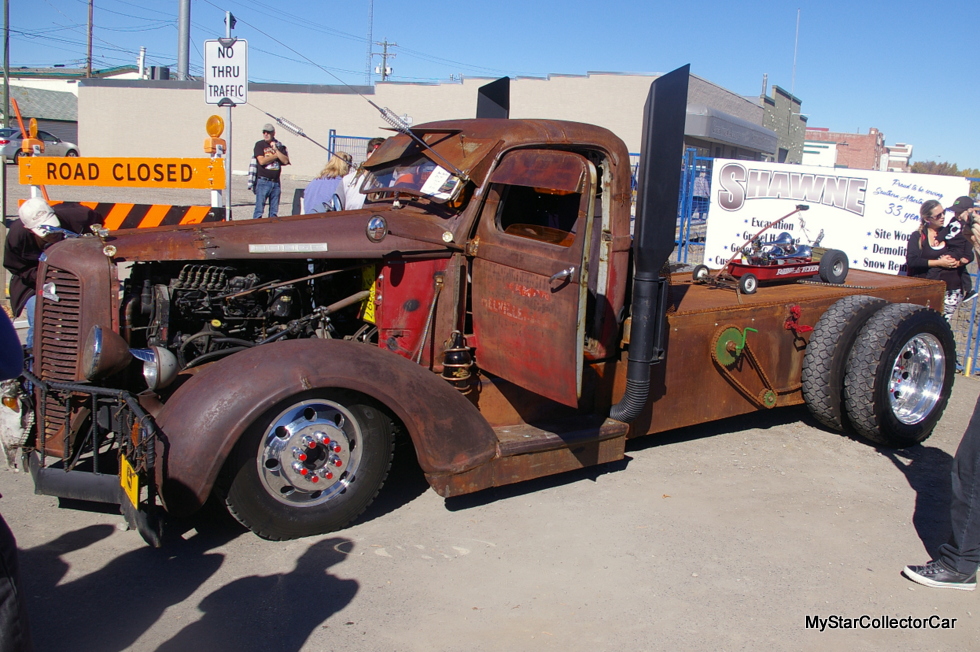 We follow the crowds at car shows because they will always lead us to a story with massive appeal for our MSCC readers.
'The rule of thumb is pretty basic: If we have trouble taking photos of a vehicle because of the number of people around it, then we need to get that story.'
We were at a late season show that attracts over a thousand rides every year and saw many crowd-pleasers among the large group of entrants.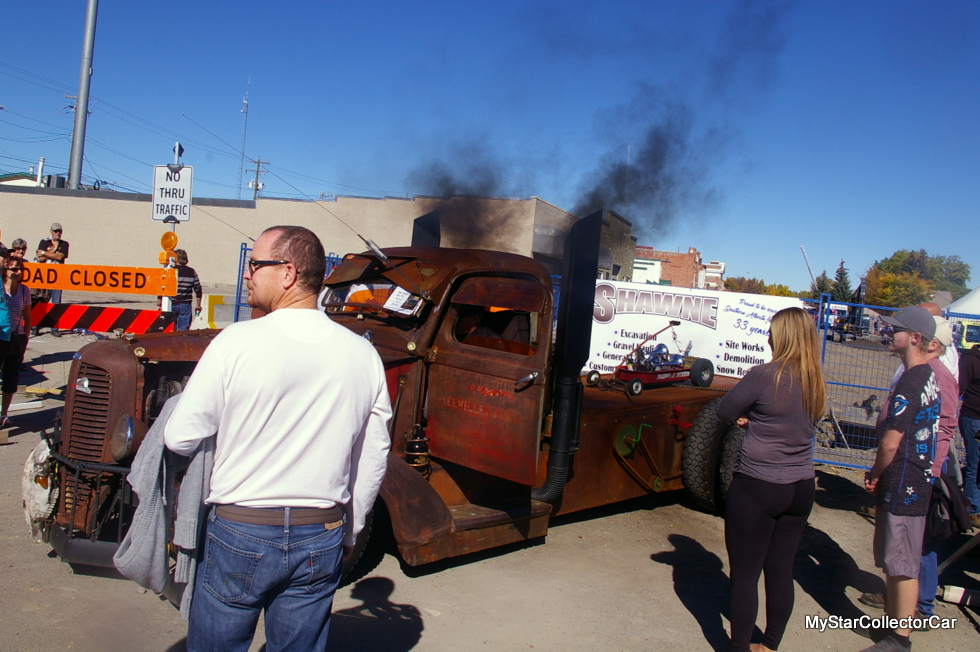 However the biggest attraction in this collection of show-stealers was a wild 1938 Dodge 1-ton rat rod built from the creative mind of owner Bruce Campbell.

Bruce was challenged by a bet with his buddies to build his truck in 90 days or less or else he would owe them a case of whiskey. He got his rat rod built in 79 days.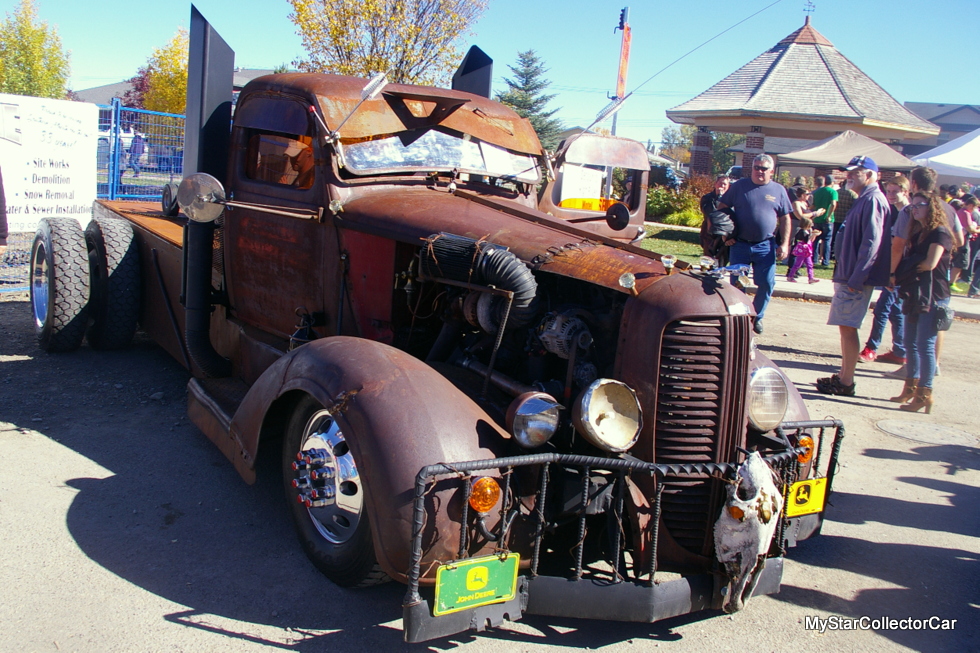 The old Dodge was used on a farm and never registered as a road vehicle, so it "took more work to register it than build it", according to Bruce. The truck was rusting in peace on the farm until Bruce rescued the old Dodge and turned it into a car show rock star.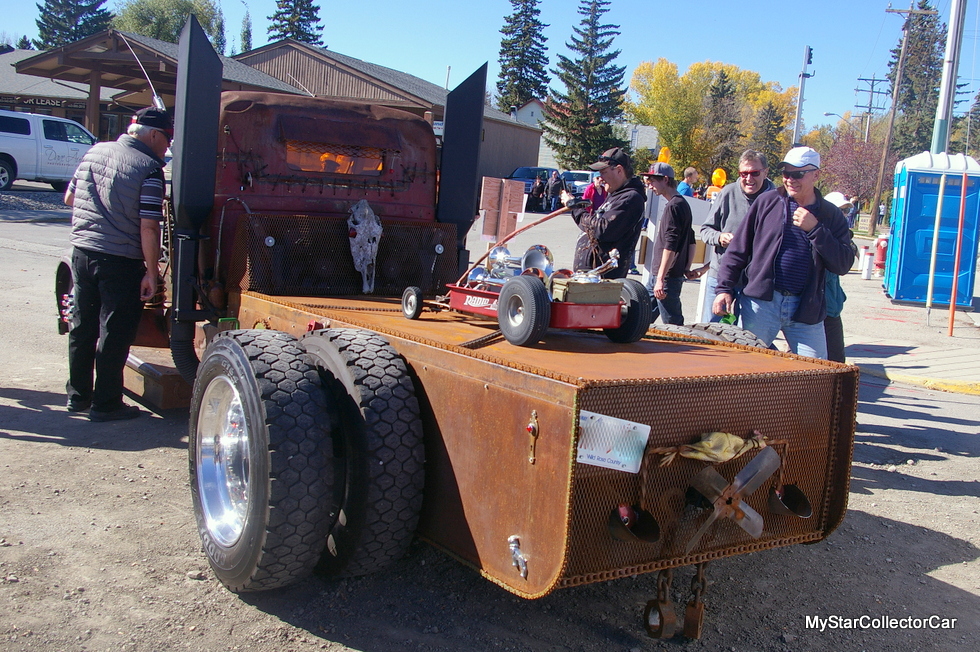 Bruce transplanted a Cummins diesel and tranny donated by a 1998 Dodge pickup for the 78-year-old one ton Mopar. He also moved the radiator behind the cab on his truck and replaced the original rear end with a newer Dodge rear end that could handle the torque produced by the Cummins. The seats are out of a 1977 Kenworth and the wheels are off a brand new Peterbilt big rig.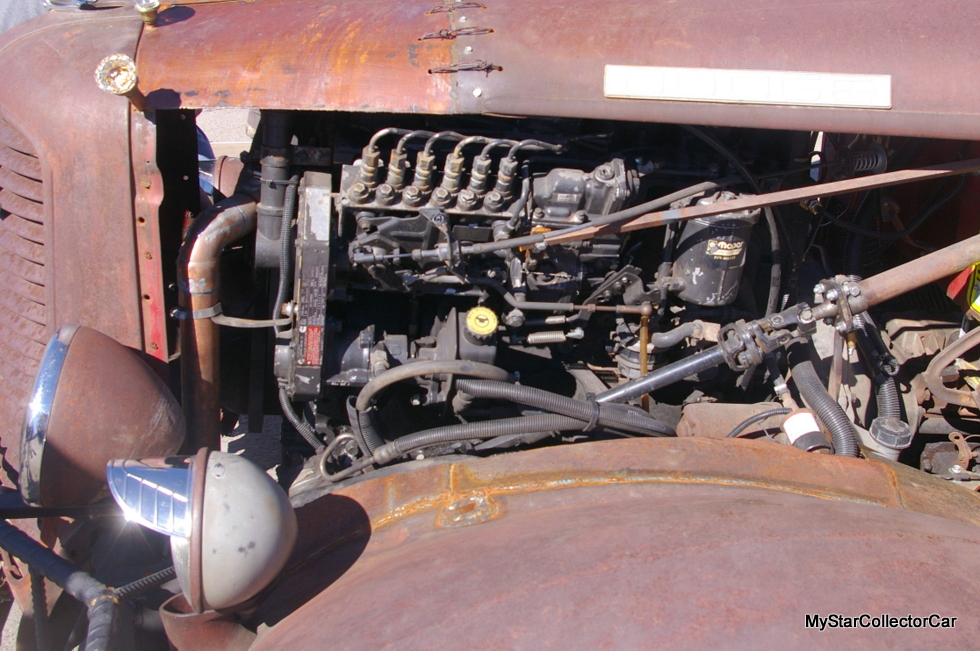 One of Bruce's personal creative touches are the barbed wire stitches welded on his truck. Bruce had mixed feeling about the stitches because he had sliced his knee open a month before we interviewed him and had plenty of real stitches on him. Bruce told MSCC; "I don't know if I like stitches anymore" and we would agree-but they sure look cool on his rat rod '38 Dodge.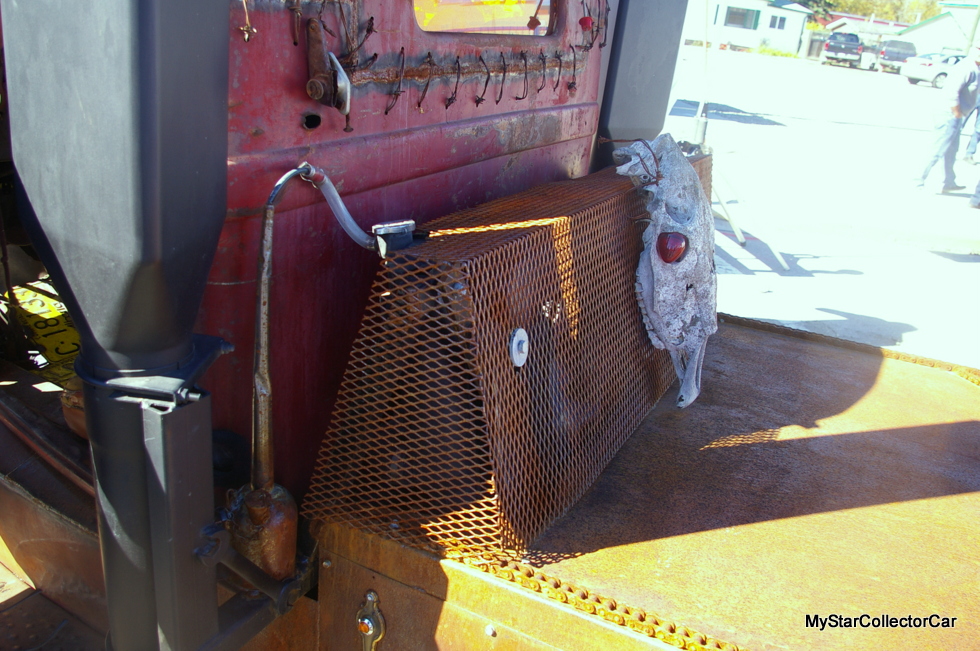 The sheer brute force of a Cummins means the truck has a "lot of horsepower" in Bruce's understated assessment and this old farm truck will do 70 mph down the highway with ease. He added a cautionary note not to "hit a pothole" because his truck now has a very low rake on the front end with Bruce's radical mods to the old farm truck.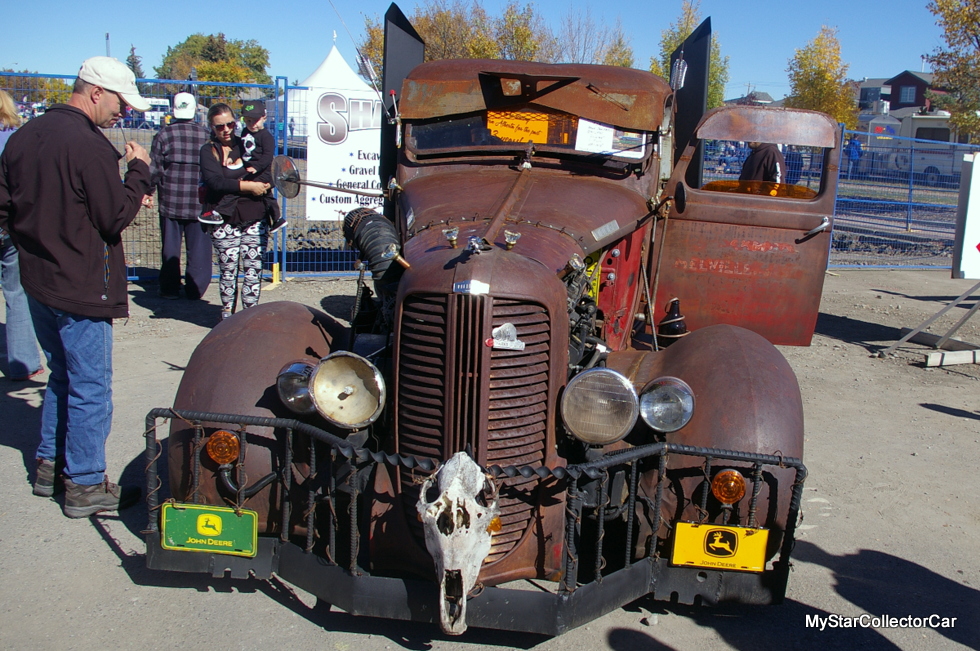 He added; "if the truck does not have the right stance then there is no sense building it". Bruce enjoys driving at night in his rat rod Dodge because he says the orange-tinted side windows make it "seem like daylight", according to him.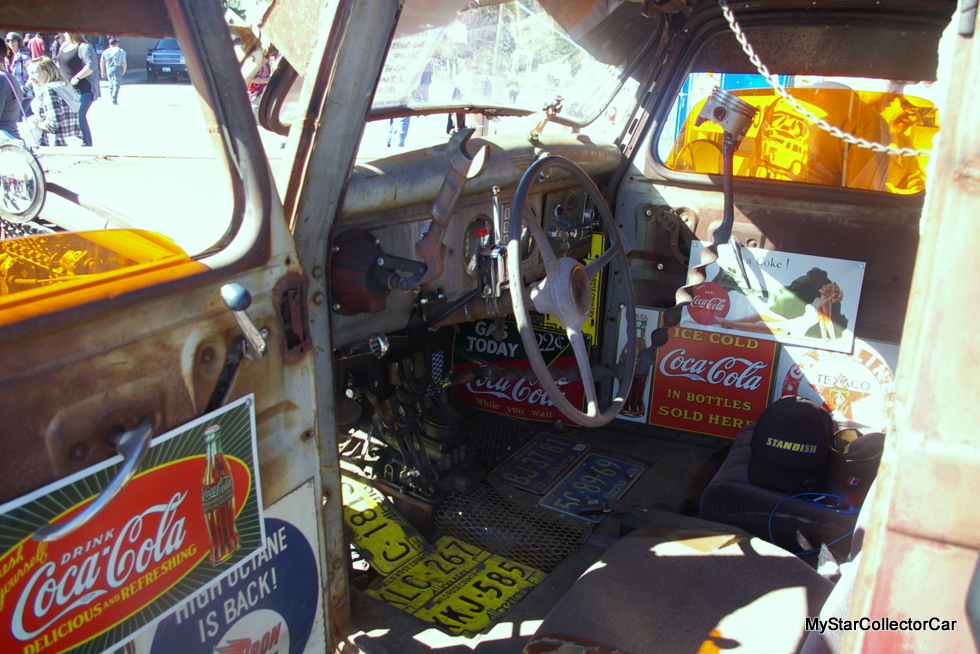 Bruce Campbell is both a bold and talented guy who always looks for the next challenge. He used to build high end custom rods, but the rat rod concept applied to old trucks has become his new game because he can freewheel in any direction his imagination leads him along the way.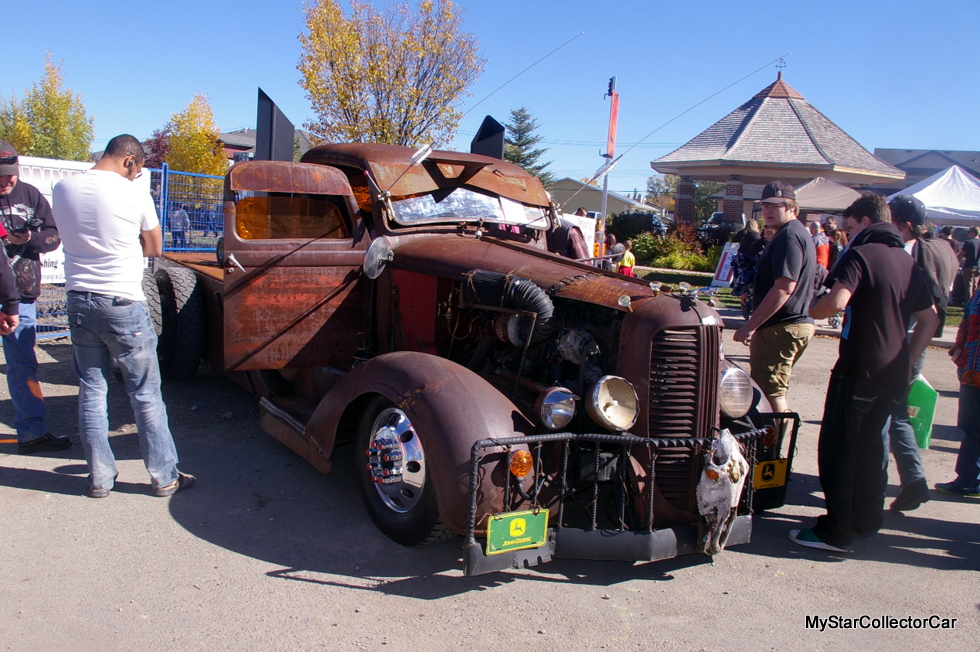 'His 1938 Dodge 1-ton show-stealer is the latest example of what happens when his creative side gets unleashed on a rat rod project.'
Jim Sutherland
CLICK HERE to Like us on Facebook
CLICK HERE to Follow us on Twitter
CLICK HERE to Follow us on Pinterest
Please re-post this if you like this article.