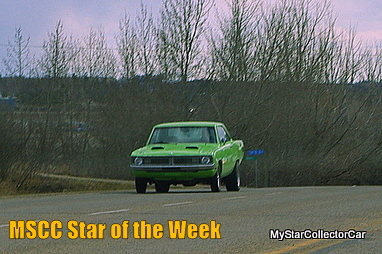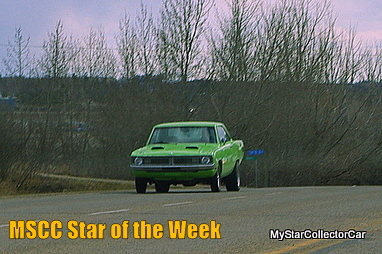 MSCC APRIL 19 STAR OF THE WEEK: DART SWINGER-YOU NEVER KNOW WHAT'S OVER THAT NEXT HILL
Car guys are basically hunters because we're always on point for old iron.
We're constantly scanning parking lots, alleys, off ramps, fields and oncoming lanes to see something that's outstanding, cool and old.
This is instinctive in car guys because we're addicted to deuce coupes, '49 Packards, '56 Ford trucks, Mopars—anything that stands out.
This MSCC Star of the Week Dart popped up yesterday just to prove why we're hunters.
You never know what's over that next hill.
MSCC APRIL 18 STAR OF THE DAY: IHC SCOUT-THE PERFECT RIDE FOR A MAGIC SUMMER DAY
There are a million reasons to love summer but the icing on the cake is how you roll on a summer day.
You can pack yourself into an air-conditioned metal cage like a Honda SUV and kind of enjoy a beautiful summer day but that's like sitting in a hotel room on wheels.
The best way to enjoy a summer day is through a gut level, wind in your face vantage point.
This MSCC Star of the Day IHC Scout in a resort town back in July 2010 is the perfect ride for the magic of a summer day.
MSCC APRIL 17 STAR OF THE DAY: '69 CAMARO-PUSHING THE ENVELOPE ON A FICKLE MONTH
One of the constants in the month of April is its fickle nature.
April can warm up like a hot day in July one day and drop to brutally cold conditions the next day.
Sunburn and frostbite in less than 48 hours…
This MSCC Star of the Day '69 Camaro is a clear example of how unpredictable April can be because the top may be down but the snow is real.
MSCC APRIL 16 STAR OF THE DAY: '69 MUSTANG + STREET EQUALS A GLORIOUS SPRING DAY
One sure sign of spring is the annual bird migration so you'll see feathered friends you haven't seen since the snow flew.
Most of these signs of spring are pretty obvious.
Grass gets greener, leaves start to bud and flowers pop up as spring advances but the best part of spring is the emergence of classic iron.
This MSCC Star of the Day '69 Mustang was on the street yesterday and it proved why 60s iron is a lot more glorious than a bunch of robins.
MSCC APRIL 15 STAR OF THE DAY: STUDEBAKER TRUCK—THE PERFECT RIDE FOR ERRANDS
There are many choices for daily rides in 2015 and most of them are SUVs because they're functional… but boring.
Basically, if you've seen one SUV you've pretty much seen them all but the parking lots are full of them because they're great for errands.
They can take on small or big loads with ease and you can open up any door on them with a simple press of a button.
But you'll never do errands with the class and style found in this MSCC Star of the Day Studebaker truck.
MSCC APRIL 14 STAR OF THE DAY: '68 GTO CONVERTIBLE—THIS IS HOW YOU ROLL WITH THE TOP DOWN
Yesterday wasn't a particularly balmy day when this picture was taken.
That's not the point.
The real point is this car was out on a blustery spring day and it gave every guy in traffic something unique to look at instead of a long row of bland, indistinguishable modern rides.
This MSCC Star of the Day '68 GTO had the top down on a marginal spring day because that's how you roll with a classic.
MSCC APRIL 13 STAR OF THE DAY: '67 CORONET RT-THIS ELEPHANT HAS A BAD ATTITUDE
The 66-67 B-body Mopars weren't the sleekest cars ever built and that was part of their magic.
They were all business on the outside because that's the kind of sensible look buyers like your dad wanted back in the 60s.
That same sensible look was a trap for street brawlers when you put a 426 elephant hemi under the hood.
This Star of the Day '67 RT had an elephant under the hood and a bad attitude to match back in 1967.
For past MSCC Stars of the Day please follow this link.
CLICK HERE to Like us on Facebook
CLICK HERE to Follow us on Twitter
CLICK HERE to Follow us on Pinterest
Please re-post this if you like this article.
Star of the Day page sponsored by Southside Dodge