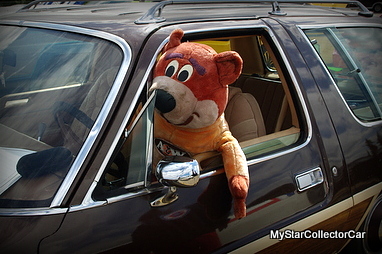 Most car guys run on pure nostalgia.
There's nothing like a trip back in time thanks to a four-wheeled buddy whether it was your first car or your favorite car from your past.
The car hobby wouldn't exist if we treated cars like old cell phones or computers because they get tossed the first day they're out of style-there's no sentimental value in outdated tech.
Fortunately, guys like Loren Domshy never lost his fondness for the AMC Pacer. His first car was a '77 Pacer and he never lost his bond with these unique cars. Loren admits the search wasn't easy, "When was the last time you saw one?" because these cars weren't sold in Chevy Impala numbers.He pointed out, "You'll find them but a lot are rusted out because they quit galvanizing the metal in the 70s. The older AMCs lasted a lot longer".
Loren's search ended with his '79 Pacer and it wasn't perfect but it met his standards, "Had to fix some rust but for what it was, it was in really good shape. There was a little rust right in front of the wheel well."
That's a fairly short list for any project.
Loren is a human version of Google for information on the '79 AMC Pacer. He pointed out how the car was originally designed to be rotary-powered via a partnership with GM but the deal didn't take so AMC was on its own. He explained how they "had to widen the cab for the six cylinder and it's actually the first cab forward design. AMC wasn't a big company so if they spent money on it they had to use it".
There were other unique features to the '79 Pacer and one of them was the vent window. Loren explained, "They decided to bring back the vent window so if you wanted it they threw it in".
Loren explained how the roomy Pacer interior was unique in another way, "They used them for camera cars in movies even now when they need a retro look they try and find a Pacer". Shaw (a local TV network) borrowed Loren's Pacer for a nostalgia feature and the camera man was blown away by the room in the car.
This Pacer is definitely not a dreaded trailer queen because Loren has spent some serious time behind the wheel. He's not afraid to drive a few hundred miles to attend a show and he only has one complaint, "I'm always the only one at a show so I wish they had a Pacer class so I'd win every time".
Loren is particularly impressed with the road manners of his Pacer, "It's not too bad, cornering, and handling-it didn't do the same things the Gremlin did. You find yourself correcting for your overcorrection. The mileage is not horrible, not great".
Loren saved the best story for last because he travels with a large stuffed bear. Everyone knows him by his bear because he's had it since 1969. There was a kidnapping and luckily they found the bear in a ditch but Loren explained the best part of the bear story, "He was the best man at our wedding-he even had a beer taped to his paw".
A '79 Pacer and a giant stuffed bear/best man…could a car story have a happier ending.
Jerry Sutherland
CLICK HERE to Like us on Facebook
CLICK HERE to Follow us on Twitter
CLICK HERE to Follow us on Pinterest
Please re-post this if you like this article.