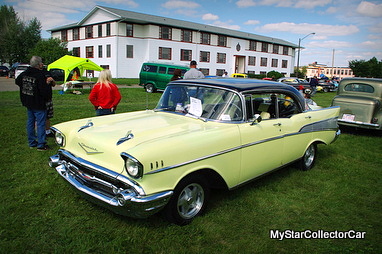 The typical version of a '57 Chevy comes in one of four styles.
The two-door hardtop is an icon but there are many tri-five guys who love the two-door post (sedan) while others embrace the convertible or the Nomad.
Far fewer tri-five guys get excited about two extra doors.
Sherryl Johnstone isn't a typical tri-five guy because (a) she is female and (b) she's crazy about the extra doors on her 1957 Bel Air 4-door hardtop. This car wasn't a quick decision because Sherryl admits she "looked on the Internet for eight years because I always wanted a '57 Chevy" before she found this classic Chevy.
This car had a well-documented history that sold Sherryl on this '57 Chevy, "An old guy bought it new" and she thought the second owner ran into some whitewater with his wife so she became its third owner.
Sherryl's husband is not a car guy but that didn't stop him from having a true car guy adventure. He was drafted to bring the car back and he picked the wrong time of year to make the trip. Sherryl explained, "He drove it home through a snow storm in March 2006 and when it got here it was black from the trip so I told him I thought it was yellow".
There were a few other issues because this car was heavily scrutinized at the Canadian border crossing but Sherryl was confident because she "had it all documented" so the car breezed through the bureaucratic hoops.
Despite the Bel Air's less than perfect road trip, Sherryl was highly impressed with her new purchase because this car is a great example of a real survivor car. The paint is original and Sherryl calls it a "definite survivor".
This is a 283 Powerglide car so it was on the upper end of the '57 Chevy catalog and the original owner was clearly a guy who practiced maintenance because this Bel Air looks great even though it's pushing 60 years old.
Sherryl's other condition was that it had to drive like a well-maintained car because she's a road warrior in this classic Chevy. She loves to tell people, "I drive it to work every day" and she took it on a road trip, "I did the Banff-Jasper trip and it was beautiful-never had a problem. It's a dream to drive".
The car also gets good gas mileage because Sherryl can do a 180- mile round trip on three quarters of a tank. She likes to play games at full service gas stations because she waits for them to find the hidden gas nozzle under the taillight.
Sherryl has no plans to ever sell this car because it's going to her granddaughter and she even turned down an offer for her steering wheel, "he offered 500 bucks for it" but she passed on his offer.
There's only one downside to this classic because a lot of people ask her if "her husband lets her drive his car".
That's the kind of question she doesn't answer with a friendly tone.
Jerry Sutherland
CLICK HERE to Like us on Facebook
CLICK HERE to Follow us on Twitter
CLICK HERE to Follow us on Pinterest
Please re-post this if you like this article.