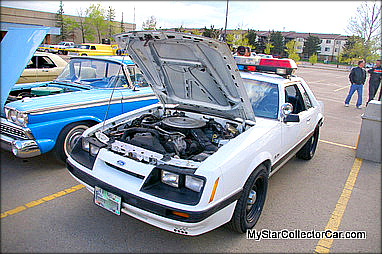 The Fox-bodied Special Service Mustang probably saved more lives than roll bars at the Daytona 500 for one simple reason-scofflaws feared these fast little ponies.
'They gained a "more fact than fiction" reputation of invincibility in a high-speed chase because they could crack out insane 0-60 times and top out at well over 135 miles per hour.'
That's pretty fast in 2012-it was Warp 10 speed in 1985 and Gord Holdcraft wants to make it faster.
He's the current owner of this vintage police car and his vision for the Special Service Mustang is measured in quarter mile times. Gord was a drag strip guy in his misspent youth and he saw a bright future with this car. The 'stang has seen track duty already because the rear end has been swapped out for a stouter track-rated ratio.
This Mustang was originally an Oregon State Police vehicle so that explained why Gord reported, "It's a totally rust-free car from Bend Oregon". He found the light bar in the trunk and added it as part of a static display at car shows. He said "he brought them out for the novelty" and clearly the strategy worked, because the little pony car was surrounded immediately when it arrived at the show.
Gord had to re-learn a manual transmission even though he is a professional driver-he drives a taxi for 14 hours a day. He admitted "it's been 40 years since I owned a stick and this clutch is a little stiff but it all comes back plus the 5 speed is great".
Gord's done a very thorough assessment of the Mustang and he has found a few surprises. He discovered that the seats were originally red, then dyed blue and there were surprisingly few equipment holes in this ex-police vehicle. Gord's main goal at this point is to map out a strategy for the next phase in the car's life.
He's highly impressed with the overall condition of the Mustang and admits "it's a lot less work than I expected plus it's a sedan instead of the fastback-I like that too".
Part of Gord's plan might sound like heresy to fans of vintage police vehicles, but he's "considering swapping in a 351 T-bird motor" to get the car to another level of performance at the track. Regardless of the shift in designated use for the Special Vehicle Mustang Greg takes pride in the one thing as he explained, "I'm an average car guy now that I've got something to work on".
This Special Services Mustang is a classic example of an entry level hobby car and its new owner has already embraced the average car guy philosophy.
The hobby has gained a new disciple.
Jerry Sutherland
For more average car guy stories click here-https://www.mystarcollectorcar.com/