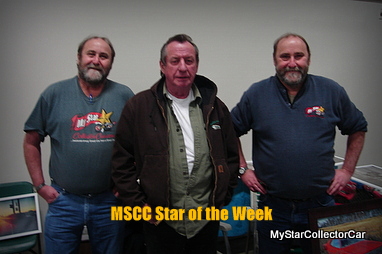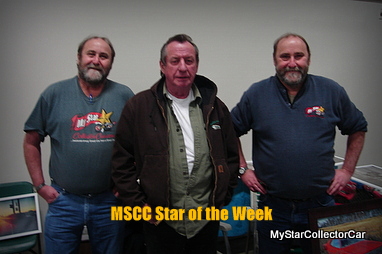 MARCH 23 MSCC STAR OF THE WEEK: ICE PILOT BUFFALO JOE MCBRYAN-HE LIKES OLD IRON ON THE GROUND TOO
Buffalo Joe McBryan has been a fixture on History Canada with Ice Pilots NWT since 2009.
Joe's an old school pilot who built a business by flying old school transport planes in the Canadian Arctic so the show has enjoyed a huge fan base for years.
Joe owns Buffalo Airways and his fleet of airplanes is primarily circa World War II era DC-4s, DC-3s and C-46s so this is literally a working aeronautical museum.
Joe made a living by flying in some of the most inhospitable weather on the planet and it paid off with a successful business plan done the old fashioned way-with blood, guts and insane hours.
Buffalo Joe occasionally takes a day off to fuel his other passion-old iron with four wheels. He's a big vintage Ford and Mercury guy so you'll see him at a few auctions, swap meets and car shows when there's a short break in the action at work.
Most of us love old iron in any form and very few of us can say it's been the backbone of a thriving transportation business but Joe has pulled it off in style.
He was at a recent swap meet hanging with fellow car guys where he's clearly part of the gearhead fraternity so Buffalo Joe was an easy pick for MSCC Star of the Week.
MARCH 22 MSCC STAR OF THE DAY: THE CLASSIC SHOEBOX FORDS CAME IN MANY FORMS
Another classic era in Ford styling came in the form of a shoebox. That was the nickname for the 1949-51 Fords but in reality, they led the way for the new era of the 1950s.
The shoebox Fords made the competition look like trucks so the custom car guys were drawn to these cars like moths to light back in the early 50s .
The MSCC Star of the Day is comprised of these two shoeboxes at a 2012 show because they demonstrated how many versions Ford made of these iconic cars back in the early 1950s.
The humble shoebox was never more glamorous.
MARCH 21 MSCC STAR OF THE DAY: THE FORD PLATFORM-THE TRANSITION FROM THE 30S TO THE 40S WAS SMOOTH
Ford had it made in the early to mid 20th century because they hit so many home runs in every decade.
They simply built cars that inspired the hot rod crowd to build them faster and wilder.
The transition from the pre to post war era was smooth at Ford because they had an incredible roof line that carried over from the previous decade.
The custom guys had a familiar platform to work their magic and build a classic street rod that reflected the truly classic Ford style of the earlier decade.
These MSCC Star of the Day Fords are a great example of the choke hold Ford had on first place in the hot rod sweepstakes over two decades.
MSCC MARCH 20 STAR OF THE DAY: BLACK CADILLAC -THIS IS HOW YOU ROLL IN STYLE
The Cadillac has been an automotive icon for well over 100 years but the 1950s were some of the most memorable years for this storied automotive name.
The fifties were years of intense changes that began when a skinny kid named Elvis turned music on its ear.
Cadillacs were immersed in these cultural changes-so much that Elvis loved them too.
The Caddys were some of the first cars to go lower, wider and the fins headed skyward until they peaked in 1959.
These were sheer presence cars designed to enhance the image of Wall Street bankers and Hollywood stars with unmatched big American style.
That never changed.
Take a look at this MSCC Star of the Day '55 Cadillac.
MSCC MARCH 19 STAR OF THE DAY: FORD FAIRLANE INTERMEDIATE LONG ROOF FOR THE MID-SIZED BABY BOOMER FAMILY
Station wagons came in three sizes back in the 1960s.
There were compact-sized wagons for the budget-minded buyers with small bank accounts and smaller families, full-sized wagons for full-sized families with bigger budgets and intermediate-sized wagons for people who fell between the two ends of the scale.
Intermediate-sized cars would be considered land yachts in today's world of functional, yet smaller vehicles but they were a welcome option for people who didn't want a giant Ford Galaxie but needed more than a Ford Falcon.
This MSCC Star of the Day Ford Fairlane long roof was at a show back in June 2011 and it was a prime example of what mid-range meant back in the 1960s.
MSCC MARCH 18 STAR OF THE DAY: 1ST GEN CHEVY-SOLVED…THE MYSTERY OF THE SCOOBY DOO MYSTERY MACHINE
Those among us who are old enough to really appreciate Scooby Doo cartoons are probably under 50.
Those of us over 50 saw this cartoon as a painful Saturday morning TV experience after a night of revelry and over-imbibing.
This cartoon was like driving chopsticks through your inner ear because it was so loud and shrill.All you wanted to do was grab Scooby-Doo by the scruff of his neck, tuck a rifle under your arm and take him for that last walk in the woods.
Nevertheless, Scooby Doo was an extremely popular cartoon in the 1970s and they did drive a cool hippie van called The Mystery Machine to all the ghost-buster gigs.
The Star of the Day 1st Gen Chevy Van is a dead ringer for the Mystery Machine and it answered an obvious question.
What ever happened to the Scooby Doo van?
MARCH 17 MSCC STAR OF THE DAY: GREEN '56 DODGE-IT'S ST PADDY'S…IS THERE ANY OTHER CHOICE?
Today is St Patrick's Day so there's little doubt the Star of the Day had to have a green paint job.
St. Paddy's is all about green…green hats, green shirts, green beer and green rivers in some cities.
This MSCC Star of the Day '56 Dodge pickup was on Route 66 last week in a run-up to the big day and it was clearly a sound pick for St Paddy's Day 2014.
Happy St Paddy's from MyStarCollectorCar.
For past Stars of the Day please follow this link.
Star of the Day page sponsored by Southside Dodge.