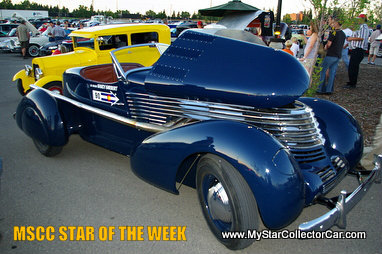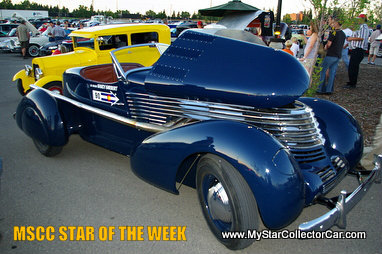 MSCC STAR OF THE WEEK: 1936 KURTIS "TOMMY LEE SPECIAL"-NOT A KIT CAR
Car shows are one of the most unpredictable events on the planet because there is no rule book and no room for assumptions.
This car is a case in point.
It looked like a mini-Cord VW kit car with a little wear and tear from twenty feet away but closer inspection revealed a metal body and exotic engine under the hood.
This car wasn't plastic and that sure wasn't a 350 crate engine so there was a lot more to this old ride.
This is a '36 Kurtis "Tommy Lee Special" and it wasn't built for a washed-up rock star.
This was a 1930s era Tommy Lee. He came from money and he had this custom ride built on a '36 Ford frame with an Offenhauser motor and Cord styling cues.
The MSCC Star of the Week was at a show this week and two things were clear: it's a piece of incredible rare automotive history and it's definitely not a VW kit car.
SEPTEMBER 14 STAR OF THE DAY: 1973 JAVELIN-THE BACK NINE FOR AMC'S PONY CAR
The Javelin was AMC's response to the pony car wars back in the 60s.
The Big Three was already there when American Motors started pumping out Javelins in a belated 1968 counter-attack to Barracudas, Mustangs, Camaros, Cougars and Firebirds.
This MSCC Star of the Day is a '73 Javelin at a show last June and it represents the back nine of the Javelin's life.
The next year would be the last for this iconic pony car from AMC.
SEPTEMBER 13 MSCC STAR OF THE DAY: HERE COMES THE NIGHT-SEPTEMBER CAR SHOWS
Car shows signal the start of spring so the days are longer. That plays well with the sundown rule where old iron turns into a pumpkin when the light fades into darkness.
Blame it on old wiring, six-volt batteries, charging systems and headlights that were brand new when Elvis was still driving a truck.
Nevertheless, the sun was long gone when these cars were filing out of a show last night because the temperature was balmy enough to throw a beach party.
That was an MSCC Star of the Day ( and night) moment.
SEPTEMBER 12 STAR OF THE DAY:1970 KAISER M-816 6X6 WRECKER-WHEN YOU REALLY GET STUCK
This behemoth was at a show last night and there's little doubt it could handle towing that little VW Beetle beside it.
The Kaiser M-816 wrecker was built with one thing in mind-brute force.
Military vehicles don't travel down paved roads so when one of their giant trucks gets stuck it's not typically anywhere near a highway.
You're not going to move a monster-sized truck with a one-ton Ford…you're going to need another monster-sized truck.
That's when something like this gargantuan truck jumps into the fight and this old Kaiser wasn't built to lose any battles.
Pure MSCC Star of the Day attitude…
SEPTEMBER 11 STAR OF THE DAY: A TALE OF TWO PACE CARS-'69 AND 2011 CAMAROS
The title of Official Pace Car for the Indianapolis 500 was one of the most prestigious labels you could hang on Detroit iron.
Typically these pace cars were marketed in very limited editions so the buyers knew they were buying history.
These cars are like rolling billboards for the Indy 500 and many of them had extra features like more power and handling as part of the package.
These two MSCC Star of the Day Camaros were built 42 years apart but they represented all that is cool about pace cars at a show last week.
SEPTEMBER 10 STAR OF THE DAY:FIFTIES COOL-WAS THERE A BETTER DECADE FOR CARS?
The 1950s was known for three things. They were rock and roll, the infancy of the space race and very cool cars.
That's a pretty solid list for any decade.
1950s cars defined the unbridled optimism of the post-war generation because once people came out of a tunnel that began with a Great Depression and ended after a World War, they were ready to party.
The cars reflected that because like a great party, there were no boundaries.
Take a look at this MSCC Star of the Day lineup of fifties iron…was that not one of the coolest decades in the history of cars?
SEPTEMBER 9 STAR OF THE DAY: '47 PACKARD CLIPPER-CLASS, STYLE AND AFFORDABILITY
Packard was a high-end car for many years but economic realities seeped in so the former Hollywood ride became a working class hero.
This new direction for Packard met with mixed results because they alienated their upper-end clients and didn't get low enough in sticker price for Chevy guys.
Despite the less than spectacular results, Packard probably lived longer because they tried to reach out to the blue collar guys.
This MSCC Star of the Day 1947 Packard Clipper was at a show last September and it was considered a lower-end version of an upper-end car back in the 40s.
Perspective is everything because this old Packard oozed class and style at that show back in 2012.
Star of the Day page sponsored by Southside Dodge.