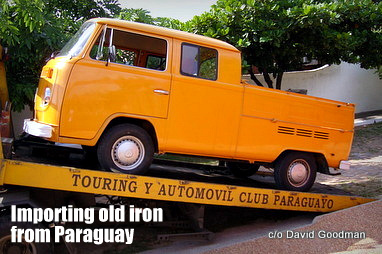 Most car guys have an adventure in their portfolio because the road is often not paved in a search for old iron-literally and figuratively .
The stakes go up exponentially when the search involves a landlocked country like Paraguay because this is far riskier than driving down an obscure and dusty country road 100 miles from home.
Here's what happens when you up the ante.
Paraguay is so off-the-beaten path any search under those terms simply states, "see Paraguay".
That never deterred David Goodman because he is a self-described car guy from Britain and he's exported over 30 VW Kombis from Paraguay. He explained, "I'm a 'car guy' based in the UK, near London, and run a car sales and an auto repair centre. I have a Paraguayan wife and we have a home in Asuncion, close to Joel. I have imported over 30 old VW Kombi vans from Paraguay to the UK and are always looking or things to buy out there when we stay".
David was asked about his most memorable purchase and his story offered some insight into the process behind a long-distance South American old iron purchase.
Here's the story behind the ride, "I suppose of all the VW's I've bought in Paraguay, the most memorable (and expensive) was a 1978 Double Cab Pickup. It was early 2009 and during our annual visit to Asuncion to stay at our 'other home', a guy who was a shipping agent that we'd used for previous exports contacted us".
The process is the same in any search because it's based on connections, "He knew of a friend that had just bought a 1978 VW off of the original owner that had been in storage since 1983 and was described as being exceptional. Now, having bought numerous VWs from Paraguay over the last few years, I was naturally very skeptical. I knew only too well that a vehicle described by its owner as being 'Buen Estado' (Good Condition) was usually anything but!".
Veterans of quests for old iron understand the skepticism , "The vast majority of VWs from local classified adverts we'd followed-up had turned out to be absolute horrors, in most cases barely fit for the junkyard. There's few things as disappointing as following up a lead about a car, trundling along rutted roads through unknown neighbourhoods, only to find that the festering heap in question is barely capable of standing on its own wheels".
David drew on his inner car guy optimism, "This one however sounded unusually good and best of all, the seller even offered to bring it to our home to see.Much to my amazement, when we opened our gate to the familiar sound of an air-cooled flat four idling outside, I admit I was quite taken aback by what entered".
He explained the background to this VW, "Back in the mid 1960s, a company called Diesa S.A began importing the first 'official' Volkswagens from Germany. Their simple mechanicals and air-cooled engines were ideally suited to Paraguay and they soon became very popular".
The personal history is what solidified the deal, "This orange Type 2 'Doble Cabine' was purchased new from Diesa S.A. by a local man in 1978. It was his pride and joy for the next 5 years and he drove it for around 84000 km until he passed away. His widow, not wishing to drive it herself, kept it in the garage for the next 25 years or so until she too died. The ownership then passed to her eldest daughter, who I presume also didn't fancy driving it around, so it was sold to the chap that was now proudly showing it to us. I didn't ask what he'd paid for it!".
The Holy Grail for car guys is the mythical barn find, "We've all heard the old cliché 'timewarp' when describing barn finds and the like, but it was ideally suited to this old bus. The whole thing really was not too different from how it left the factory in 1978 and the air ducts in the rear cabin still had their original plastic covering. It had no signs of rust or filler (unlike virtually every other old car in Paraguay) and everything was working as it should. The odometer showed 84703km and I had no reason to doubt it. It even had all of the correct documentation including the vital 'Cedula Verde' which is their ownership card that proves the vehicle is genuine".
Despite the cosmetic upside, David knew the test drive was the key, "After a brief test drive around the block, I'd decided it must surely be worth taking back to England as even late bay window VW's are increasing in value and here was one I actually enjoyed driving!".
The hardcore negotiations began in earnest but David was at a disadvantage, "To say my Spanish skills are limited would be an understatement, so my native Paraguayan wife conducted the negotiations. The Paraguayan currency is the Guaranie and there's about 7000 of the to the British pound (4300 for 1 Canadian Dollar), so the numbers being discussed were already in the millions!"
I think we agreed on around Gs20,000,000 (equivalent of around CAD $4600, or £2900 GBP). It sounded like an awful lot of money anyway. Once the deal was done, we had to draw the money out, all in Gs100,000 notes. The bundles were very thick and I was worried about being robbed, but all went well and we soon had a new addition to our household".
The test drive was extended, "I began to drive it daily for the remaining weeks of our trip and at stop lights, often heard the shout of "Quieres vender' (do you want to sell it?). I knew it must be something special. I had a new set of tyres fitted and made a few adjustments here and there, but really, it needed nothing".
The biggest hurdle is shipping, "A week or so before we had to head back to the UK, we'd arranged shipping from the river port of Asuncion 'Puerto Fenix' and not wishing to risk driving it so far (for fear of crashing in the appalling traffic), had it transported. Having completed numerous forms, bribed the relevant customs 'officials' and spent a few more million Gs on evidently nothing, all that remained was to wait the 2 months or so for it to arrive in the UK Port of Tilbury".
Bribery was only part of the equation-logistics soared to number one in importance, "With Paraguay being somewhat landlocked, the freight has to make a long journey down the River Paraguay until it reaches the Uruguayan port of Montevideo. The containers are then transferred to a 'proper' cargo ship to begin the journey across the Atlantic. Needless to say, this isn't cheap, but at around $2000, isn't so bad as to make it uneconomical".
David knew the battle was over when he got the VW home, "Once back in the UK, having obtained customs clearance and paid the relevant import duty and taxes (no additional bribes needed), I collected it from the docks and was pleased to report it had survived the journey and looked more or less the same as it did in Asuncion".
Getting it through the British MOT roadworthiness test wasn't hard and all it needed was the parking brake adjusting and the lights been converted to our RHD market. I was then able to register it on UK license plates and it was ready to roll. I spent an enjoyable summer taking it to a few shows, although the English weather didn't feel quite the same as the Paraguayan sunshine when we first met".
David is a retailer so the day came when he had to part with the VW, "Eventually, it was time to find it a new home and it was duly advertised on www.thesamba.com and ebay at what I felt was a competitive price.Most of the genuine enquiries we had came from overseas and somewhat ironically, it ended up going back across the Atlantic to an owner in the USA. My last drive of the orange beast was to Southampton Docks, during which the ignition switch wiring failed and left me stranded by the waterside. A quick (and temporary) repair using a bit of loudspeaker cable got it running again and I left it with the shipping agent and took the railway home".
Seller's remorse set in,"It was by far the best VW I've ever owned and I'd dearly love to find another one as good on another trip".
Jerry Sutherland