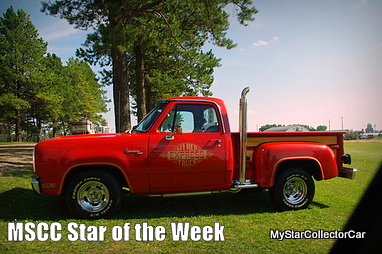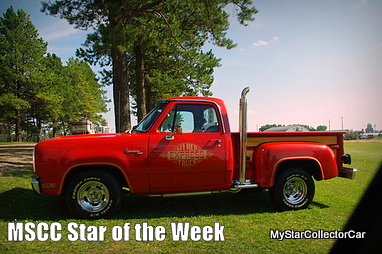 MSCC MAY 31 STAR OF THE DAY: '78 DODGE LITTLE RED EXPRESS—THE DISCO ERA VERSION OF THE HELLCAT
The late 70s were known for two things-lukewarm performance in cars and lukewarm music on the radio.
Disco neutered music and smog laws neutered cars.
The Dodge Little Red Express changed the game because these 360 Police Interceptor-powered trucks could slide by some of the smog laws so Chrysler produced a remarkably spirited late 70s muscle machine.
This MSCC Star of the Week '78 Little Red Express was the disco era version of the Hellcat.
MSCC MAY 30 STAR OF THE DAY: TWO TAKES ON A 1950S LOWRIDER CUSTOM
Mercs have always been the ride of choice when car guys build lowriders.
This is a tradition that extends back to the early 50s when the Mercurys lent their lower, wider lines to the custom car builders.
The Mercs may have been the first lowriders but cars guys are always looking for that next blank canvas so many other versions of lowriders surfaced over the last 60+ years.
They were no less cool-check out the Star of the Day '50 Pontiac Chieftain running low and slow next to a traditional Merc back in 2012.
MSCC MAY 29 STAR OF THE DAY: THE OUTLIERS VERSION OF SUMMER VACATION
Summer vacation season is just around the corner so most people are making plans for some form of getting away for a few weeks.
Many of these plans are pretty conventional because most people are hard-wired to be conventional.
Then there are the outliers who take a different path for a summer vacation.
This MSCC Star of the Day is the perfect example of an outliers summer vacation.
MSCC MAY 28 STAR OF THE DAY: THUNDERBIRD-PERSONAL LUXURY…KIDS OPTIONAL
The Ford Thunderbird was never designed for a family guy.
The first Gen T-birds were two-seaters and the next three generations came in two versions—2 door hardtop or 2 door convertible.
The extra doors required for kids compromised style so you didn't see a lot of T-birds at PTA meetings in the 50s and 60s.
This MSCC Star of the Day 4th Gen T-bird (on the road last summer) can be summed up in 4 words—personal luxury…kids optional.
MSCC MAY 27 STAR OF THE DAY: '71 GMC "NEW LOOK" BUS-THEY WERE MORE THAN A FASHIONABLE CAUSE
There's something very familiar about a 70s bus.
Many baby boomers spent a fair amount of time on these public service vehicles because that was the only transportation option.
This had nothing to do with saving the planet or greenhouse gas issues-you did the mass transit gig out of necessity.
You rode in a vehicle like this MSCC Star of the Day GMC 30-foot bus because it was more than a fashionable cause.
MSCC MAY 26 STAR OF THE DAY: THE BLUEPRINT FOR ETERNAL COOL IN 1955 AND 2015
There were some things that were cool in the 1950s but they didn't survive the decade.
Coonskin caps, poodle skirts, DA haircuts, telephone booth stuffing and letter sweaters are long gone.
These fads had their place but 60 years later, they're a blurry footnote in history but others are eternal…
This MSCC Star of the Day flamed, chopped, shoebox Ford is the blueprint for eternal cool.
MSCC MAY 25 STAR OF THE DAY: '70 CHARGER RT-WAS FIVE YEARS ENOUGH?
This picture was taken five years ago at a swap meet.
It conjures up many possibilities because a good car project is the Holy Grail for car guys.
TV shows say a good build will take about two weeks (sooner if there's a dreaded deadline) but a real world build takes place over years so there's only one question left.
Was five years enough to finish this MSCC Star of the Day '70 Charger RT?
For past MSCC Stars of the Day please follow this link.
CLICK HERE to Like us on Facebook
CLICK HERE to Follow us on Twitter
CLICK HERE to Follow us on Pinterest
Please re-post this if you like this article.
Star of the Day page sponsored by Southside Dodge