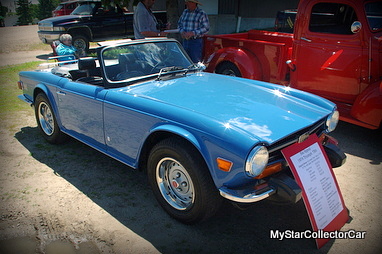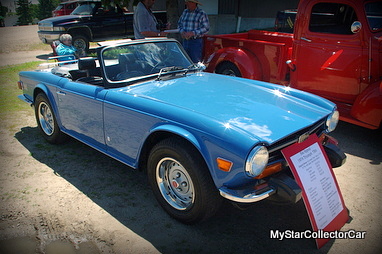 We spotted a very nice 1974 Triumph TR6 at a small town show and wanted to get the story behind the stylish British sports car.
The process would be pretty simple because everyone seemed to know everyone else at the show and there were not a huge number of rides at the event.
There was a guy in a cowboy hat who looked like the real deal and he was near the car.
We presumed he would know who actually owned the car and would point us in the right direction. We did not have to go any further because the cowboy was the owner of the TR6.
His name was Lynn Burton and he was indeed a real cowboy who owned a livestock operation near the small town.
That was the exact moment we threw out our stereotype of cowboys and pickup trucks, although Lynn has always owned a truck for work purposes on his ranch.
The TR6 was bought purely for pleasure because Lynn got hooked on them after he drove a 1973 TR6 and "fell in love with them" in his words. He paid off a Datsun 510 and traded the car for a brand new 1974 TR6-this one.
Lynn actually drove the car year round for the first few years but Alberta winters are no place for a British convertible, so his TR6 has now taken winters off for almost 40 years.
Lynn brings the car out every May and puts it in storage every October.
The car's longest road was a 1500 mile (2500 km) drive to San Francisco and Lynn switched from a cowboy hat to a baseball cap when he got to California, presumably to fit into an urban environment.
Lynn is very easy on the car but he did tell us the car will do 120 mph (200 km/h) with no specifics given about that top end speed. 41 years of time behind the wheel have bonded Lynn and his car, so he stays out of the throttle these days.
The proof of prudent driving can be found in the condition of the car because it is clear the TR6 has been pampered during its time with Lynn. In fact "the engine has never been touched", in Lynn's words.
The car has never even been in a rainstorm according to Lynn and has pulled a small snowmobile chopped down for extra storage space on longer trips.
The TR6 was repainted about ten years ago and is only on its third muffler. The only issue over the past 40 years was an electric overdrive unit issue during the first 3 months that was fixed under warranty and has never been a problem since the repair.
The cars' history is a pretty good track record for a vehicle known for its sporty British style and temperamental nature.
Lynn may be an unconventional TR6 owner by comparison to a typical owner, but one would be hard-pressed to find a better owner for this beautiful Brit.
Jim Sutherland
CLICK HERE to Like us on Facebook
CLICK HERE to Follow us on Twitter
CLICK HERE to Follow us on Pinterest
Please re-post this if you like this article.