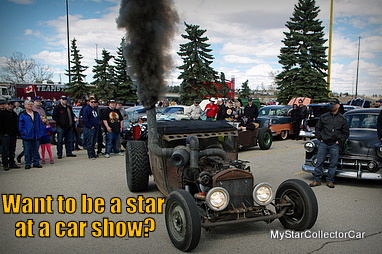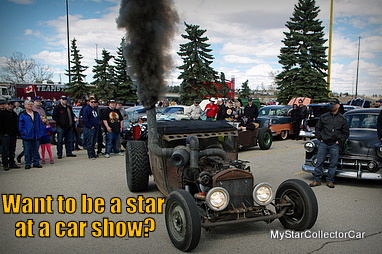 We attend a lot of car shows and we are very familiar with the biggest stars of the show.
These are the rides that get the most attention from people and we thought we would list them in case there are a few car guys and girls who may want a little extra time in the spotlight because of their vehicle choices.
We do not list them in any order of importance because any of these vehicle styles are crowd-pleasers when they appear at car shows.
Pro Stocks are always popular at shows. Brute force with a horn and lights is the best way to describe a Pro Stock ride because they are street legal in a very minimalist sense.
Most of these monsters churn out enough horsepower to make sub-11 second ¼ mile runs and these rides always turn heads at shows because you will likely hear them before you see them.
The complete opposite of a pro stock is a bone stock survivor car and yet the survivors also command a lot of attention at shows. These rides exist because a twist of fate meant these vehicles beat the odds and survived the ravages of time.
A survivor car (or truck) wears its original skin and paint, along with any wounds suffered during its many years on the road. In some cases, a quirk of fate meant they were stored and forgotten early in their life and spent many unmolested years in storage.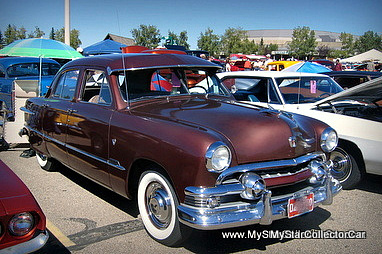 They emerge from solitary confinement, usually at an estate sale, and the next owner has a conversation piece at every car show. People like to see artifacts from the past and a well-preserved, unaltered survivor vehicle is a show-stealer because you can get close to the past with them.
Want to make a big impression at a car show? We would suggest you show up in a military vehicle and the bigger the military vehicle, the bigger the crowd around it-although a Jeep with an actual military record also draws serious attention.
People love the unusual at car shows. A terminally cute car like an Isetta will be a big hit at a show, while any ride that makes people ask "what is that car?" will also fit the bill. We suggest vintage European cars will always garner attention at shows because most people have never seen one on the road here in North America.
Well-designed custom rides will always be popular at shows because these cars and trucks answer that what-if question.
We at MyStarCollectorCar are amazed at the skills and creativity behind so many of the customs we encounter at shows. We only wish we had that kind of talent when we see the jaw-dropping results of a great custom build.
Rat rods are the bad boys of car shows and they are very popular with the car show crowd. A great rat rod is also a showcase for creative car guys and their efforts are always a hit at the shows.
They use a minimalist approach and build a statement car that may be a bearcat to drive, but it will be their personal statement ride.
Any of the above will push you into the spotlight because your ride will be a star every time you bring it to a show.
Better get used to plenty of attention if you own one of these babies.
Jim Sutherland
CLICK HERE to Like us on Facebook
CLICK HERE to Follow us on Twitter
CLICK HERE to Follow us on Pinterest
*Re-post if you like this MSCC article…thanks.