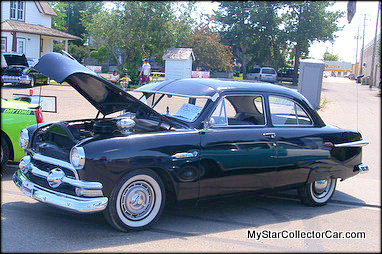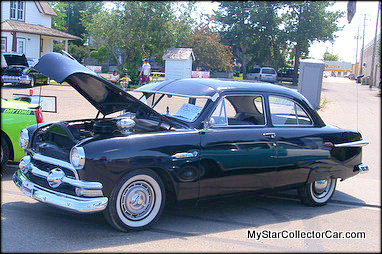 In 1949, Ford took a big step beyond its rivals when they introduced the new look to the Ford lineup.
These cars were lower, wider and they looked modern after the post-war years of recycled automotive styling.
That didn't stop these new look Fords from earning the "shoebox" nickname but car guys bought into them in a big way.
Their 1st cousin, the Mercury, was the first round draft choice for hotrodders back in the 1950s but the Ford was similar and far easier to find back in the golden era.
Boyd Gilbert is no stranger to the car hobby. He's owned, or currently owns cars from Model Ts and As to 50s iron like this '51 Ford. He's not a trailer guy so if it's a Model T day to go for a run Boyd is fearless out in modern traffic. That's why this early 50s Ford is almost hi-tech to a guy like Boyd.
Boyd practices the Golden Rule with old iron – have fun. He's a guy with an offbeat sense of humor so this '51 Ford reflects his comedic style. The old fashioned siren mounted on the fender in period correct police car style is one example as he explained, " I bought the siren for the kids because most of them have never heard one like that and it adds to their experience".
The giant whip antenna is another example of Boyd's customizing philosophy, " It was something you saw back then and so is the foxtail on it even though it's not quite a foxtail". The steering knob is another piece of automotive history because jurisdiction after jurisdiction eventually banned that item from steering wheels.
Boyd is sincere about that because he's an outgoing guy and he has incredible patience with people and their questions about his car. He's like a museum curator with good comedic timing because he's a detailed historian who likes to add entertainment to the message.
This car doesn't see many miles in a year for a few reasons but one of the major ones is simple, "it's got a low gear so it works pretty hard on the highway and that cuts into the top speed". Regardless of that Boyd admitted, "It's pretty easy to drive because you never have to shift but it sure runs good because that flathead will run forever".
Despite the low miles per annum on the old Ford, Boyd is never concerned about the car because, he explained, " It sits in the shed all winter but in the spring I put some gas in it, turn it over, pump the brakes and away it goes". The flathead isn't high-tech but when a car like Boyd's '51 sits for extended periods of time then low tech is clearly an advantage.
Boyd added that the old Ford is now a regular in parades, "my grand kids have had it in few parades. It did okay with the stop and go stuff".
Cars like this '51 Ford didn't survive the passage of time very well because so many were cut up for customizing, and hotrodding so the casualty rate was extreme—especially for 2 door sedans. Boyd's is a classic example of extremely mild customizing so it reflects a time and a place back in the days when Hank Williams was king of the charts.
And shoebox Fords were king of the road.
Jerry Sutherland
Follow us on Facebook at-http://www.facebook.com/MyStarCollectorCar
Follow us on Twitter at- https://twitter.com/#!/MyStarCollecto1