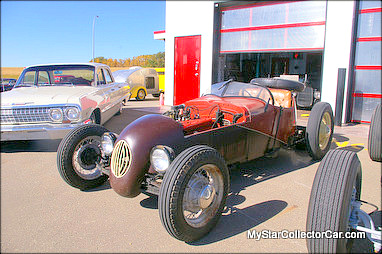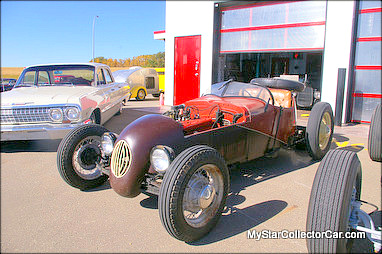 Mike Northcott was born long after the 1930s.
His closest reference point is probably a high school history book so the question is pretty simple.
Why would a guy born several decades after the Dirty 30s have any connection with the equivalent of an early Ford muscle car?
The answer is simple—the cool factor.
Mike is not the kind of guy who likes heavily optioned new tech rides even though he's a member of a smart phone generation where you can order a pizza, watch movies, text your girlfriend, video tape your buddy hurling after 12 tequila shots and have it online in seconds with a device no bigger than the palm of your hand.
That's not his world. Mike's world extends back 80 years to a time when a car like this '32 Speedster was the equivalent of a 2012 Z06 Corvette.
The car was built as a tribute to the Ford Speedster so it used genuine period correct parts as he explained, "It's got a '32 Ford engine and rear end. It's non-synchro so you have to finesse it into gear sometimes".
The rear wheels are Model A 18″ and the front ones are 16″ so the retro-speedster has the stance that was the forerunner to the hot rod era.
Safety equipment is minimal as Mike added, "it could have signal lights but for now it's hand signals".
Mike traded a '29 roadster for this car and while he's never regretted the decision. He's realistic about the experience behind the wheel of this old ride. Mike explained, "The wind is really wild. I had a T coupe and I thought that was windy but this is something else when you're in this car plus it's definitely a fair weather ride".
Driving this car is similar to the riding an old Harley Davidson because it's crude, gut level and outside in the truest sense of the word. Mike added, "I have to wear a helmet because the windshield is pretty low so there's a bug splat issue".
The car was built for speed 1930s style, so it has no problem achieving highway velocity, "I can cruise along at 65-70 in it with no trouble on the highway. It gets lots of looks, waves and thumbs up when I'm on the road".
The genius behind a car like this is simple—there's really nothing like a Model A Speedster on the road today and they weren't that common back in the '30s outside of a racetrack. Mike revels in the spotlight with this car and he would be welcomed at every show whether it's a rat rod show, a hot rod show, a vintage racer show, a Ford show or all makes and models show. Mike's a kindred spirit guy so this car probably wouldn't be at a giant show but the fact remains it's a spectator magnet.
This '32 Speedster is an incredible tribute to a bygone era when 100 miles an hour really felt like 100 miles an hour. Cars can hit 150 miles per hour in air conditioned, library quiet comfort in 2012 yet they'll never offer an on the edge experience like this car.
This is a working without a parachute ride in the truest sense, but only one thing about the Speedster does worry Mike.
It only has a five-gallon gas tank.
Jerry Sutherland
Follow us on Facebook at-http://www.facebook.com/MyStarCollectorCar
Follow us on Twitter at- https://twitter.com/#!/MyStarCollecto1