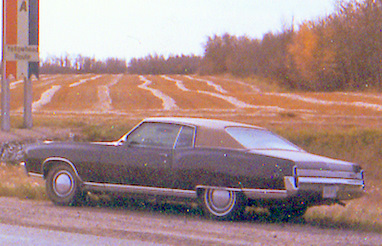 We've reprinted this article with the permission of Dave Nagy and the Red Deer Advocate.

A car. More importantly, that first car.
Okay, what we're really talking about is wheels. . . and more importantly that first really, really big consumer purchase for a young person.If you came of age in the 1970s. . . but what does it matter WHAT decade. . . getting the keys to your first car was a dream shared by everybody.'
'And how does one go about choosing a vehicle. . . a first car. . . in the first place? It's been a while, like 32 years, since I chose my first car. In my case, it just sort of happened.
After a little bit of looking, I noticed a couple of early-70s Chevrolet Monte Carlos on the used vehicle lots of my then place of residence, Prince Albert, Sask. I am NOT originally from Prince Albert, I was born and raised at first in Regina. . . we moved away to Manitoba in 1969, but that part of my life can be left for other articles.
After test driving a brown, 1972 Monte Carlo model, I found my way to the green body, tan vinyl roofed version that I ended up buying. Price? $2,800, with $1,000 down. I paid that amount for a five-year-old car which probably sold for about $5,000 new.
When I'd made up my mind, dad insisted on taking a test drive with me, and that was not a bad thing. In his learned judgement, the Monte would be a good car for me; the only mechanical thing it needed was a wheel alignment.
I also tried out a 1970 white Oldsmobile Cutlass, but, you know. . . a white car, for a GUY? The green Monte I bought in 1977 had some rust around the edges, but that was rectified by the dealership's auto body shop before I drove it away. I remember watching the Monte being rinsed off moments before I took it away, the water beading over the fresh coat of paint in the dark shop.
The Monte had a 350-cu.in. eight-cylinder (what else?) engine. It had all power windows, air conditioning (I was FIRST in  my family to acquire such a luxury) and automatic transmission. It was the perfect first car for a young single MAN (we're talking the 1970s. . . If you were talking about a car for a young PERSON it would be a different decade!) .
I cannot recall what mileage (as it was called) the Monte had when I bought it. I traded it in in 1981, with just over 90,000 miles on the odometer. That would be about 145,000 km. My next car was a 1979 Chevrolet Impala.The Monte was traded away with a nasty knock under the hood. Tappets, they called it, but the first repair job wasn't sufficient.
My Monte came with lap and shoulder belts, but they were two separate systems; when the original lap belt buckle failed I merely switched belts. There were two belt holders on each side of the console, so they were easy to store (to hide the broken one! ). Wearing both the lap and shoulder belts made for cumbersome riding, as I discovered, before reverting to the single lap belt.
For myself, after having been required to buckle up for Driver Education class in Manitoba, I had no problem wearing the lap belt. . . compulsory use was a few years away. The 1979 Impala I got with my Monte trade-in stayed with me for 11 years, but then again there's another story.
And in my zeal to get the most for my first beloved set of wheels, I tried to sell the Monte Carlo privately, but only attracted one potential buyer. I even placed a picture ad in the newspaper, billing it as a 'Single Man's Car.'I never heard the end of that (Single Man's Car) from the single young ladies that I worked with. Funny, I remained single for long time after that, too.
The Monte Carlo was a fun vehicle, sporty. . . it won Car of the Year in 1972. This was absolute proof that the then Soviet Union thought that capitalism wasn't so bad. Communist Party General Secretary Leonid Brezhnev wanted a Monte Carlo. I seem to remember a story that U.S. president Richard Nixon tried to get one for Brezhnev.
In the era of cheap gas (we were a few years past the energy crisis of the early 70s) I remember bellyaching with colleagues at the newspaper in Prince Albert. . . at having to fork out $20 a week for gas.  . in the WINTER! I've forgotten the exact mileages that I recorded while travelling across the Prairies, but I think the best I got was somewhere near 30 mpg.
The top speed I recall travelling was about 130 mph (at night), but don't tell the Mounties at Gimli, Manitoba. They didn't have radar in those days! And like most young people, I did not have a lot of extra money in those days. . . but always seemed to have enough. The only 'fancy' extra thing I added to my Monte Carlo was a state-of-the-art Pioneer 8-track player. At $140, that item was worth almost a week's wages !
No wonder Dad thought I was a 'Crazy man,' for having spent that kind of money just to play music. The kids those days, you just never knew. Some years later I settled in Red Deer, and attended a classic car show in the early 1990s. And what did I see among the gems? Not MY old Monte Carlo, but someone else's CLASSIC 1972 Monte Carlo.
 'You don't see that many of those old Monte Carlos much these days. But they do grab the eye. And I'd grab another '72 Monte Carlo in a minute. . . you never know!'
Dave Nagy works as an editor for the Red Deer Advocate.