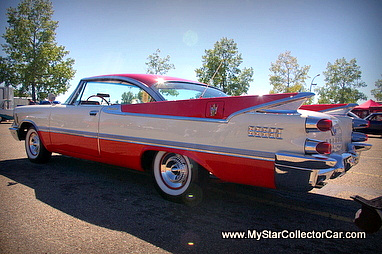 There's an excellent path to take if you're sick of the bland and chronically boring pattern in today's traffic–buy a Mopar fin car.
The Mopar fin cars from 1956-1961 were some of the most stylish and innovative cars ever built and lately the gavel has come down on some stratospheric prices for these classics.
Terry Romanchuk had the fin car bug long before it became fashionable.
Terry explained, "I had two of them when I was young. They were the only cars that could stay on the road at the speeds that I ran".
Terry's 1959 Dodge Custom Royal D-500 is one of the high water marks for Exner fin cars because they're rare, cool and solid plus he has a personal connection, "I grew up in a small town where the Dodge dealer was the biggest dealer in town. I used to pump gas for them so I got to take these fin cars up the block for a spin plus my Dad had a 1959 Dodge Viscount (Canadian Dodge) so I always loved these cars. This 59 Dodge is my favorite fin car".
This '59 Custom Royal D-500 is one of of those cars that immediately seizes the spotlight and part of the reason is that they're extremely rare but the biggest reason is that these cars are a spectacular addition to any car show.
Terry has owned this car for seven years and it's been a good ride, "It needed some restoration for sure but it was mostly restored so I had a lot to work with from Day One. But I did have to do some assembly and cosmetics to get it to this point plus I had to do few repairs".
The key to any car and owner scenario is simple–spend time on the road and Terry has adhered to the plan, "I drive it all the time, it's been down to Idaho and back no problem. If you have to haul your car then there's really no point in owning it. I put a lot of miles on it every year and never worry about it".
The experience has been very positive as Terry explained, "It runs great even when it's hot I've never had a problem with it like vapor lock. It runs beautifully on the highway plus it pulls down 19-21 miles per gallon at 70 miles per hour".
These fin cars are like a neon sign, " I get offers for this car all the time and if I got 25 cents for every picture that was taken it would pay for itself. There's always somebody around it when I park it anywhere because it's a people magnet".
Terry has a few other cars but this big Dodge is his number one choice, "I pick it every time because it's just an incredible car".
Terry is one of those guys who is a perfect match for the car he owns. He summed up the experience in his own words.
"It suits me, it goes, it doesn't burn rubber getting there but it suits me".
Jerry Sutherland
If you want to see another great MSCC '59 Dodge Custom Royal story, here's the link.