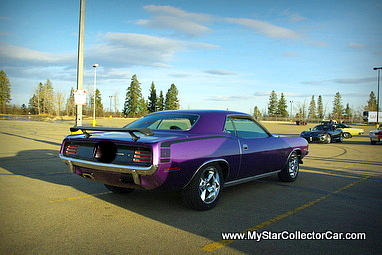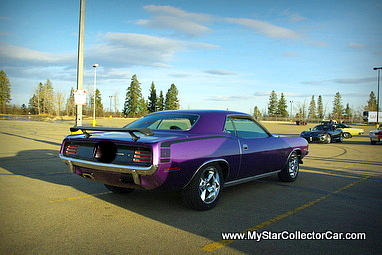 Most car guys have a dream ride and one of the top vote getters is the '70 Hemi Cuda.
That particular car will remain a dream for most guys because cutting a check for a quarter of a million dollars is simply out of the question for the average guy.
There's another route to the Hemi Cuda and it's one that is catching on with Mopar guys…the 3rd Gen Hemi.
Carl Demers turned 50 last year and he is definitely in the demographic sweet spot for the '70 Hemi Cuda. He explained how he ended up with a 5.7 Hemi Cuda, " I used to own a hot rod but the kids came along and the car was gone. They've moved out now and my 50th birthday came along so my wife gave me the green light to get another hot rod".
The Mopar connection came naturally, "I used to own a Duster and I always loved the Cuda so after I got the green light I started looking for one".
This car came with a built-in struggle, "I was after it for a long time and the guy didn't want to sell. I kept working on him and eventually the economy worked in my favor and I bought it."
50th birthdays are clearly milestones in a person's life so Carl reached back to his past to turn this into an adventure, " I had a buddy out in BC who was willing to come with me to pick it up so I picked up a plane ticket for him and we met down south. It was a great road trip because we ended up in Vegas and he won a few thousand bucks".
This was an extensive road trip as Carl explained, "We put a lot of miles on, we went from Vegas up through California, Oregon, Washington and finally dropped him off back in BC (British Columbia)".
The driving experience was great, "This car ran like a top, it was really comfortable and it pulled down 23 miles per gallon if I kept my foot out of it…but that didn't happen too often because this car flies".
Carl admits that he had it up to to speed at various points on the trip, "The faster you go the better this car runs but I had to be realistic…it is that fast".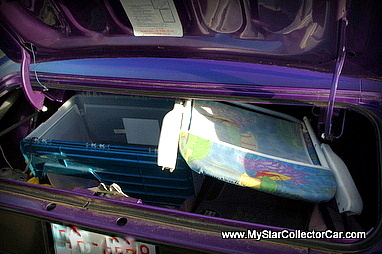 Most car guys know that old iron can turn you into a celebrity and this car was no exception as Carl reported, "I'd come back to the car after gassing up and there'd be a bunch of people around the car. In Vegas I drove by some Hell's Angels and they offered me two Harleys for it on the spot".
This attention also extended to law enforcement, "I was driving through Prince George, BC and this cop stopped me because my taillight was burned out. Turned out it was but what he really wanted to do was look at my car because his brother used to own one".
This car is in the comfortable range of resto-mods because it has a 2006 5.7 hemi under the hood but it also has a host of other upgrades as Carl outlined, "It's got the 4-speed AOD transmission with a 3:73 rear end but it's set up with an overdrive at the rear end too so it really drops the RPMS".
The upgrades didn't end there, " It's got heavier duty torsion bars, upgraded steering box and sway bars front and back plus the disc brakes have been stepped up so it goes down the road really well".
Most car guys have an unwritten rule that it's never really finished and Carl's Cuda is no exception, "I'd like to take the boost up 9 psi and eventually I'd like to put a Viper suspension under it".
That likely won't happen soon because once you wait 50 years for a dream car you don't spend another few years working on it-you drive the wheels off it. Carl summed it up best.
"I didn't buy a trailer queen".
Jerry Sutherland