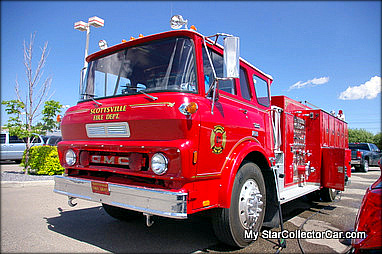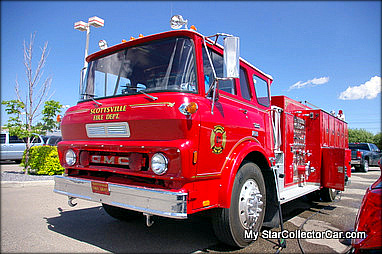 Frank Westphal wrote a song with the lyrics "Old soldiers never die, they just fade away. They just end their day."
General Douglas MacArthur used this line at his retirement speech because it summed up the feeling he had when he was finally shown the door.
Fire trucks march to the same beat because they go from being a vital piece of life-saving machinery to an antiquated piece of history at the end of their run.
Machinery wears out and new tech takes over so these emergency vehicles eventually become a door for a new fridge in post-retirement.
There's no future left in yesterday's firefighting vehicles but occasionally an old truck gets a great post-retirement job.
This 1975 GMC 6500 Pumper Truck is one of those exceptions.
The truck was in service with the Prince George (British Columbia Canada) Fire Department from 1975 until it was sent out to the highest bidder in 2001. Colonial Motors won the bid and they had an instant buyer for the big GMC fire truck. That buyer was (then) a Buick dealer in Red Deer, Alberta Canada.
They were looking for a promotional vehicle that they could combine with a practical function as a lot truck – basically a vehicle that could carry a pressure washer and a decent load of water. A retired fire truck is a custom fit for that role at a car dealership because clearly it could handle the workload and nothing has more presence in traffic than a giant red, lit-up, siren wailing emergency vehicle. This truck is like a neon sign on six wheels.
There is a long-term game plan for the GMC pumper – one that includes PA systems, popcorn machines and music and a front bumper lot sprayer. That's one of the biggest kid magnets you'll see at a car show because nothing draws junior car guys in faster than a big red fire truck with loud music and free snacks.
Gerry Paquette is the go-to car guy and he has an obvious fondness for the old "Jimmy". He's a technical car guy so he rattled off the details on the truck, "It's got a factory 427 and it runs pretty good. We swapped out the points for a new HEI system and that cut down on the maintenance side."
A city fire truck is built for one reason-get there fast.
This truck is specifically designed for acceleration so it's got non-highway gears as Gerry explained, " We'd like to change the rear end so we can take it out on the highway to more shows because right now it's not highway compatible. If you get out on the highway you have to be able to keep up or to get the hell out of the way or you're going to end up with 10,000 cars behind you and we'd like to hit more shows with it".
The GMC has been to a few shows since 2003, including the Super Run in Red Deer, The Red Deer Parade and an Air Show in Springbrook Alberta (home of a former RCAF air base).
Kids of all ages love to ride in the big fire truck because nothing beats a road trip in a loud, lights flashing, sirens wailing emergency vehicle. Gerry reports, "we'd get to more shows but the truck requires an air brake certification so the holds us back a bit". He admitted that he's thinking about picking up the certification because he'd love to show up at the local Thursday night drop-in show in this big brute.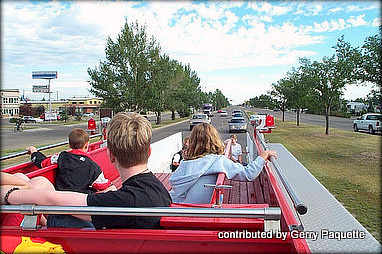 The GMC has a much easier job in 2012. It only works during the good months so it never sees winter weather. Its work duties revolve around a 4 horsepower portable pump and a water supply to wash the dust off the lot vehicles so there is no frantic drive to get to the scene.
The work isn't as glamorous but the hours are shorter, the work is easier and the truck still gets to stay in the spotlight.
That's why this old soldier will never fade away…
Jerry Sutherland
Follow us on Facebook at-http://www.facebook.com/MyStarCollectorCar
Follow us on Twitter at- https://twitter.com/#!/MyStarCollecto1