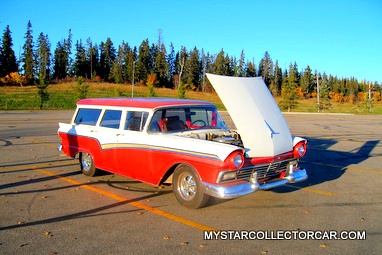 We noticed the 1957 Ford station wagon the minute it pulled into the Thursday night show and shine.
Then we noticed that it drove right by the show and parked in an adjacent parking lot.
It was clear that the owner was a little publicity shy because a 1957 Ford Country Squire wagon will draw a lot of attention-including ours.
Inquiring minds want to know why a guy born smack dab in the middle of the 80s would want to own a car from the skinny Elvis days. A 1957 station wagon that looked like it belonged in Ward Cleaver or Ozzie Nelson's 50s TV show driveway.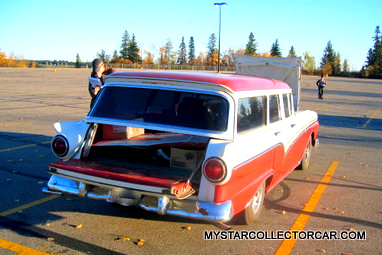 Consequently we asked Terry why a 25-year-old guy would buy a 1957 station wagon. He had a simple answer:"I always liked old wagons. In fact, he had a "thing for wagons", in his words, plus he always had old cars in his life.
He sold a 2004 vehicle to get in the game with his old war wagon. The Ford was a rescued field car that was dying a slow death before its previous owner decided to commute its sentence of death by rust.
When Terry purchased the old Ford, he decided to go in a different direction with the car- a very different direction. Terry wants to return the wagon back to its original roots, complete with stock hubcaps and original 312 engine.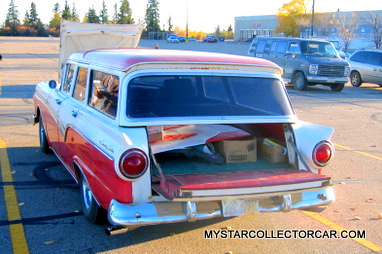 Right now it has a 302 HO mill and a Frankenstein interior of non-original throw ins that suited the previous owner's budget and tastes-but not Terry's.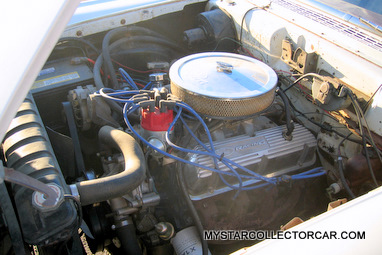 Terry would seem to be the right age to slam this car and low ride into the sunset with it, but he wants to be true to the old school philosophy of the Ford. He wants to drive a piece of 50s automotive history in its original kid-hauler form.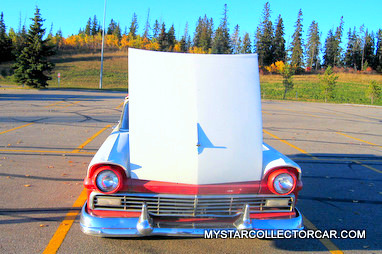 It's an odd mix of old ride and young owner, but we predict that this May-December relationship will work better than Demi Moore's marriage to a smarmy punk.
Jim Sutherland

COMMENTS
TREVOR:57 Ford Wagon, How Freaken cool! I remember seeing that wagon for sale, I almost wanted to buy it my self but I remember selling my soul to GM at a younger age. I am happy to see it end up here and very cool to see a younger guy seeing the light. Hope to meet him soon!–Rev"