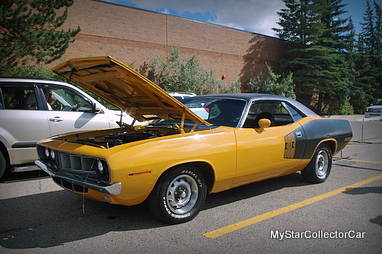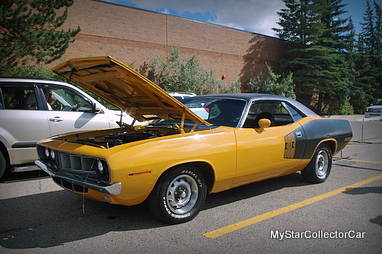 E-Body Mopars are extremely popular cars.
They are so popular Chrysler revived the concept with their extremely cool next-Gen Dodge Challenger.
The popularity factor of E-bodies means a spike in the value of T/As and Hemi Cudas and the market reflects that trend.
Factory options are the key and the more unusual the ticks are on the option sheet, the more value in the car.
This 1971 Plymouth Barracuda is a textbook example of how an unusual build sheet can enhance the value of a relatively common old ride.
Wayne Vandergaag wanted to be a part of the old car hobby and he was interested in the E-body Mopars so he focused on them. The '71 Barracuda looked like a great way to enter the game.
Wayne is the current owner of this classic Mopar  E-body and he was thrilled to enter the old car hobby in style behind the wheel of this Plymouth pony car. He explained the history behind this car, "It was originally a California car and it didn't have a lot of miles on it. The original owner lived there so the car was well looked after and pretty low mileage".
Wayne outlined the rest of the story behind this '71 Barracuda, "I saw it on the computer as part of an estate sale and I knew I wanted it. It had traveled north a few thousand miles by then".
This car was the real-deal barn find as Wayne explained, "The second owner didn't drive it much so it sate in his garage for ten years".
Most car guys know that a sedentary lifestyle isn't any better for cars than it is for humans and this 1971 Barracuda is no exception, "I had to do a little transmission work on it but that was about it".
The key to this car is the unusual list of options and that begins with the paint. Wayne outlined the history of the color scheme, "It's Bahama Yellow, they had it in 1969, and it wasn't received very well so they quit offering it in '70 but they brought it back in '71".
Wayne explained another interesting option on this car, "This is a Barracuda, not a Cuda but it's got the 383 4-barrel with dual exhausts so it's kind of unusual to see that engine in a Barracuda. It's not very common at all".
The car also came with a tachometer so the original owner had a little bit of a sporty side, but he did tick off the Torqueflite automatic over a manual so he drew the line at shifting.
Wayne was a like a kid at Christmas with his first big Mopar show and there was no shortage of penta-star guys poring over his 383 Barracuda but the biggest thrill for Wayne is experienced from behind the wheel.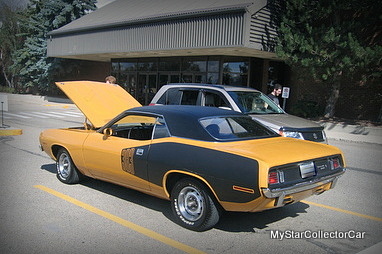 He had already gone for a few shakedown runs in this Mopar as he explained, "I've put about 1100 miles on it since I got it, mostly short runs and they've been a lot of fun.I'm really looking forward to a full season".
This '71 Barracuda may be one of the most stylish entries into the old car hobby because the car is cool and it's owned by a guy who really appreciates what he has…
Jerry Sutherland