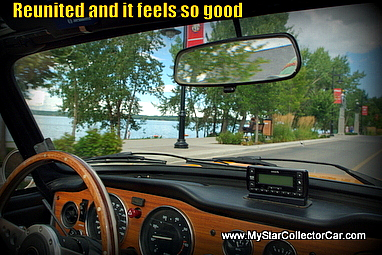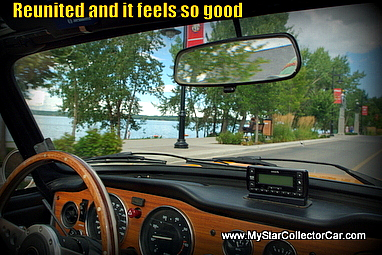 We tend to look back on our lives in a Paul Simon "Kodachrome" kind of way because nothing is ever as good or bad as we remember and everything does look good in black and white.
Simon touched heavily on the concept in "Kodachrome" and so did Harry Chapin in "Taxi".
Most of the time we are surprised by encounters with the past: people and things that were larger than life in our memories become less legendary when we encounter them later in life. They can even become soul-crushing moments where legends die when the present reality falls well short of past memories.
Most of the time memories are best left in the rear view mirror where nothing gets ravaged by time and less attractive. People and things in our lives never change for the worse in our memories; in fact they get better looking if they stay in the past.
All of this deep introspection brings me to my own recent reunion with a strong memory from my own past. I was given an opportunity to re-acquaint myself with a companion from my misspent youth; fleeting moments of crazy weekends in a crazy resort town with my flashy and beautiful summer companion.
The summer companion from my past was a 1976 Triumph TR6 that belonged to somebody else, but I was smitten with this beauty from the first time I saw it. My brother Bruce bought the car right out of the showroom in 1976 and I was there to witness the blessed event.
Bruce took off in a cloud of dust about three seconds after he fired up the car and he never really stopped until about three years later when his first son Angus was born and the realities of a new family crept into the equation.
I caught Bruce in a weak moment of warm and fuzzy early parenthood and suddenly his TR6 was available to me for a couple of quick getaway weekends to the hottest summer resort in western Canada for under 25 year olds: Penticton, British Columbia and its infamous Skaha Lake Beach.
Wall to wall hot women inter-dispersed with muscled steroid-fueled narcissists who were too busy falling in love with themselves and watching their testicles shrink to worry about the babes. Penticton Peach Festival was a shallow world where image was king and I brought a bright orange TR6 to polish my image for the reindeer games.
Does the car really make the man? If you are a kid in your early 20s and take a hot-looking British sports car to a world class summer resort town for its biggest annual weekend during the Me Decade (the 1970s), there is only one answer-yes.
Things changed after those crazy days and the TR6 went into a long hibernation because of a few mechanical problems. A TR6 is like a very hot woman because you are living on borrowed time when you have a relationship with either one of them. Both can break your heart on a moment's notice.
The TR6 had serious enough issues to break ten hearts and my brother Bruce was never able to sink his teeth into the restoration until late in his own life. Instead the task was left to his oldest son Angus, the kid who had unwittingly played an important role during my first summer with the car because Angus was born in the spring of that year and distracted his father in my humble opinion.
Angus tackled the car in order to finish the TR6 restoration started by Bruce. It was a painfully long, slow and expensive process that put the car back on the road very briefly last year and permanently this year.
Angus got in touch with me and asked me whether I wanted to drive the car for the first time in 33 years. The event happened this past Labor Day weekend when I got a chance to reunite with the little orange beauty that had been such a big part of my life all those years ago.
I jumped behind the wheel and it felt amazing. The only difference was the seatbelt because I never even knew where it was when I last drove the car. We had no seatbelt laws 33 years ago and I never wore one until it became a law. I would still never wear one if not for the fine.
But the experience behind the wheel was exactly the same for me. I even heard 70s music over the car radio, including 'Baker Street' about five minutes into the ride. I had 'City to City' by Gerry Rafferty as a staple of my cassette collection the last time I drove the car and it showed up on the XM radio signal Angus wired into the car's radio system.
The radio was dialed into the 70s channel and I was dialed into my own past in a big way. A TR6 is a very different kind of car because it has a different sensitive feel on the steering wheel and it handles in a different way than a modern car.
It has a short throw 4-speed shifter and the back end of the car dips a little every time you shift hard. The exhaust sound is distinctively Triumph six-banger and you feel totally involved in the driver experience.
A TR6 does not ask for your attention-it demands it-and you are a better person for the experience because you have to stay involved with the car to stay on the road. The reward is all sensory because it is summer, the top is down and you will see, hear and even smell the journey in a different way.
The scent of summer is all around you in a top-down TR6, whether it's the hay crop, the trees or the lake you pass along the way. All of it blends with the unique hot oil aroma of a vintage six cylinder British sports car engine resuscitated by the efforts of a guy who just wanted to finish his late dad's dream to revive his beloved TR6.
Congratulations Angus, you managed to achieve the impossible: you made Paul Simon wrong with "Kodachrome" because sometimes the memory is exactly correct when it comes to a car.
Jim Sutherland