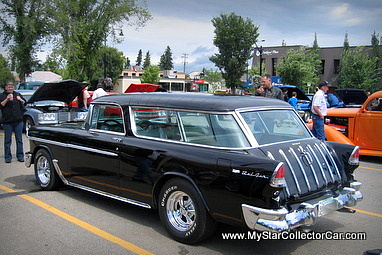 There is a basic rule of thumb for us when it comes to a Chevy Nomad:
We grab the opportunity to get the story whenever we see one at a car show.
This beautiful 1955 Nomad really caught our attention at a show because it was a stunningly well-done resto-mod.
Danny Bowen was the proud owner of this long roof and he was happy to share his story about the car. Danny was like most car guys because they tend to from the strongest bonds with cars during their younger and more impressionable years in life.
A guy in Danny's home town owned a Nomad before the guy wrote it off in a crash and the car left a lasting impression on a then-young Danny. He loved the clean and very cool lines of these iconic Chevy wagons as a young guy and knew that he had to own one of them someday.
Someday arrived about 8 years ago for Danny and he became the proud owner of this 1955 Chevy Nomad that has been resto-modded just enough to build performance without sacrificing its original good looks that attracted Danny in the first place when he was a young admirer of the Bowtie wagons.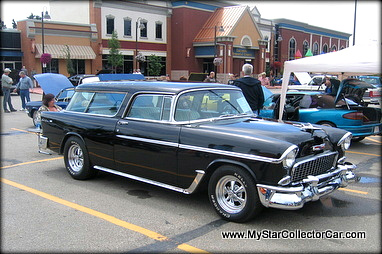 The exterior retains its factory look, including all of its original chrome and bright work. Danny admitted that the bumper protectors were optional on the Nomad, but he liked the add-on look for his Nomad.
The fact that Danny's Nomad wears all of its original bling really set off the overall look for his wagon in our humble opinion. The 50s were the decade of excessive chrome and we at MSCC love that part of the philosophy from the Detroit lineup.
They called them Chrome Dreams in the 50s and we are always happy when owners retain that shiny dream in their modified rides from that decade. A black car done to this level of paint quality and bright work refurbishment is a stunning addition to any car show.
The modifications to Danny's Nomad are largely hidden once he closes the hood. He has a 400 cubic inch small block Chevy and a four speed manual transmission to power his wagon down the road. The combination is a perfect blend for Danny because it gives him plenty of horsepower to hit the highway.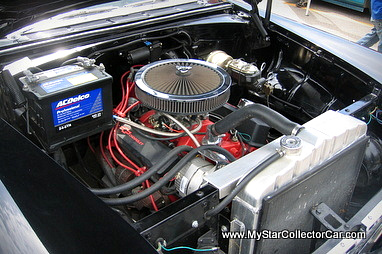 There were 8530 Chevy Nomads built in 1955 according to our research, and that was 8530 reasons for a large fan club to develop over the decades since the first Nomad left the factory. The Nomads are one of those superstars in the collector car culture and we expect that they will always enjoy a massive number of admirers in the collector car world.
We at MSCC are always happy when one of those admirers can find that ideal marriage of originality and performance without sacrificing the large appeal of the Nomad's factory looks in the process.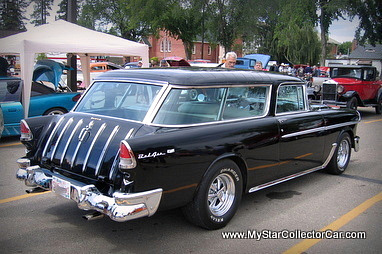 We believe that Danny was able to find exactly the right mix of both in his beautiful '55 Nomad.
Jim Sutherland
Here's a look back to a July 2009 MSCC article about another '55 Nomad.