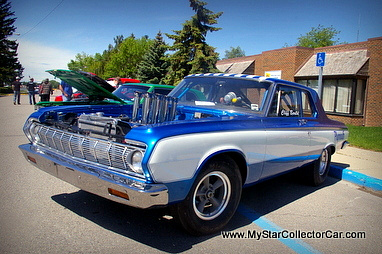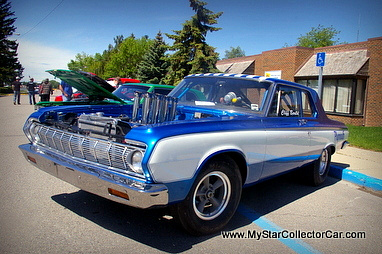 The sight of a nostalgia track car on the street at a small town car show will get our attention every time because we do not have many of these encounters outside of the quarter mile world.
That's where they are typically found in car guy world.
The sight of a muscled-out 1964 Plymouth AFX Nostalgia class racer on a small town street was even more unlikely in a Bigfoot kind of way. We had to track down its owner and find out more about this beast among beauties at that show.
There is nothing dainty about a 1964 Plymouth with a full-on hostile attitude under its hood in the form of a 935 horsepower Hemi. This was an alpha male Elephant in the very tough Hemi herd and it looked like a leader among its peers.
The owner was an avowed Mopar guy named Cliff Berild and he was eager to discuss the history of his Plymouth. Cliff purchased the beast out of Kentucky and it was a 440 car when he became its new owner.
There is absolutely nothing wrong with a 440 big block and the Plymouth was able to run 10 second quarters whenever Cliff felt the need for speed, but it was not a Hemi.
Cliff's quarter mile dreams began and ended with the Hemi long ago as a kid when he witnessed the Elephant's domination on the quarter mile tracks. The Hemi was also the big dog at the NASCAR tracks when King Richard Petty ruled the roundy-round circuit in the 60s.
The Elephant legend grew in Cliff's world and so did Cliff's desire to jump into the game with a Hemi under the hood. He added a monster Hemi to his '64 Plymouth once he decided to invest in the Tim the Toolman scientific theory of more power.
The Plymouth is now a 9.90 ¼ mile car and Cliff wants to massage his nostalgia racer down to an eight second rocket. It will be a balance of traction and torque to get his Plymouth into that range because his Plymouth is now a brute force on the track.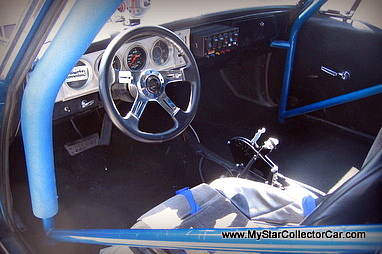 Those of us of a certain age can readily recall the track wars of the 60s when some of us were just awestruck kids who followed the quarter-milers and their cars like they were rock stars.
We built the scale models and dreamed big dreams about what it would be like to own an actual full race quarter mile monster when we were kids.
Cliff took that dream and made it a reality as an adult because he owns a Hemi-powered blast from the past and he gets to race it against other car guys with the same dream in the Nostalgia class at the track.
There will always be something very nostalgic about cars like Cliff's because they were part of the reason so many of us embraced the car culture when we were young.
MSCC would like to thank car guys like Cliff because he and his fellow racers have kept alive a big car guy dream for all of us.
Jim Sutherland