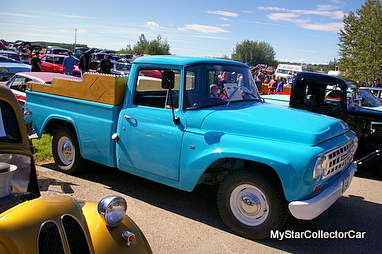 A 51-year-old International Harvester pickup truck caught our eye at a small show.
Truth be told, a 1964 International Harvester pickup would catch our eye at any show, small or large versions.
IHC trucks were affectionately known as Corn-binders by the world at large because of the farm equipment roots of parent company International Harvester.
Ownership of an International Harvester meant one thing: hard work was a way of life for both truck and owner.
Corn-binders were not made to cruise down an uptown avenue and show off a glamorous lifestyle of the rich and famous to envious passersby.
A Corn-binder was meant for a blue collar lifestyle where back-breaking labor was all in a day's work.
Retirement meant the end of a long, hard road for IHCs, and very little thanks for their loyal service. No gold ring and a dark post-retirement future squashed in a wrecker's yard or a forgotten slow death-by-rust in a pasture.
Thus the sight of a survivor IHC truck with over 50 years under its belt was a worthwhile story, particularly when it still bore its original ranch brand on the stock rack. A stock rack was a common feature on old pickup trucks used on farms and ranches because it increased the height of the truck bed.
Owners could then use their pickups to haul livestock or more supplies, so the stock racks could increase their payload.
The '64 IHC was on its third owner and had indeed spent most of its life on a ranch in southern Alberta, Canada. Its current owner is Conrad Kirchner and he bought the reliable old ranch hand for sentimental reasons.
Conrad owned a similar truck during his younger years and used it for his honeymoon. Conrad told us his first Corn-binder was rusty when he bought it and rustier when he got rid of it.
Conrad's original truck made a big impression on him, enough to make him search for another IHC in his later years.
The search led him to this well-preserved Corn-binder in 2014 when the truck was 50 years old and still looking like a spring chicken. The original owners liked the old truck and respected its durability after years of hard work on their ranch, so they saved it from a typically bad retirement.
Conrad explained the degree of originality in the old pickup and told us the paint, rear bumper and, surprisingly, the stock rack were add-ons. The ranch cattle brand on the stock rack was a tribute to its original owners.
The IHC still has its original powertrain with a three-on-the-tree manual transmission and 264 cubic inch straight-six engine that puts out 133 horsepower. Conrad rarely pushes the truck above 50 mph (80 km/h) on the road because "it was never meant to rev that high", his words.
He likes to drive the truck, but limits himself to a maximum of about a two hour trip behind the wheel so both he and the truck can handle the journey. He has already driven to many shows and parades within that time window during his short time of ownership.
MSCC likes Conrad's attitude because he bought his 1964 IHC for exactly the right reasons: sentimentality and actually driving his classic old Corn-binder.
Jim Sutherland
CLICK HERE to Like us on Facebook
CLICK HERE to Follow us on Twitter
CLICK HERE to Follow us on Pinterest
Please re-post this if you like this article.