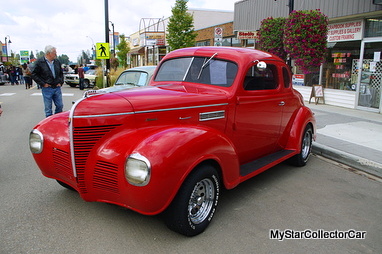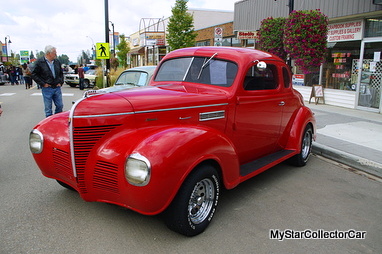 Few car guy/car relationships will last thirty years.
There are many reasons for this but chief among them are changes in marital status.
Single guys can hold onto a beloved old ride for decades but a new bride can put a car in the classified ad section faster than a speeding bullet.
Don Leach is the exception to the rule because he has owned his 1939 Plymouth for over thirty years. '39 Plymouths are not a typical platform for a custom ride but Don was very willing to take it on for a pretty basic reason-he's a self-described "car guy my whole life".
This car was far from well-preserved barn find status because it was actually in a field when Don found it. He explained how there was "no front end or nothing on it out in the field but the rest of it was there" so he "dragged it home and tinkered with it for a long time".
"Tinkered with" is a relative term because this old Plymouth is a well mapped out old classic. Don also stuck to the tried and true traditional build philosophy so he improvised and used whatever he could find to make this '39 Plymouth a hot rod.
This project wasn't one of those made for TV car 'done in 2 weeks' shows because Don admitted he didn't paint it until the last 15 years.
This car runs a 350 Chevy out of a '76 Caprice and it's mated up to a 700R transmission. Don said the front clip was out of a Nova and he did do the ball joints on it. The seats are out of an 81-2 Pontiac Phoenix because as Don admitted, "they seemed to fit".
Three decades later, this car is still a huge part of Don's life but he does confess that "there aren't too many miles on it-about 15,000". This is not a show quality car by any means but Don loves the driver status condition of this Plymouth so it has seen some bad weather days in its travels.
There are many reasons why car guys build rides like this '39 Plymouth but when you have a driver quality car you definitely focus on the "driver" side of the equation because Don explained you "just hop in it-you just get up and go". He took it to a show that is a 300 mile round trip and he was happy to report the old Plymouth was "trouble free, no problems at all-with the 700R you keep up with traffic no problem".
Most people have trouble with the concept of a thirty year relationship because few things outside of marriage or family will survive that length of time.
Statistics show you likely won't spend 30 years in the same house and you definitely won't be spending 30 years with your beloved cocker spaniel unless you factor in a stop at the local taxidermist.
Old cars are even less likely to survive a 30 year relationship but Don sums his bond with his '39 Plymouth up this way: "It's definitely not for sale unless someone comes up with some really crazy money".
Spoken like a true veteran of a 30-year relationship.
Jerry Sutherland
CLICK HERE to Like us on Facebook
CLICK HERE to Follow us on Twitter
CLICK HERE to Follow us on Pinterest
Please re-post this if you like this article.