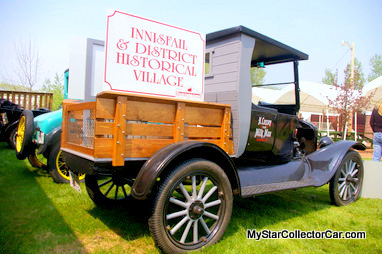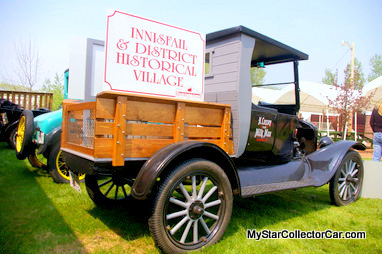 This Model T milk truck has a long and colorful history starting with its Day 1 configuration at the factory.
This was originally a car but circumstances and realities turned it into a truck.
Understanding the genesis of this venerable old milk truck requires a brief historical retrospective.
The car was originally built in Canada in 1922 as a touring car and purchased new by Hugh Cossey of Innisfail Alberta, Canada.
Hugh had a milk delivery business plan but the open bodied Sunday driver didn't pay the bills so it was reconfigured as a delivery truck. He took the back seat out, reconfigured the cab and added a truck bed to haul milk.
Hugh's idea was incredibly practical on two levels because during the Depression gas was rationed in Canada-basically you couldn't get gas for passenger cars. This gave rise to Bennett Buggies or horse drawn passenger cars named in honor of W.A.C. Bennett, the unlucky Prime Minister of the Dirty 30s.
Working vehicles like trucks were exempt from this law and Innisfail needed milk delivery. This business plan was one of the most solid Depression-era ideas that came up during this economic meltdown-outside of a pawnshop or hobo clothes.
Another law in the early 1940s – mandatory pasteurization of milk, killed the Model T milk truck business. Hugh couldn't dodge that economic bullet so he sold the truck to a farmer who used it daily until 1953 when it was retired.
The truck was rescued by a local car dealer who owned and showed it before donating to the old workhorse to the Innisfail Historical Village. On the surface the old T looked solid but underneath there was a different, more sinister story- a typical old vehicle project scenario.
Lawrence Gould, a local Model T expert spearheaded the project and he explained how much local talent was involved, "The old truck would crank over but everything except the crank and babbitt bearings had to be redone. The transmission had a big problem with the riveting on the triple gears so a one piece, non-riveted 1926 unit replaced the original setup. The body looked half decent but it was pretty bad so we ended up taking it down to the original frame. Bill Peters a guy who is over 80, did a lot of the body and wooden frame work".
Lawrence was a fountain of information and he patiently explained how difficult these old Ts are to maneuver for modern drivers. As he said "most people can get them moving but the big problem is getting them to stop". He explained that the transmission is "close to something like 2-speed Powerglide but what you do with your feet is done with oil pressure in an automatic".
Lawrence demonstrated a crank start on the old T but it was stubborn so he ended up using the electric start. Lawrence explained how and why he used the choke and the advance to get the nearly 90 year old Ford to fire up. By the time he was mobile he had a very curious and enthusiastic cheering section made up of car guys, kids and old-timers because the process was so interesting.
This old T is in good hands. It's back to its milk truck days but now the bottles are empty, the trips less regular, days off are spent inside and the maintenance is impeccable.
It's a great piece of history.
Jerry Sutherland
For more information about the Innisfail Historical Village please follow this link- http://www.facebook.com/pages/Innisfail-Historical-Village/148744818472785