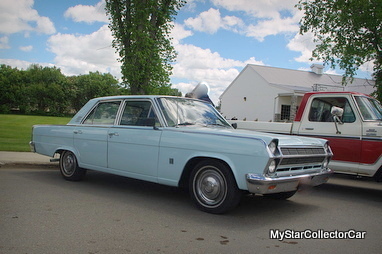 1965 Rambler Ambassador 880s are a very rare sight at any car show.
These cars were scarce in '65 and very few of them remain because they don't hold their value like Mustangs from the same era.
That's unfortunate because these big Ramblers are unique pieces of American Motors history.
Davianna Hunt is the current owner of this 880 because she literally grew up with this car. She explained the history behind her Ambassador: "This was my Grandpa's first new car ever. He was really excited , it was a demo and he was really proud".
This was definitely a cost-conscious purchase as Davianna recalled, " He wanted to buy a Classic but this car was cheaper because it was a demo".
Davianna literally grew up in this 880, "I rode in the back seat when we'd go to a local farm to get milk-it was always special riding in it". But she never drove it until 1996.
This Ambassador was garaged its whole life but eventually her grandfather had to park it for good until Davianna took over as caretaker because: "my brother was really the car guy but he's into Camaros and stuff so my grandfather quit driving at 87, my dad got it in '94 and he gave it to me in '96.
Paperwork is the key to a car's history and this '65 Ambassador is well-documented, "It's got the bill of sale and a lot of other stuff like owners manuals, and maintenance stuff".
Davianna was clear on how positive the experience for her young family: "I want to drive it as much as I can because the kids just love this car. They love riding in the back seat just like I did and my son won't get out of it when we go for a ride. He thinks it's his already ".
The Ambassador is a total driving experience : "It floats on the highway, it just gets going at 60 miles per hour but if it's a windy day the vent windows are a little noisy but I find it's more comfortable than my driver car".
Davianna liked one experience in particular, "You even need to learn how to start it, one guy couldn't get it started because he'd never started a carb car and this is a 327 4-barrel car".
This 880 has also solved gift-giving problems for Davianna's husband, "There's stuff it needs so I'm easy to shop for because I pick and he pays". They've made a few investments over the years, "We painted it in 2008 because it needed it and the fenders were a little rough.It has a few things that it still needs like the radio—it doesn't work but we're slowly but surely getting stuff for it like original mirrors".
The Ambassador has a few other features like power brakes and Nash seats because it was a high-end car in its day despite the low production numbers.
Davianna is very clear about the future of her grandfather's 1965 880: "It's priceless to me no matter what the Blue Books say".
Clearly, Grandpa's investment paid off almost 50 years ago.
Jerry Sutherland
CLICK HERE to Like us on Facebook
CLICK HERE to Follow us on Twitter