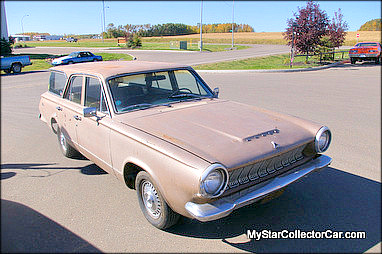 Brad Toovey had his wife's blessings when he decided to purchase a new set of wheels.
He wanted a daily driver that he was able to drive all year, but he wanted something old as his choice for his new set of wheels.
The result of his search was a 1963 Dodge Dart that had spent its entire life in sunny California, San Diego to be exact.
San Diego is well known for its very moderate climate by North American standards, so the little Dart had never seen winter as it is grimly defined by most parts of the northern hemisphere.
Brad had to travel 2200 miles to buy his little grocery carrier from the early days of the Beach Boys, but he seemed like the kind of guy who didn't mind adventure in his life, so he decided to drive it back to his northern home.
Brad is far enough north to state that the little Dart wagon was "not going to know what hit it" when he arrived back his home town where winter comes early and sleeps in late most years.
The journey home was pretty uneventful because the little warrior ran all- day- every- day at a steady 70 mph. Brad had developed his fondness for the older vehicles when he was about 15 and attended a car show.
He felt that he was "on the outside looking in" at the car show and knew that he would one day become a member in good standing of the car guy culture and own his own set of unique wheels.
We ran into Brad at the tail end of the 2011 car show season and he outlined his future game plan for the Valiant.
He planned to drive it through the winter and figure out what it needed to become a nicer 1963 Dodge Dart station wagon. Top of the list was a new paint job and everything else fell into place after that project.
We likely will not recognize it when we see it after Brad dolls it up a bit. At least by then the little Dart will have adjusted to its new wintry address.
Jim Sutherland
Follow us on Facebook at-http://www.facebook.com/MyStarCollectorCar
Follow us on Twitter at- https://twitter.com/#!/MyStarCollecto1