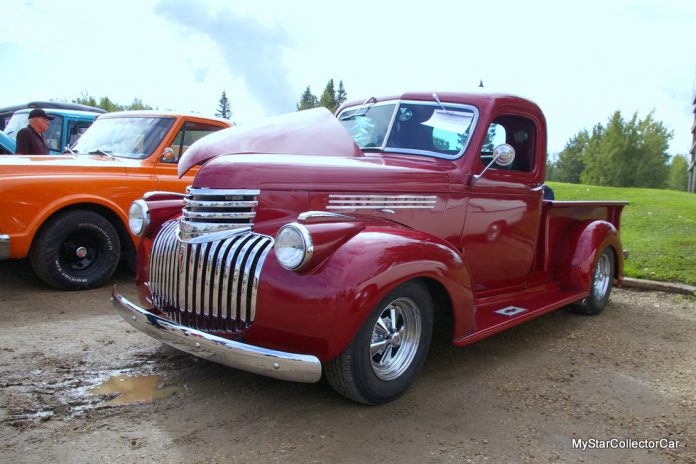 Bob Schneikart is a farmer who still owns a family legacy truck in the form of a 1941 Chevy.
Bob's grandfather was a homestead farmer in southern Saskatchewan who arrived by wagon to farm in that area.
Bob's father was also a farmer so Bob grew up in the world of agriculture. He also grew up with a 1941 Chevy truck that was a big part of his father's operation over the years.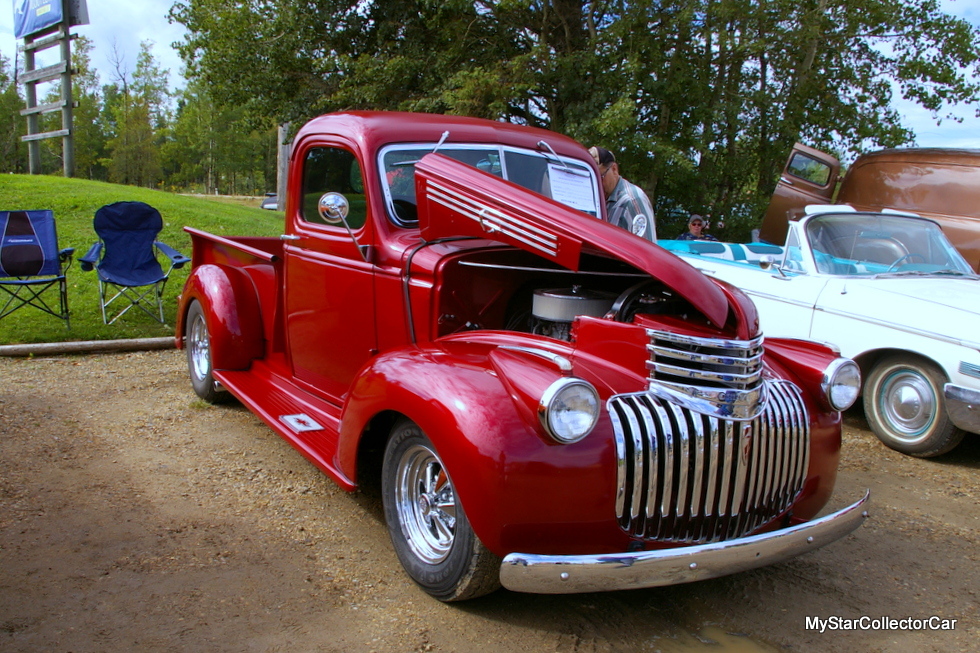 The '41 Chevy truck was an important component of daily farm life for Bob and his dad back in the day. Bob actually learned how to drive as a 12-year-old kid behind the wheel of the 1941 Chevy ½ ton and developed a deep bond because of its connection to Bob's younger years and his dad.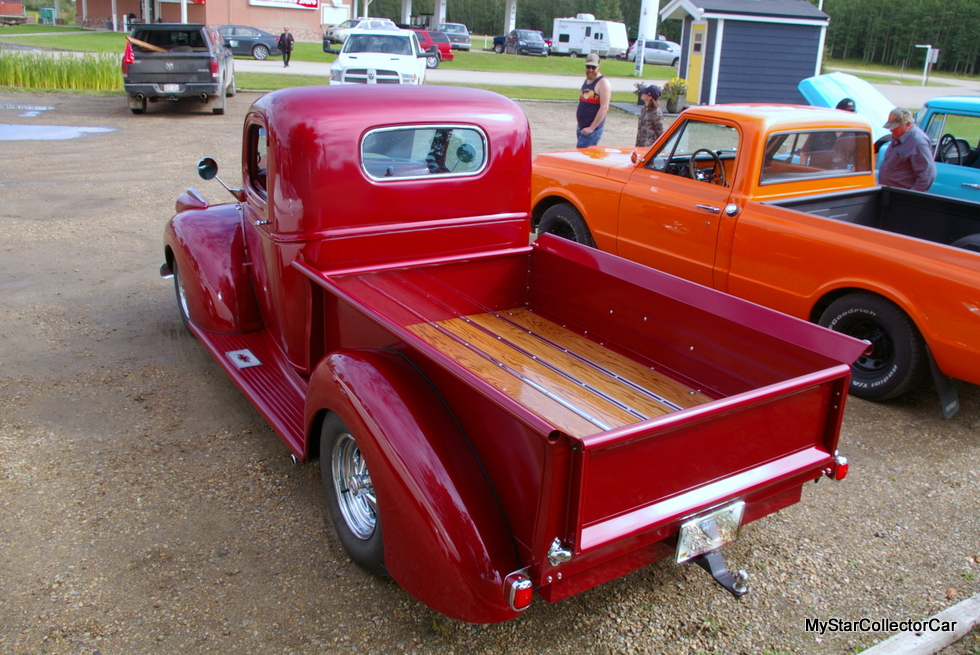 Eventually Bob left Saskatchewan and headed west to start his own farming operation in the province of Alberta. However, he kept his fond memories as a farm kid in southern Saskatchewan and was happy to get an opportunity to become the owner of the 1941 Chevy truck that had been such a big part of Bob's rural childhood.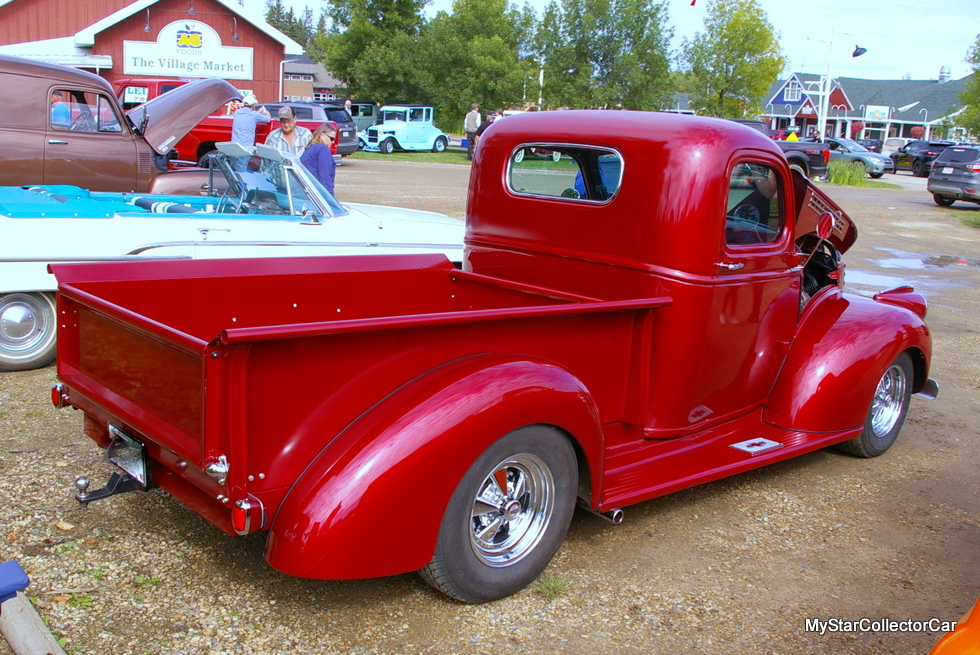 Bob accumulated a sizable skill set over the years because successful farmers are able to learn how to perform tasks that will keep their operation running smoothly in a cost-effective manner.

Bob wanted to use his skills to build his '41 Chevy into a very stylish road machine and MyStarCollectorCar believes he has more than achieved his goal.
The truck now sports a rebuilt 350 Chevy small block coupled to a 700 R-4 automatic transmission connected to a Camaro rear end that "fit right in", according to Bob. The 3:73 gears in the rear end deliver good highway performance for Bob's road trips in the '41 Chevy.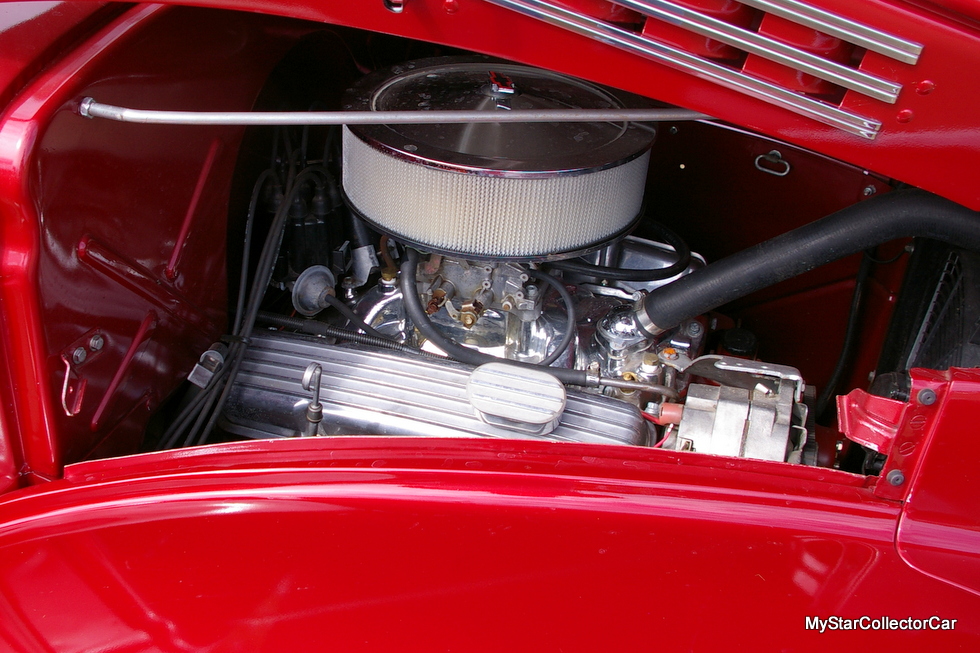 The truck also has an aftermarket Mustang II front end attached to the '41 Chevy's original (but beefed-up) frame.
The restoration process took place in pieces because Bob's farm operation required most of his attention and limited him to occasions like the winter season when his workload was lighter on the farm.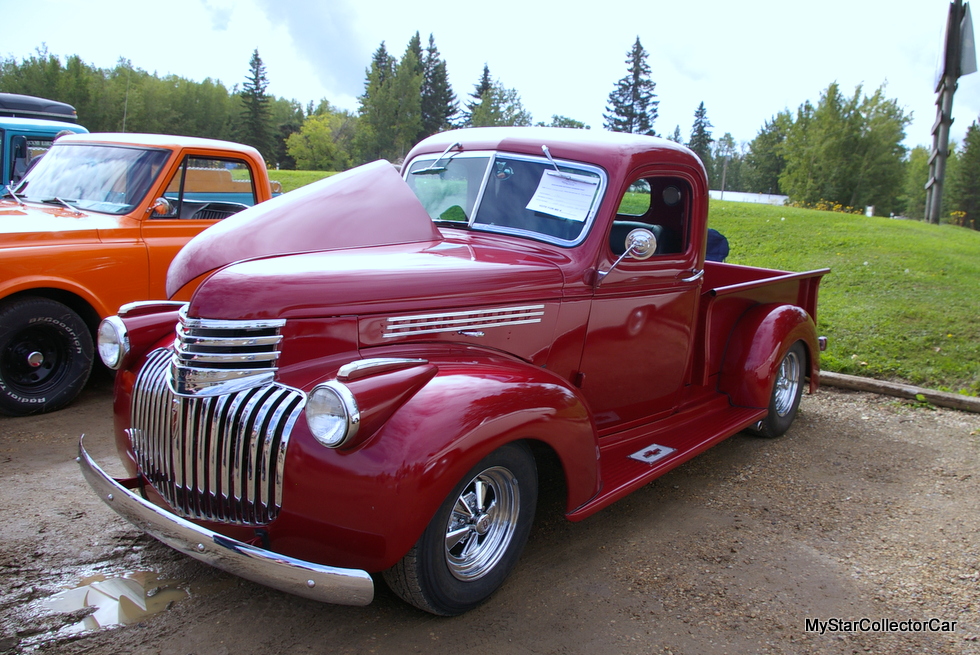 As mentioned, Bob has developed a large inventory of skills over the years and applied them to his build.
For example, he built a custom gas tank that was moved to the rear of the truck from the original gas tanks location behind the seat in the cab. Access to the filler cap and battery is gained from the removal of a bed plank in the truck- a custom wooden truck bed built by Bob.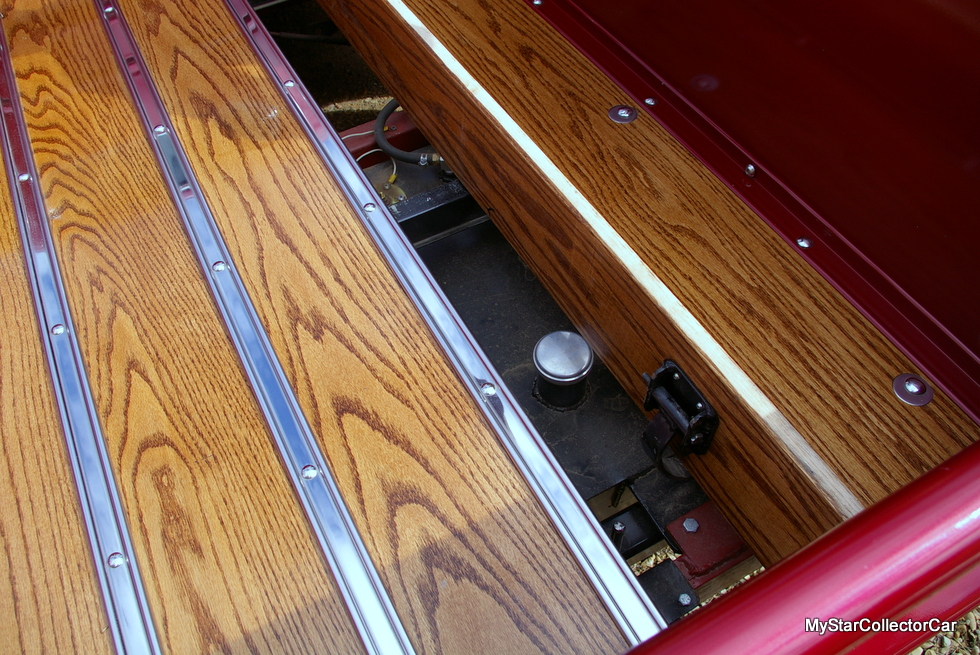 Bob's carpentry skills extended to his paint booth because he built the enclosure specifically for his truck project.
The truck also has a custom-built trailer hitch system that is largely hidden from view and will provide a solid tow package when Bob decides to pull a load.
The ultra-comfortable electric seats were donated by a Volvo and are very comfortable, according to Bob.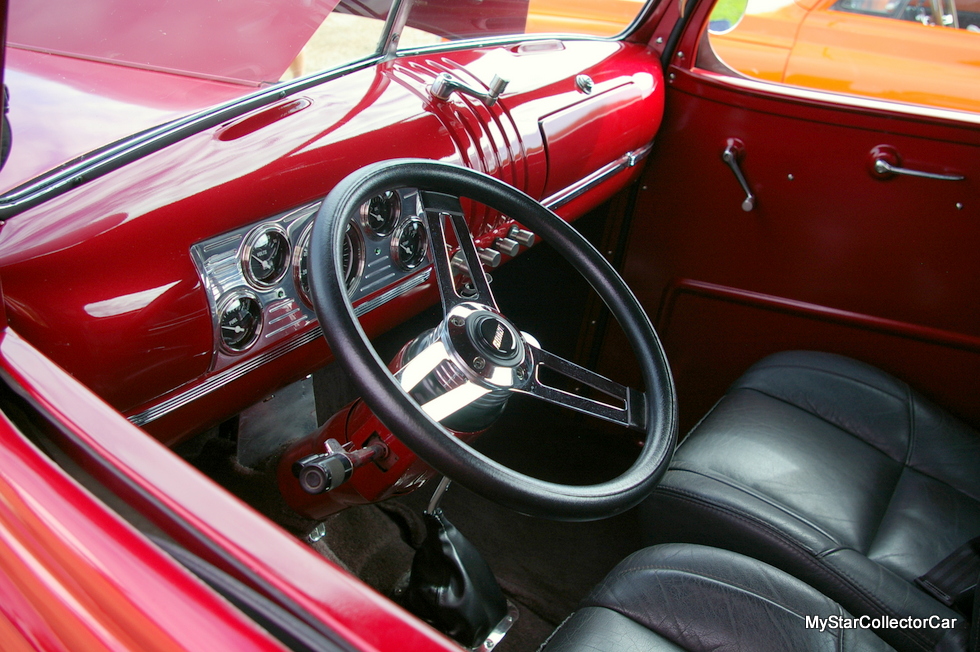 It was important to Bob that he retain all of the style found in the original truck during the resto mod process. The waterfall front grille is still on the truck, although Bob mentioned he welded up the original hand engine crank opening on it before he got it re-chromed.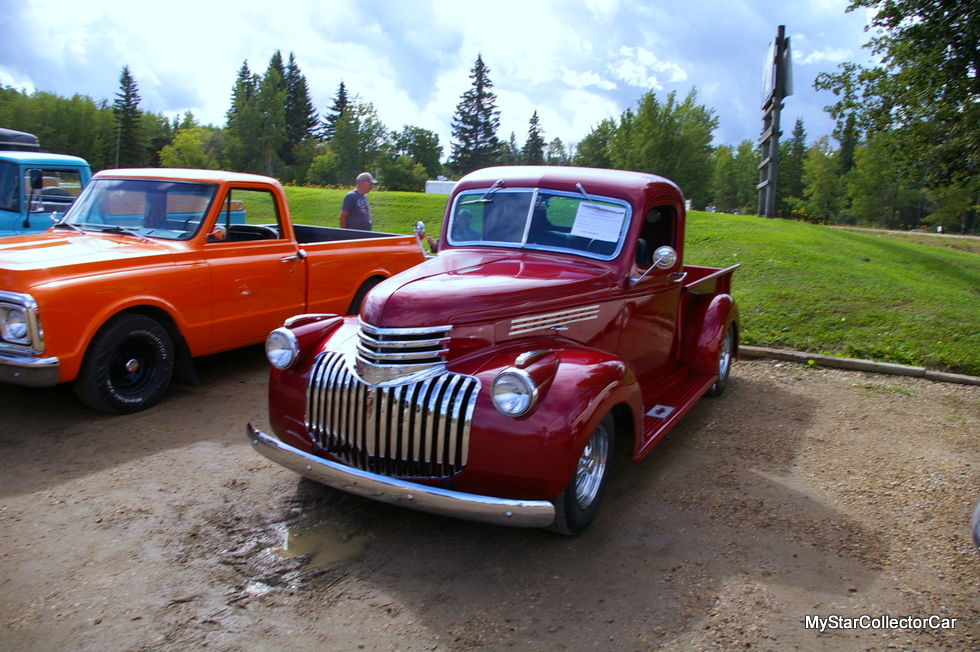 Bob also got every element of the bright work redone because he wanted to include these pieces in the final build to enhance its overall appearance.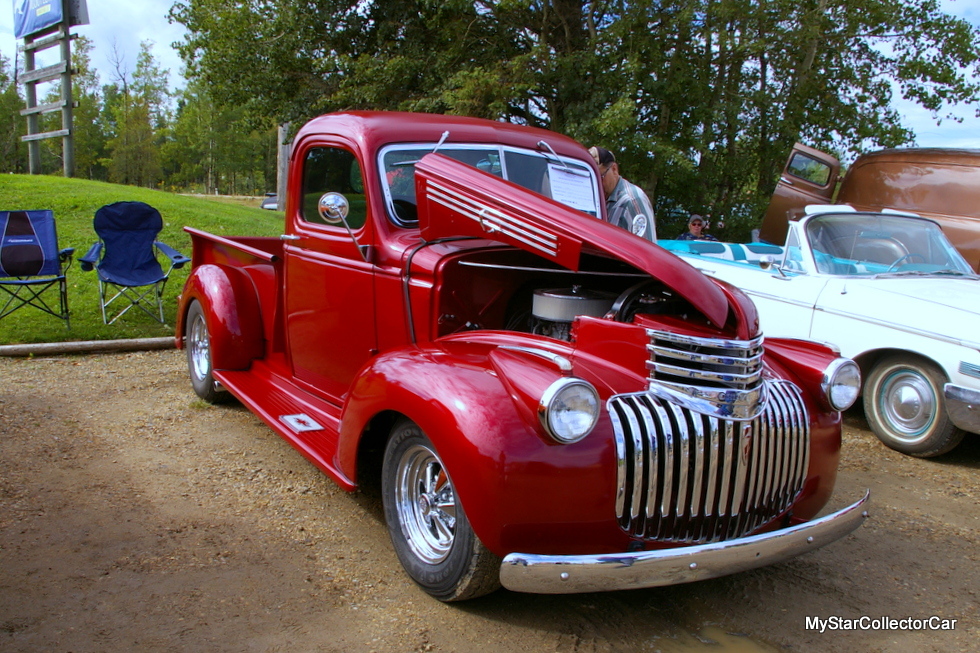 The final result is a stunning example of patience blended with creativity and talent that will take Bob on a comfortable trip down memory lane any time the spirit moves him.
BY: Jim Sutherland
Jim Sutherland is a veteran automotive writer whose work has been published by many major print and online publications. The list includes Calgary Herald, The Truth About Cars, Red Deer Advocate, RPM Magazine, Edmonton Journal, Montreal Gazette, Windsor Star, Vancouver Province, and Post Media Wheels Section.