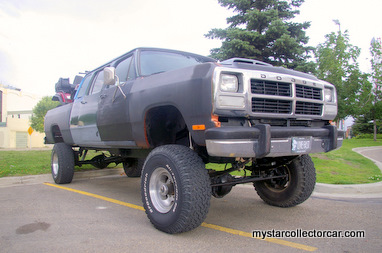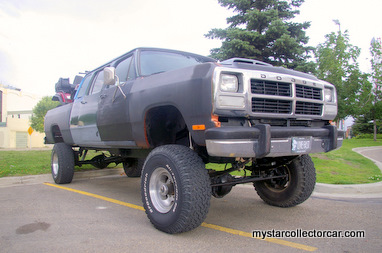 Doug Ruffell looks like an ordinary guy-until he wheels his monster Dodge truck into a show.
Doug's truck is a mix of 70s and 90s Dodge truck parts that answer a few "what if' questions.
The over-sized 4×4 crew cab has its roots in 1975. It began life as a 1975 Dodge crew cab that probably served as a crew-hauler for the oil patch business in Doug's neck of the woods.
But what if somebody added a Cummins diesel, a 1991 Dodge front clip, and stitched in a club cab extension behind the rear seats?
The answer is a very large street monster that is also a mud-bogger and working truck. Doug's truck is kind of hard to ignore at a show because of these features. It is loud, proud and it looks like it belongs in any post-apocalyptic movie.
Road rage would be easy to cure if you had one of these babies. Right now the truck is not completed in the cosmetic department, so it looks even more menacing.
We got the impression Doug takes things one step at a time, and right now that step is fun with his truck. His family seems to like the idea, so the big rig is a regular in the summer show circuit.
Incidentally, Doug's long- range plans include a possible conversion to right-hand drive for his Dodge. Bear in mind that Doug lives in Canada, a country with left-hand drive.
Doug and his Franken-Dodge obviously prefer the road less traveled figuratively and literally these days.
Jim Sutherland @mystarcollectorcar.com
Check out our website for many more features and stories from the automotive hobby-https://www.mystarcollectorcar.com/