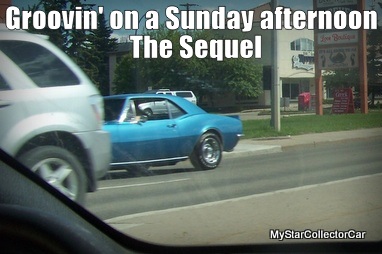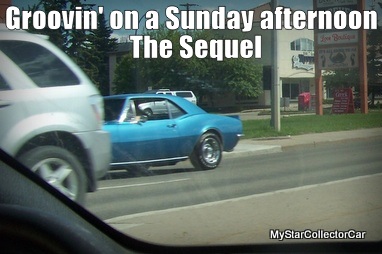 I am a huge fan of classic iron in real world traffic so I like to take pictures of old iron on the street.
I pack a beater camera every day because you never really know what's around that next corner but wear and tear on a higher-end camera isn't a good trade-off.
That's why these pictures aren't of TIME magazine or National Geographic quality, but they do represent what's out there on any given day…or Sunday (to paraphrase a movie title).
These cars represent a cross-section of traffic  over a 25-minute period on a Sunday afternoon in Red Deer, Alberta, Canada.
There's little doubt the car hobby extends across the planet – there may even be a guy stuck in Antarctica all winter working on a '64 Mercury in a tent but the city of Red Deer has a massive number of old rides per capita.
This winter was epically long and unnecessary in Alberta so the streets were devoid of old iron in Red Deer for several months and this extended well into spring.
Typically you'll see a guy dust off an old classic just after the snow melts but this year the thaw took twice as long. That left gravel on the streets longer than normal so the risk to an expensive windshield was off the charts higher.
Most car guys who push the season are okay with a little road rash on a less than pristine paint job, but few are comfortable with a massive spider web crack across 90% of their windshield thanks to boulder-sized rocks posing as winter de-icing material.
The long wait is clearly over because this was a bonus round of old iron on the streets of Red Deer on Sunday.This was a typical run in the city because there are so many diverse interests in this area.
Red Deer is an area full of guys who like foreign iron, classic muscle, rat rods, hot rods, custom old trucks, custom old cars, stock old trucks and stock old cars.
The car hobby is so significant MSCC is going to help Shaw TV showcase some car stories in a regular weekly show called 'Old Iron'. The difficulty isn't in finding enough local car guys to tell their stories…it's sorting through thousands of potential stories in Red Deer.
This is the second Groovin' on a Sunday Afternoon, Red Deer car guy style – it won't be the last.
Jerry Sutherland