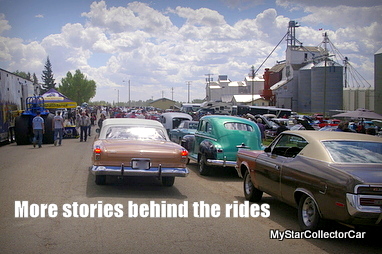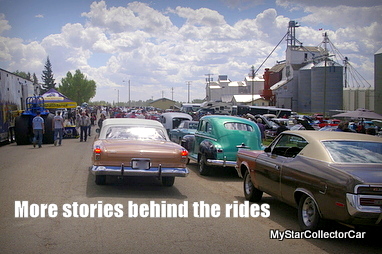 There are a lot of stories told every day in the world and most of them are longer than necessary and less interesting than required by listeners.
That is the nature of the beast in most conversations and our cross to bear in the daily interaction with others in our world.
The big exception to this cold reality for us at MSCC is our conversations with car guys and girls because they have a great story to tell us when the subject is their vintage rides.
Our motto is "There is a story behind every car" and, if you add trucks into the equation, you get the picture about our goal to find the story.
These days we seek out the most interesting stories we can find and we are never disappointed with the results. We attended another small town car show with a long history behind their annual event and hundreds of vehicles to assess for more MSCC stories.
We had barely gotten out of our car before one of the organizers steered us right at a guy with a 1965 Kenworth at the show. A big rig as a show entrant at a car show is a story unto itself and the Kenworth owner added his own spin to the story because this Kenworth is used as a family hauler on vacation.
The Kenworth had a part time job at the show because it hauled a trailer bandstand for the entertainment provided by the organizers for the car show. Look for the entire story behind the Kenworth family vacation vehicle in a future MSCC article.
There was a 1958 Oldsmobile wagon with one of the most sought after serial numbers in the collector car hobby…number one. This was very cool car with a very cool story and you'll see in a future edition of MSCC.
It took some time, but we managed to track down the owner of a 1949 Ford Woody Wagon, complete with a surfboard on the roof, at the show. The surfboard was an appropriate option for its former owners because it used to be owned by a Los Angeles radio station until a nasty lawsuit forced its sale to its current Canadian owner.
Learn how this all happened and the huge summer adventure planned by the new owner in a future MSCC story about the wild Woody wagon.
We spotted a mint original condition 1972 Dodge Dart survivor at the show. It had four doors and a six cylinder engine, so we wanted to know how and why this car was preserved in such remarkable condition for the past 42 years. It is a great story and you will see it in a future MSCC feature.
This show had a return visitor that we had attempted to chase down two years ago during a monsoon which killed the event that day. We spotted a 1962 Chrysler 300H convertible sitting on the wet pavement two years ago, but we never did find the owner, even though everyone we asked seemed to know owner Gary.
This year he pulled into the show a little late and we finally met him after a foot chase where we followed him to the fringes of the overflow parking area, which was really overflowing this year with the strong attendance because of the good weather.
You will meet the guy and one of his two 1962 Chrysler 300 convertibles in a future MSCC. He told us there are only 10 of them left on the road and he has two of them, plus plenty of other rare Mopars, so we plan to visit him this year for the full story.
Gotta love the summer car show season.
Jim Sutherland