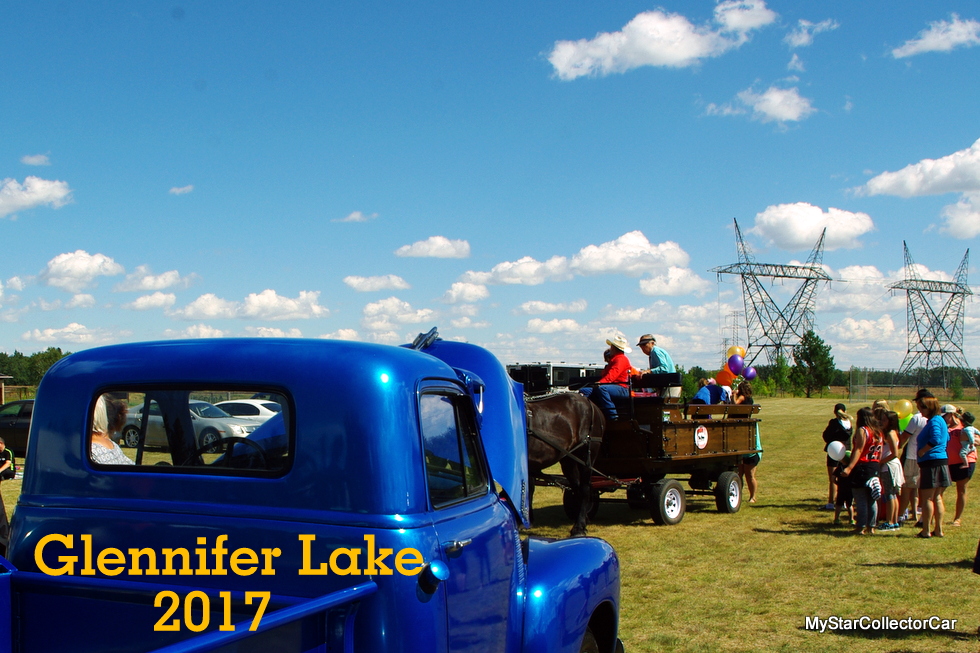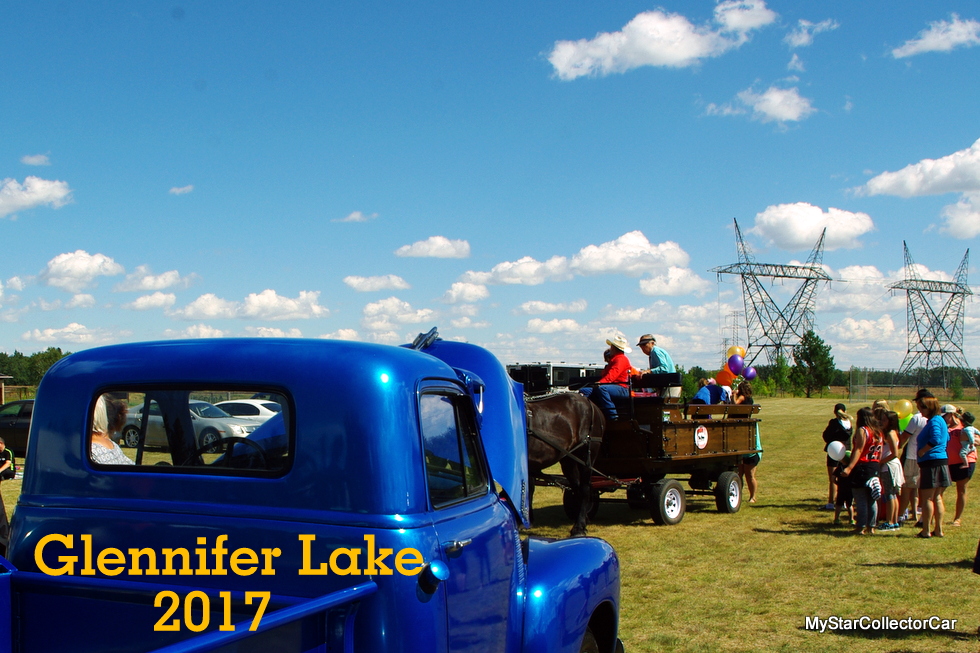 Glennifer Lake is a welcome sight in Central Alberta because it's a lake in an area where lakes are not a common entity.
Glennifer Lake is the newest major body of water in that region because it is located on the Dickson Dam and began its existence when the dam was completed in the early 80s.
These days the Glennifer Lake region has been developed into a very popular summer resort that caters to people who are drawn to open water, a good golf course, and an annual car show.
MyStarCollectorCar is drawn to the Glennifer Lake area for their annual car show and we are always impressed with the quality of stories found at the show. We are able to wend our way around the most common mode of transportation at Glennifer Lake (golf carts) and maneuver around the two horse-drawn wagon to get to the car show.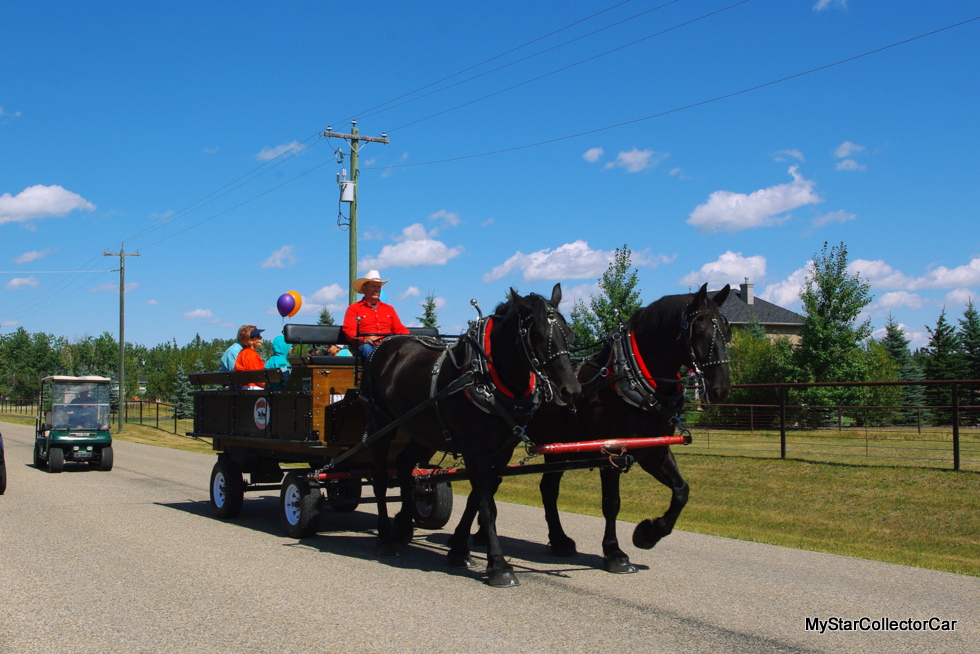 MyStar is always impressed with the carts and horses-even though we don't cover either of them. We just like to see an area where it's summertime and the living is indeed easy.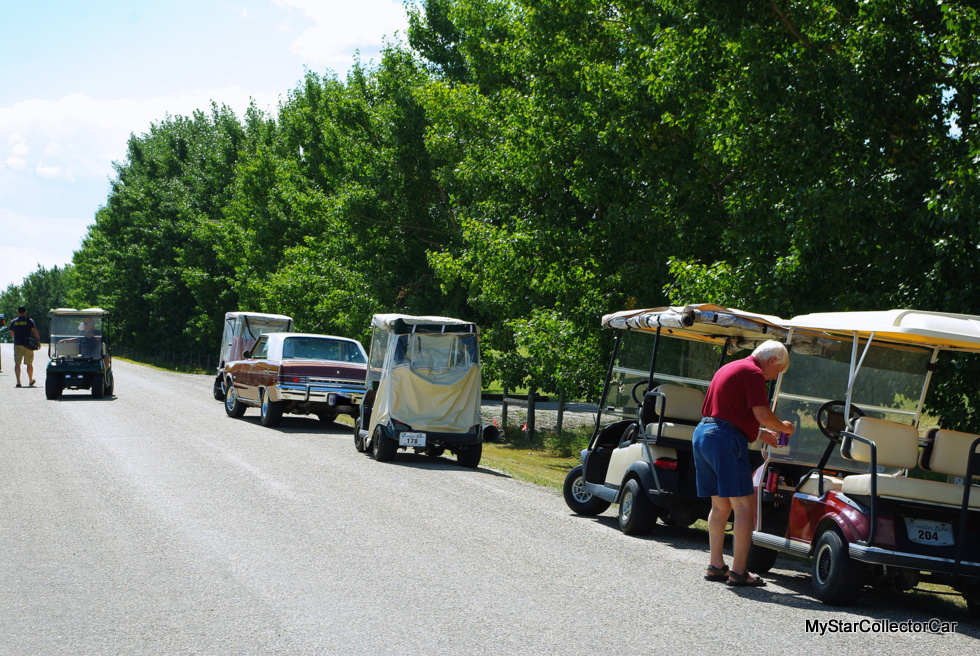 This year was another good year for entries at the small show and we were able to connect with the husband-and-wife owners of a 1975 Bricklin sports car and a 1969 American Motors AMX.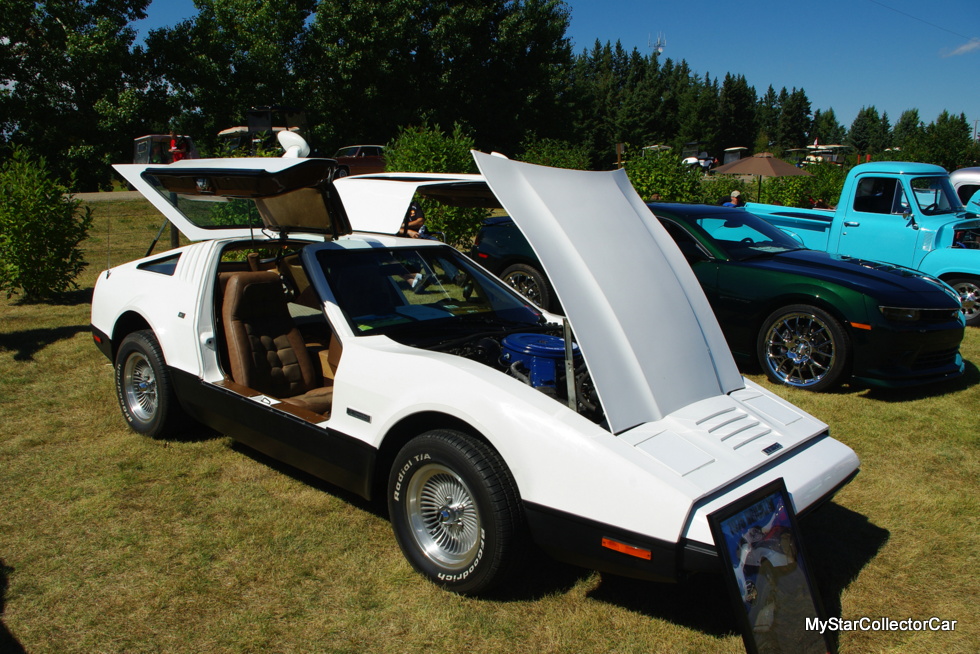 Both stories were worthy of our attention and made a solid base for future MyStarCollectorCar stories. MSCC will also reveal who drove what to the Glennifer Lake car show, along with a brief history of the two cars; both of which are now considered to be orphan cars because they are no longer in production.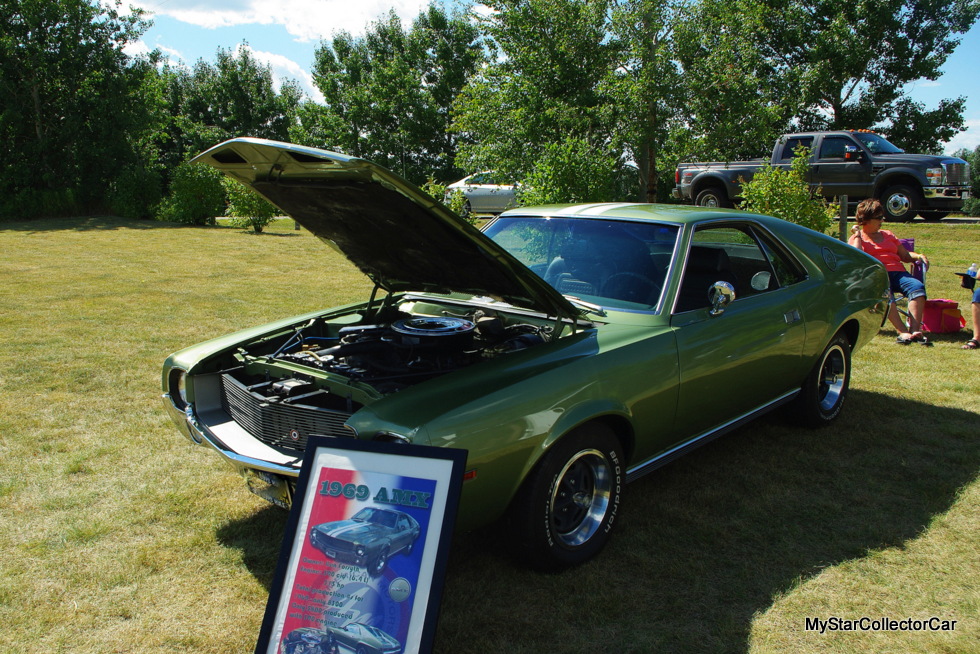 The stories behind the owners' purchase of the two cars are worthy enough for MyStarCollectorCar, let alone the rarity of both cars at any show, so we are looking forward to future MSCC articles about the cars.
Rest assured that we will run separate stories about them because the two cars are that cool.
A mint condition 1956 Meteor Rideau convertible was also at the Glennifer Lake show. Some MyStarCollectorCar readers will likely scratch their heads and say the Meteor looks exactly like a 1956 Ford-except it is not a '56 Ford.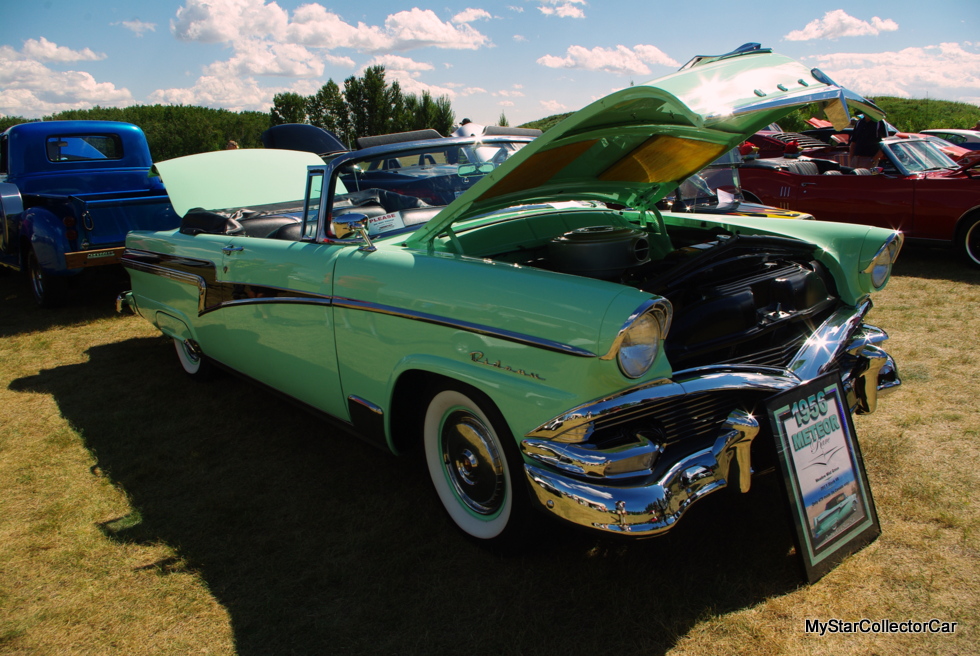 MSCC will answer all the questions about this mystery car in a future MyStarCollectorCar article and our readers should be able to get a good night's sleep after they read the entire story behind a 1956 Meteor Rideau convertible. 
The Corvair was a serious irritation to Ralph Nader and he wrote a bestseller about the iconic compact from General Motors. Ralph was no fan of the Corvair, but the Glennifer Lake show had two of them at their event.

The first one was a 1963 Corvair Monza and it was largely an original condition car. It still had its original air-cooled engine rated at about 102 horsepower. The Monza's latest owner was content to keep his Corvair as stock as possible and MSCC will be able to tell the entire story in a future MSCC article.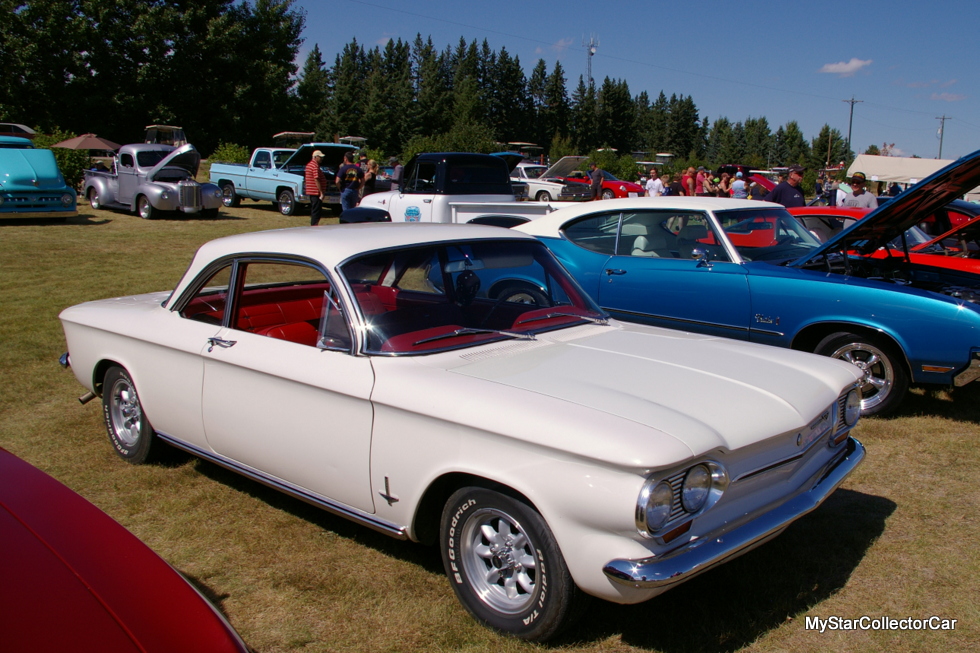 The second Corvair was not stock-to say the least. In fact, its talented owner was able to fit a modern small block Chevy around mid-ship in his 1965 Corvair Monza.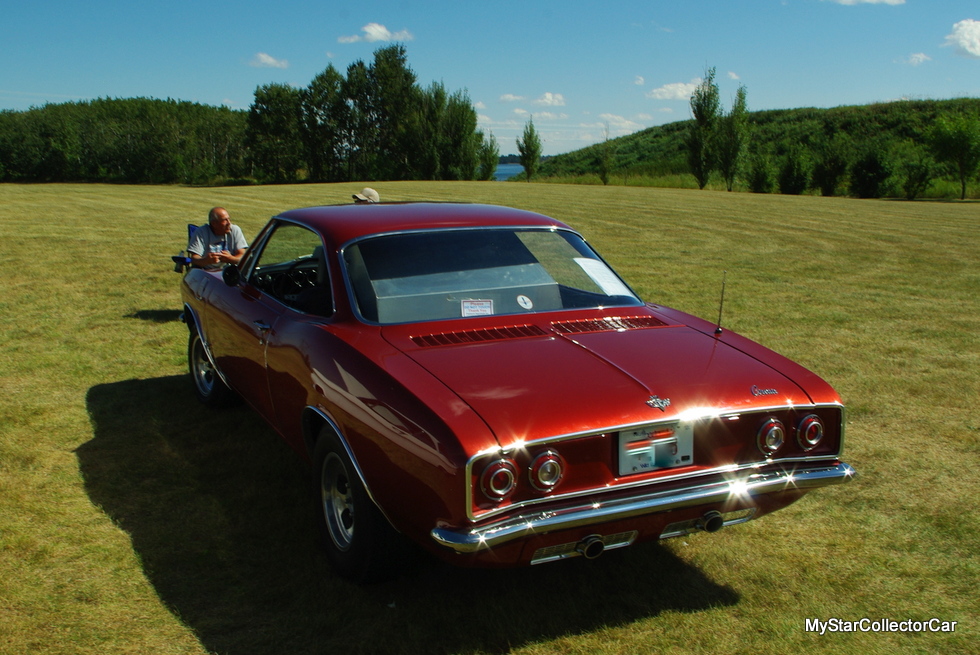 The result is a well-balanced custom machine that is a smart way to turn a Corvair into a hot rod; if one is lucky enough to possess this high level of mechanical and fabrication skills.
Fortunately, MyStarCollectorCar was able to get the story behind this wild Corvair before Ralph Nader, and our story will be an accurate account in a future MSCC piece.
Stay tuned for all of these amazing stories from the annual Glennifer Lake car show.
Jim Sutherland
CLICK HERE to Like us on Facebook
CLICK HERE to Follow us on Twitter
CLICK HERE to Follow us on Pinterest
Please re-post this if you like this article.