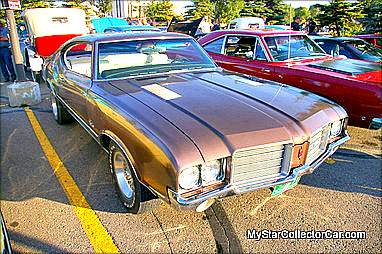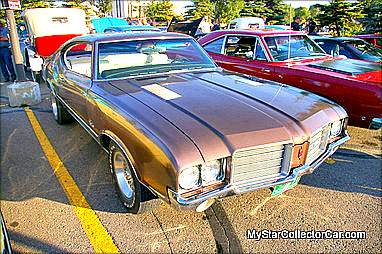 Larry Robinson knew this car long before he owned it because he was there when his grandfather purchased this brand new 1971 Olds Cutlass.
Larry remembered, "it was only his third car and he paid cash at the time so the sales guys told him he must have pulled it out of his mattress.
That was the first chapter in Larry's lifelong association with the Olds but he knew from Day 1 that he loved the car.
The next chapter began at 120 miles per hour when he had to transport his grandfather to a hospital 90 miles away. Larry admitted that it was a fast trip but "the Olds could handle it no problem. But in those days you could do that because the traffic was a lot lighter". Larry gained even more respect for the car after that simply because it survived that kind of punishment without missing a beat.
February 1974 was when the third chapter took place-Larry bought the mint, low mileage Olds for 2600 dollars after he sold his '67 Mustang. Larry actually paid 100 dollars more than his grandfather's asking price. He was well into his apprenticeship as a mechanic that year, so he knew the car was a gem from his personal and professional experience plus there was that link to his Grandfather…
In 1975, a young Larry Robinson picked up his future wife Joan for their first date in the 1971 Olds and the stage was set for a long and positive relationship and that chapter has never really ended.
The car was the guest of honor at their wedding and served as a family car for a few years until Larry decided to lighten the load on the car and semi-retire it from active service.
Over the years Larry applied a basic, but professional philosophy to the Oldsmobile. He drove the car enough to prevent the debilitation that extended periods of inactivity can wreak on a car. The winter storage routine was the same-dry and out of the weather so the car is still a show stealer decades after his grandfather counted out bills at the local Olds dealer.
The next chapter in the Oldsmobile's history came a few years ago when Larry and Joan's son used the car as part of their wedding party.
That was a fitting theme to the latest Robinson chapter but it's far from the last chapter because this car is still a big part of the family. Larry and Joan are part of the local car show circuit and the Olds is often seen at these events and it always draws a crowd-mint survivor cars are like magnets.
Larry won't admit to hitting 120 miles per hour in the Olds since that day back in the 1970s but clearly this courting and wedding car could handle the pace.
Jerry Sutherland
For more car stories please follow this link-https://www.mystarcollectorcar.com/