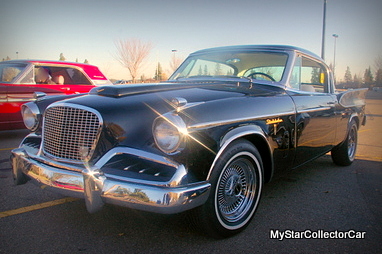 In 1957 the Studebaker Golden Hawk was a car that was rarely noticed-until it was too late.
Far more attention was focused on the 'Fuelie' (fuel-injected) Chevy Bel Airs and Vettes or the Chrysler letter cars with the monster Hemis under the hood.
The Studebaker Golden Hawk slipped under the radar until the supercharger kicked in and the car would suddenly launch-that's when car guys noticed them.
Consequently they remained off the radar to all but the most knowledgeable.The price of these incredible cars remained relatively stable until recently when a nice example sold for 109,000 at auction.
Bob Watts is a visionary-he purchased his Golden Hawk before the name became too famous.Bob has a self-admitted weakness for exotic Studebakers and he found this Hawk in Vancouver B.C. "where it had sat for about 20 years". Bob adds that "an old guy bought it, died and then a young guy bought it. He started to work on it but he really didn't know what to do with it".
Bob did. He jumped on the opportunity to own this rare classic-he believes that "they are pretty rare, only 6 registered in North America". That's rare-so rare that unlike 1971 Hemicudas, this car won't be cloned…no after market parts or clone candidates.
Bob had the body off and found out that this car was in good shape. That's magic when it comes to a restoration-especially when the car is as rare as an FBI agent at a Hell's Angel birthday party. Bob took the fiberglass fins off and discovered that they were solid-as was the metal underneath.
Basically the Golden Hawk wasn't an intimidating project although, like most projects, there are details left to finish. Bob would like to detail the trim because like he says' "old cars are like ladies-they need pampering". 
Bob has added a few modern touches like a retrofit for the radio that modernized its technology without losing the factory look but this car is going to remain stock. Given the current market value anything less would be…stupid.
That's not the biggest issue because Bob has no plans to sell this car. He loves driving it because at 75 miles per hour this Golden Hawk is loafing like a brand new Lexus. At 21 miles per gallon this 7 second 0-60 Studebaker is a marvel of 50s technology.
Unfortunately the secret is out in the car speculator world about these rare Studebakers but Bob had the foresight to beat the Gold(en Hawk) rush.
Jerry Sutherland
CLICK HERE to Like us on Facebook
CLICK HERE to Follow us on Twitter
CLICK HERE to Follow us on Pinterest
Re-post this article if you like it…thanks.