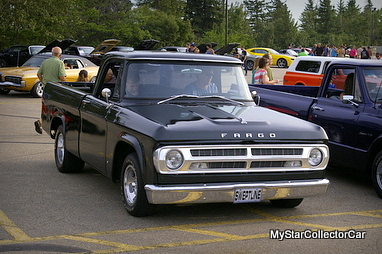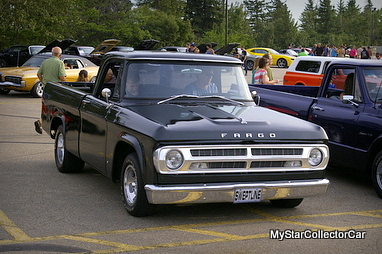 Mark Klein is a transmission expert and a big fan of 60s-era Dodge pickups.
He spent his childhood on the family farm where the trucks of choice were Dodges.
Mark remembers their 1963 and '68 Dodge trucks very fondly and knew he would own a Mopar pickup from the 60s at some point in his life.
Mark started the process about 20 years ago in an unusual way-with a short box from a 60s Dodge pickup. He wanted to incorporate the best features of the 60s-era Mopar trucks and the fleet-side short box was high on his list.
The list also included the unique dash shifter and the best-looking front grille produced by Dodge for their pickups during the 60s and early 70s.
The biggest obstacle Mark faced was the availability of parts because the aftermarket parts list was pretty thin 20 years ago, although he assured us it has become much better over the years.
The cab and front clip on Mark's Dodge have a close family connection because they were donated from his uncle's pickup and Mark can recall some great times in that truck.
The truck sits on a 1981 Dodge frame that was free, but slightly damaged and required about 500 dollars to straighten it.
Mark wanted the newer suspension and steering underneath his truck to enhance its drivability, but it complicated the project. He had to channel the caps and fab in a different floor for the truck bed to accommodate the new frame.His words; "The 60s body does not bolt onto the '81 frame nicely."
Mark explained the process thusly; "If I had to do it again, I would not do it again this way." Mark said some guys now use Crown Vics as donor vehicles to simplify the process.
The truck sports a 1977 360 Police Interceptor engine and Mark added J heads from a 1970 340, so this truck will burn a set of rear tires pretty easily.
However, Mark is a practical guy and the idea of replacing tires runs counter to his good judgment, plus his particular tire choice is scarce.
Mark also added an after-market fuel injection system to his 360 because, in his words; "I just want to jump in it and drive." He explained how his fuel injected truck runs smoothly in any weather, including blazing hot days when carbs can become a nightmare for owners.
The power-train upgrade includes a 518 overdrive automatic transmission from a 1990 Mopar and we are certain this process went well for a tranny expert like Mark.The entire process fell within Mark's plan to include the best features of Mopar in his build.
Some readers will notice the Fargo badges on this truck and wonder how they ended up on a Dodge. Mark wanted the Canadian truck badges on his project because he is a Canadian and the badges are important to him.
Fargo was a Canadian truck brand sold by Plymouth dealerships in Canada until 1972. Fargos were based entirely on the Dodge truck platform and the name made them unique for the Canadian market.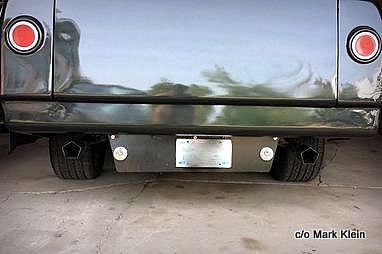 We will give Mark the final words on his truck; "I didn't build it as a commodity. I built it so that when I got to shows, I stand out in a crowd."
Mission accomplished.
Jim Sutherland
CLICK HERE to Like us on Facebook
CLICK HERE to Follow us on Twitter
CLICK HERE to Follow us on Pinterest
*Re-post if you like this MSCC article…thanks.