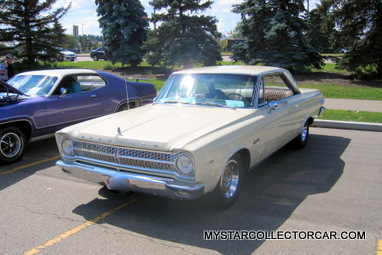 Rob Elliot is the current and seventh owner of a 1965 Plymouth Satellite.
He was also the fifth owner of this car; in between the car was owned by his brother.
But the real story behind the Satellite was its narrow escape from death by crusher.
The original owner's daughter wanted to squash the car for non-specific reasons that are totally incomprehensible to any red-blooded car guy.
The idea that a vintage car in good condition with a desirable 383 two- door hardtop package should be crushed is the very reason for cold sweat nightmares. This car even has all the paper work-stuff that would make Mopar code guru Galen Govier extremely happy.
That makes the decision to crush it even more scary. 
But some Seattle Mopar guys intervened and saved this rare Satellite from certain death by stupidity. Eventually Rob purchased the car and drove it back home He lives several hundred miles from Seattle and liked the trip so much that he kept the car.
Later on his brother bought the car and kept it in the family. The important thing to Rob was the continued good health of the Satellite, so he re-purchased it from his brother when it was available.
The car is a stellar example of mid-60s Chrysler mid-sized car styling and Rob has not altered the original look of the car. The original owner is aware that his Satellite is still on the road, and he is surprised at the news. Maybe he thought that there were more people like his daughter who were born without the car guy gene.
Unfortunately the man would not be wrong.
Jim Sutherland @mystarcollectorcar.com
Many more MSCC car stories can be found here –https://www.mystarcollectorcar.com/2-features/stories.html